A Place to Call Home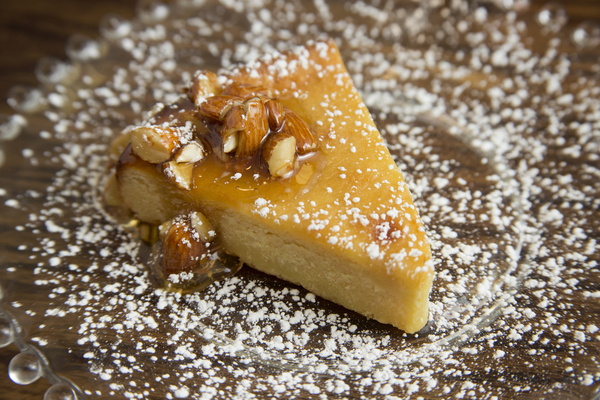 A Place to Call Home
When Park Place Cafe & Restaurant opened its doors in January 2017, chef and owner Philip Manganaro came into Merchantville with a goal of crafting a high-end menu using the best ingredients in a mildly modern and comfortably homey setting. The chatter around town began almost immediately and from there the buzz only grew.
It's one of South Jersey's smaller dining rooms, with only a handful of tables. Just around the corner, Manganaro works in an even tinier space, flying solo in the kitchen with just five burners to put out a full night's service. Park Place also boasts a brunch menu that has locals lining up week after week, as well as a Friday-only lunch spread of elevated sandwiches and smaller entrées.
The restaurant's front-of-house manager Francesca Venti works with each table individually and comes loaded with passion and knowledge of the menu, eagerly ticking off the specials and her favorite dishes ingredient-by-ingredient, tracing them back to their origins, going so far as to name the farmers providing that night's produce. In that atmosphere it's hard not to feel special and excited about what is to come.
Our meal began with a rousing start courtesy of a delicate porcelain teacup loaded with chicken liver pâté and topped with a cold layer of clarified butter. We broke past the butter and into the pâté, smearing it on accompanying slices of hot, toasted bread. The mousse and butter melted into the bread, creating one of the creamiest bites of chicken liver I've ever had. The dish came with caramelized onions and diced, sautéed pears, both of which added cold, sweet and acidic bites that enhanced the fatty flavors in the pâté. It was elegant, rich and absolutely unforgettable.
An accompanying appetizer of charred Spanish octopus was beautifully plated, with octopus tentacles sitting on a bright green broccoli rabe puree, topped with slices of pickled lunchbox peppers and paper-thin slices of fried pig's cheek. The pork added some extra richness to the octopus and the peppers were a bright element, fresh and bursting with sweetness, but overall the dish didn't stand up when compared to the pâté.
All pastas on the menu are made in-house and come in exciting varieties like pappardelle with venison bolognese and shaved chocolate or fettuccine with little neck clams and spicy sausage. I opted for t he calves' tongue tortellini with mascarpone and brown butter. Pine nuts provided a good crunch and balance of texture, but it was hard to pick out the distinctive flavor of the filling itself, though the pasta was well-stuffed and had the perfect toothsome bite.
One of the menu's mainstays plates a hearty, pan-seared Long Island duck breast cooked to perfection on a bed of shredded duck confit, served with Luxardo maraschino cherries and a cherry puree. The confit melted in your mouth with each bite, and the cherries were reserved, packing just the right amount of sugary sweetness to complement the duck breast.
Be sure to add a side to your entrée—the crispy potatoes are a must, deep-fried and served with a roasted garlic a ioli that was incredibly decadent but also simple and familiar.
It may be a tiny space, but Park Place boasts a full-sized espresso machine and puts out drinks and desserts to match it, all with a slight Italian flair. The affogato is a drinkable dessert that started with a hearty scoop of house-made bourbon vanilla bean ice cream. The server then poured a cup of steamy espresso over top, creating a perfectly balanced blend of sweet and bitter.
The finale of the evening, an almond amaretto cake, had a similar dense texture as a frangipane tart that was still soft and flaky. It was topped with chopped toasted almonds and coated in a thin layer of wildflower honey that added a bit of earthy flavor that paired nicely with the buttery almond cake.
Park Place has earned a reputation for success in the year it's been open, and the energy from the staff bursts out the front door. With Manganaro and his team showing such a high level of enthusiasm and passion for food, Park Place has become an exciting dining room and a welcomed addition to an up-and-coming culinary town.
PARK PLACE CAFE & RESTAURANT
Article continues below
---
advertisement


---
7 East Park Ave., Merchantville
(856) 662-6600
ParkPlaceCafeAndRestaurant.com
Photography by Alison Dunlap
Published (and copyrighted) in South Jersey Magazine, Volume 15, Issue 1 (April 2018).
Author:
Erica Young
Archives
---
More Articles