A Big Hit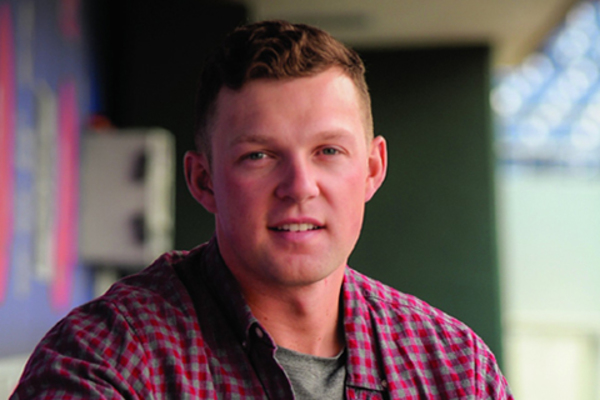 Rhys Hoskins' remarkable rookie season was one for the history books and it proved him to be a star in the making. So what does he have planned next? The answer should excite Phillies fans and scare the rest of Major League Basebell.
Rhys Hoskins knows a thing or two about making an impact. The budding superstar outfielder for the Philadelphia Phillies has been racking up the accolades since he stepped foot onto a diamond as a player in the team's minor league system. In 2016, while with the Reading club, he was named Eastern League Rookie of the Year. He followed up that eye-opening season with an even better 2017 while with the Lehigh Valley IronPigs where he was named both the Rookie of the Year and MVP of the International League.
Thanks to that level of success, on Aug. 10, Hoskins was called up to join the big league club. On Aug. 14, he hit his first home run, belting another one later in the game for good measure. By Aug. 25, he began an MLB record-setting home run pace and would go on to capture Rookie of the Month. By the end of the season, he had hit 18 home runs overall, eclipsing the previous record for a player who hadn't made his season debut until August. The previous mark of 13 was held by one of baseball's most revered hitters—Ted Williams.
"When it was happening, it was one of those things I couldn't put a finger on," Hoskins recalls. "There wasn't much thought going into it, which as a baseball player, that's kind of what we strive for, a blank mind. So, while it was going on, it was kind of indescribable. I've never really gone through something to that extent.
"Once the offseason hit, I was able to step back, let some things sink in and did a lot of reflecting on what went right, what went wrong. I would say it was right around Halloween, right when the World Series was starting; I was on vacation and realized the things that I accomplished and the magnitude they hold. It's pretty cool, something I'll never forget."
Despite his penchant for making his presence felt (Hoskins drove in the Phillies' first run of this season), the 25-year-old Sacramento native is a soft-spoken, affable young man. And while his achievements have garnered him plenty of deserved attention, he's more interested in being one of the guys—not the guy— to help bring the team back to contention. For evidence, look no further than his willingness to move from his natural first base position to playing full-time in the outfield this season.
We sat down with Hoskins inside the Hall of Fame Club at Citizens Bank Park and touched upon numerous topics, from his goals for this season and playing for new manager Gabe Kapler to his love of traveling to exotic locales and how his late mother, who passed away in 2009, helped shape the player and person he is today.
Q&A
What was the biggest change that you had to adapt to when you got to the majors?
Article continues below
---
advertisement


---
There are no more bus rides, but a lot more travel; and kind of the nuances of being a rookie and coming into the league and trying to establish yourself. You are learning a new clubhouse, coming in completely blind to what it's like and you have to learn on the fly, what the dynamic is. That's hard to prepare for.
Heading into your first full season, did you have to prepare any differently?
There's not too much different [preparation] in the offseason, I was lucky enough in the past to have people I worked out with who have harped on the agility stuff, the mobility and flexibility; stuff that keeps you on the field and keeps you healthy and strong late in the year.
Obviously, there's quite a bit more running in the outfield, I get that. But, if I focus on that in the offseason like I have in the past and kind of stick to that same program I've done, I feel that I'll be OK. Now, there are little details about playing the outfield that I'll have to learn. Footwork, positioning, reading the ball off the bat, it's a new angle, on the opposite side of the field. But that just comes with reps.
Do you embrace that challenge?
Yeah. I think all athletes as competitors embrace challenge. Everyone wants to turn something they are bad at and make it something they are good at. That aspect I'm excited about.
You have a new manager, Gabe Kapler, are you excited to play for him?
Very excited. I think it's pretty obvious that when Kap walks into the room, he grabs the attention of everyone in it. He's got a very infectious personality, he's very thorough and an intense individual, but he blends that with being a good person. He cares about you as a person, not just as a baseball player or a member of the Phillies. That kind of blend is pretty special to have in your manager's office.
Do you think him being a fairly recent player helps a young team relate better?
We do have a young clubhouse and to have someone who played the game and is closer to the game we are playing now; the game has changed quite a bit in the last 20 to 30 years. So to have him being close to the "old-school" way and how the game is played now is cool. He's able to take aspects of both games and figure out ways that each guy responds.
You hail from Sacramento, a little different from Philly.What was it like growing up there?
I love Sacramento. It's quaint enough where it's not L.A., but it's big enough that it still feels like a city. We had our sports teams like the Sacramento Kings and I got to see the passion [the fans] have for their sports teams. But, man is it apparent here with four teams, across all major sports. [The fans] are with you when you are good, they are with you when you are bad; the passion is always there. And the knowledge for each sport—they understand, for instance, a runner on first with less than two outs and the guy takes an extra base going first to third. That's the kind of thing that I've noticed gets this fan base fired up.
You had a welcome to the big leagues moment when a father and son approached you for an autograph while you were out to eat. Have you gotten used to that attention in a sports-crazed area like this?
I don't know if I'll ever get used to it. I was that kid. I can remember being so bought in to what was going on in baseball. I followed the [San Francisco] Giants growing up, so I can imagine seeing my favorite player on the team I grew up rooting for, I'd probably be pretty ecstatic too. It's been fun, you have to take it in stride and hopefully the city continues to embrace me.
You grew up loving the game and every little kid wants to play in the majors, and you are doing that. Does that ever get to you or take you back a little bit?
Absolutely. Like I said about the run I went on, that hit me after the season was over. I was with my college coach and I wound up hitting with his little son. He called me after and told me about a conversation he had with his son about the hitting session we just had. He said, "Dad, I just hit with a big leaguer, didn't I?" Hearing that from him, kind of hits you. It's a dream come true and I'm excited to see what the future holds for me.
Last year, during the Players Weekend, you honored your late mother by writing "Mom" on your sleeve as the person to thank for helping you become the baseball player you are. Can you talk about what she meant to you as a son and as a player?
The life lessons she's instilled in me run pretty parallel to some of the stuff in the game of baseball. When I think of my mom, the word perseverance is the first word I think of. She battled cancer for what seems like my whole life and she learned how to deal with failure and things that didn't go her way. But she learned to fight through it and come out on top. Baseball is the same way. If you fail seven out of 10 times [at the plate], you are one of the best to do it.
She did mean a lot to me, like every mother does, but I think she taught me a lot more than she knew.
In what ways did your family become closer after her passing?
It took some time. My sister lost her mother at 13, that's a tough age. It's going to be tough no matter what. It rallied the three of us together; we knew we had to be strong for each other. It's strengthened our relationship, how to turn such a negative thing; to lose your mom, your wife, into a positive.
You like to travel a lot, what are some of your favorite places that you've been?
We did China and Thailand this offseason. Thailand was beautiful, very cool culture, very relaxed. I think my favorite place is New Zealand. Beautiful—the greenest greenery I've ever seen, the bluest water. We had one day where I was on a glacier doing some ice hiking and in the afternoon I was having dinner on a lake on the beach.
That makes it kind of hard to pack.
Very true. But, a place where you can kind of do both, it was so magnificent to me and the literal sense of the word awesome. We only had about a week so we took a camper van and did some camping and tried to immerse ourselves as much as we could into the culture there. I think that's the best part of traveling, learning about the culture.
You got a dog recently; who came up with the name Rookie?
It's been a long time coming, I've been wanting to get a dog for a couple of years. It's an English cream golden retriever. I've always wanted to name my next dog Rookie and [it was] just happenstance that it was after last year.
Last year the Rhys Lightning thing took off a bit…
Did it ever.
Are you on board with that or are you looking for a better moniker?
I think I kind of have to be now. I'm hoping this year for Players Weekend that I can just put a lightning bolt on the back [of my jersey].
Did you have nicknames growing up?
The standard Rhys' Pieces. My college friends called me The Big Fella. If I had the choice last year, I probably would have gone with that.
You have been openly supportive of the other teams in the city. You tweeted Carson Wentz when he got injured, you rang the bell at the Sixers game. What is your interaction like when you see guys from the other teams?
First and foremost, we are all sports fans. Our goal is all the same, to bring a championship to the city. It rallies us together in that sense. Those guys are great competitors, great people and to see them do well and lead their teams the way they do is very inspiring.
When you see the way the fans respond to them, and the way they responded to you last year, it's something special.As a person who isn't from here, does that mean that much more?
We are pretty lucky. Seeing what the Eagles are doing right now and the way this city has gravitated to them and pushed them the way that they have, I can't wait for it, I really can't.
You and your teammates are looked at as a young core poised to bring the Phillies back to a title contender, similar to the way Chase Utley, Jimmy Rollins and Ryan Howard were. Do you see similarities?
Jimmy, Ryan and Chase were awesome and fantastic for this city. I think if we can be anything like them, I think we are going to be OK. But, a lot of us in that clubhouse are trying to be our own [players].
Don't get me wrong, we have conversations about what those guys have done or other guys in the past, or what Carson has done or Ben [Simmons] and Joel [Embiid] have done for the Sixers. You take individual things from those groups and figure out ways to be the best versions of ourselves so that we can become the next great young Phillies team.
During the season, it's rare to get a day off, so how can you get away from the game and ease your mind a little bit?
I'll golf if I have the chance to. I really enjoy reading. I think reading is a good way to get lost and get away from your negative thoughts that you might be having. And then, focusing on your family. I was lucky enough last year to have my girlfriend out here with me and being from the West Coast to have her around keeping me grounded gave me something else to focus on. I've realized that maybe in a time when it's not going as well on the field, that if I try to focus on her or us, it kind of brought me back and put things into perspective.
What kind of things do you like to read?
Right now, I'm on a big fiction kick, reading about alternative worlds, virtual reality worlds. I just finished a [Malcolm] Gladwell book, [there's] some Michael Lewis stuff I've read in the past. Like I said, it's a good way to get lost.
Have you gotten the chance to explore the area much since you've been here?
I've been very impressed with the variety and freshness of the food. I have a list on my phone of probably 25-30 restaurants that I want to try. The city has a cool vibe with all the little pockets.
You have also gotten involved with several local causes, why is that important for you?
I'm not from here, but we spend six, seven months here and ask so much of these fans that any time we have the chance to do a little for them off the field is something that I enjoy, I really do. Anytime I get to work with young children, whether it's with the Ryan Howard Youth Academy, or I've worked pretty closely with kids with muscular dystrophy. Just doing simple things and you can tell the kids are having so much fun and there's a lot of genuine joy going on. We are lucky we are given a platform in the sports world where we can reach more people and I think it would be silly of us to not take advantage of that.


Photography by Miles Kennedy
Published (and copyrighted) in South Jersey Magazine, Volume 15, Issue 2 (May 2018).
For more info on South Jersey Magazine, click here.
To subscribe to South Jersey Magazine, click here.
To advertise in South Jersey Magazine, click here.
Author:
Peter Proko
Archives
---
Who's Who in Health Care
Former Shawnee star Doolittle Calls It A Career
Camden County College welcomes Baseball Hall of Fame
South Jersey Football Games of the Week
Out & About
QB Ronnie Borden is Back in the Game
Should fans be worried for the Phillies bullpen?
South Jersey Football Games of the Week
A look at South Jersey's Top H.S. Girls' Soccer Teams
Out & About
Eagles will be fine after close call in opener
High School Football Games of the Week
Is it Super Bowl or bust for the Eagles?
What's New in South Jersey?
From New Jersey to Nashville
More...