Best Burgers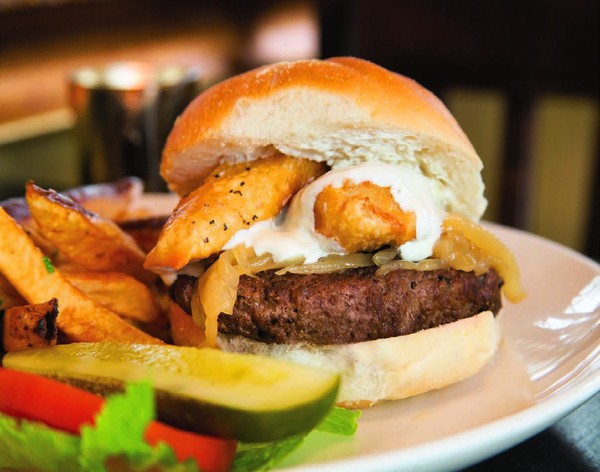 There's something inherently satisfying about biting into a delicious burger. And there's more to it than just well-seasoned beef that is prepared skillfully—in fact, some of the best burgers aren't actually beef at all. But there are other factors to consider as well. The style and the accompanying ingredients are as crucial as the protein and they need to work together in harmony.
In an effort to find the best representations of a quality burger in South Jersey, we sifted through the countless offerings in the area and came up with 25 standouts.
Cobbzilla
Society of Burgers in Washington Township
This spot shares real estate with a salad-focused sister eatery so we can appreciate this play on the Cobb salad. An angus patty is met with all the requisites—creamy, rich avocado, crispy bacon, a fried egg and blue cheese— creating a burger that combines the best of both worlds.
French Onion Burger
The Chophouse in Gibbsboro
Available on the underrated bar menu at this swank steakhouse, this burger is made with beef from Pat LaFrieda, the highly thought of meat purveyor from North Jersey. Swiss cheese and caramelized onions add familiar touches to the French Onion theme while a tarragon mayo adds a touch of subtle sophistication.
The Eastern Block Burger
Article continues below
---
advertisement


---
Oliver A Bistro in Bordentow
n
This restaurant loves burgers so much that they dedicate special nights each week to serving up unique, mouth- watering versions. Our current favorite is this half- pound angus patty served with a pillowy pierogi, sweet caramelized onions and a chive sour cream.
Swedesburger
The Red Hen in Swedesboro
Beer 'n Burger Night—offered all day, every Monday—is the perfect time to visit The Red Hen to order any beer and any burger on the menu for $12. You can't go wrong with the Swedesburger, topped with roasted tomato, bacon, onion rings and cheddar cheese. The real standout is the house-made barbecue chipotle sauce, which adds an extra bit of flavor to every bite.
Kurobata Pork Burger
Yard House in Moorestown
We don't know where to begin with this handheld delight as each bite is like a symphony of flavors with various ingredients working together perfectly. The burger is topped with a spicy candied bacon and American cheese, sits on a bed of arugula and is finished with blueberry ketchup.
Lobster and Crab Burger
The Capital Grille in Cherry Hill
The signature cheeseburger at this luxe dining spot has caught our attention in the past, but it's become increas- ingly hard for us to ignore this seafood specialty. Succulent and meaty chunks of lobster and crab are formed together while a house-made tartar sauce adds an even further savory punch.
Santa Fe Turkey Burger
Iron Hill in Maple Shade and Voorhees
You're not going to miss red meat when you bite into this fresh turkey burger topped with guacamole, tomato, bacon, pepper jack cheese and an addictive ancho honey mayo. While the beer will always be the main attraction here, a supporting star like this burger deserves its place on the marquee too.
Inside Out Burger
Kitchen 519 in Gloucester Township
Putting a twist on the traditional placement of toppings, Kitchen 519's Inside Out stays true to its name. The burger is stuffed with gorgonzola cheese and applewood smoked bacon, and then it's topped with tomatoes, arugula, caramel- ized onions, cheddar jack cheese and garlic mayo.
Thai Pork Sausage Burger
Thai Burger Café in Pitman
Waking up your taste buds is easy with a spicy kick from this fiery number. Ground pork is mixed with Thai sausage to create a piquant patty that's topped with Sriracha mayonnaise, let- tuce, tomato and onion on a toasted brioche bun.
Big Bad Blue
Zinburger in Cherry Hill
A juicy patty is smothered with Point Reyes Original Blue Cheese and topped with bacon onion jam, baby arugula, dijonnaise and fried onion strings for an added crunch. With so many flavors in one burger, how could you go wrong?
Mushroom Cheeseburger
Kid Rip's Tap and Tavern in Runnemede
This small neighborhood joint packs some big flavors into this menu staple. The star of the show is by far the woodsy blend of mushrooms that have been sautéed in a port wine reduction, enhancing the earthiness of the fungi and giving balance to the sweet nuttiness of the Swiss cheese.
D.C.B.
Keg & Kitchen in Westmont
The smokiness and slight spicy kick from chorizo is turned up a notch when combined with a wicked chipotle relish and pepper jack cheese, but also perfectly counterbalanced by the saltiness of bacon and the acidity from a tomato. A smoked mayonnaise brings everything full circle making the D.C.B. A-OK.
Late Night in Jersey
Rockhill in Cherry Hill
Giving "breakfast for dinner"a whole new meaning, the Late Night in Jersey burger combines our favorite meal of the day and an American staple. Pork roll, a sunny-side up egg, bacon mayonnaise, lettuce, tomato and onion are all placed strategically atop a patty for the best of both worlds.
Bison Burger
Harvest Grill in Moorestown
We love burgers—obviously—but sometimes we want the satisfaction of biting into a juicy patty while feeling somewhat healthy about our decision and this is just what we need. Grass-fed bison—leaner and a tad sweeter than beef—is served with baby Swiss, shiitake mushrooms and a fragrant truffle aioli to satisfy our appetites without weighing us down.
The Industrial Burger
The Farm & Fisherman Tavern in Cherry Hill
Get your fill with The Farm & Fisherman's spin on the traditional burger: The Industrial. Here, the classic beef patty is swapped with a dry-aged brisket topped with cheddar cheese—melted before your first bite—and dressed with tavern sauce and a tantalizing onion jam. Traditional might never be the same.
Inferno Burger
The Pop Shop in Collingswood and Medford
If you're looking for a taste bud challenge, look no fur- ther than The Pop Shop's Inferno Burger. Promising a spicy kick, the burger is topped with a house onion and fried jalapeño mix, green tomatillo sauce, chipotle mix and, of course, jack cheese. If you need to numb the heat, their milkshakes will do the trick.
Pork Belly Burger
The Bistro in Haddonfield
Attention all bacon cheeseburger lovers; Forget the version you know and love, this is what you should be eating. Thick slabs of juicy, fatty and most importantly crispy pork belly rest atop a sizable cheeseburger. The dollop of cole slaw on top may seem excessive, but we're not judging.
Grand Lux Burger Melt
Grand Lux Café in Cherry Hill
A cheddar cheese burger with grilled onions and Thousand Island dressing was enough to catch our eye, but add on that it is served between two pieces of grilled Parmesan cheese bread and you have gotten our full attention.
Kobe Wagyu Beef Burger
Burger Barr in Washington Township
Just a few months since its opening across the street from Washington Township High School, this trendy eatery has already left its mark on the local burger scene. There are several burgers to choose from, but we recommend spending a couple extra dollars for the Kobe Wagyu option. Then things really get interesting: Daring customers can choose a bun like brioche or pretzel, sauces ranging from Sriracha ketchup to honey lime mustard and toppings such as a fried egg or jalapeño peppers.
The Kaminski
Kaminski's Sports Bar & Grill in Cherry Hill
If you like things with a little zing to them, this patty's for you. The half-pound certified Angus sirloin and ground premium chuck burger gets smothered with a savory and spicy bacon-horseradish-cream cheese spread and shoestring onions for a flavor punch that will make your mouth—and eyes—water.
The Pickleback
The Pour House in Westmont
Pickles are having a moment and we're here for it—and so is The Pour House apparently. Generously topped with fried pickles, whiskey onions, horseradish sauce and Vermont white cheddar, this burger offers all the flavors of its namesake shot (whiskey chased with pickle juice)—without the cringing or the hangover.
Short Rib Burger
At Kunkel's Seafood & Steakhouse in Haddon Heights
Leave it to a steakhouse to raise the bar on the average burger. As if it weren't enough for the patty to be ground in-house using end cuts and small pieces of steak, they're adding slow-roasted braised short ribs, bordelaise sauce, provolone cheese and onion straws on a toasted brioche bun to create a burger that practically melts in your mouth. Don't even think about adding condiments to this one.
Chain Reaction
In a hurry, but thinking more fast casual than fast food? These are the spots you can trust.
Five Guys
Multiple Locations
With several locations throughout the area, this chain has cornered the market by producing consistently tasty burgers made-to-order with your choice of toppings.
Shake Shack
Marlton
South Jersey recently welcomed this cult favorite into the fold with its location in Marlton. Judging by the crowds, its arrival was long overdue.
Smashburger
Multiple Locations
This Denver-based eatery has made a name for itself with its signature "smashed" patties—a technique used to keep all the fat and juiciness inside the burger for maximum taste.
B. Good
Marlton and Mt. Laurel
Using both seasonable and sustainable ingredients, the burgers here may not be considered health food exactly, but they are on the right track.
Published (and copyrighted) in South Jersey Magazine, Volume 15, Issue 2 (May 2018).
For more info on South Jersey Magazine, click here.
To subscribe to South Jersey Magazine, click here.
To advertise in South Jersey Magazine, click here
Author:
Matt Cosentino, Josephine Cusumano, Liz Hunter, Kaytlyn Mroz, Peter Proko, and Julie Shannon
Archives
---
Who's Who in Health Care
Crowd Pleaser
Can the Eagles Regain Their Winning Way?
A Bight Future Ahead for Glassboro Football
The Big Impact of Small Businesses
Eagles Need to Reset
Feeling Festive
Another dominating season for Delsea football
Mainland's Historic Football Season
A Rooting Interest
Eagles Continue to Fly High
Raising the Bar
Thanksgiving Football Continues
Hotstovers to honor All-SJ Baseball and new HOF inductees
South Jersey Football Games of the Week
More...