Top Towns 2018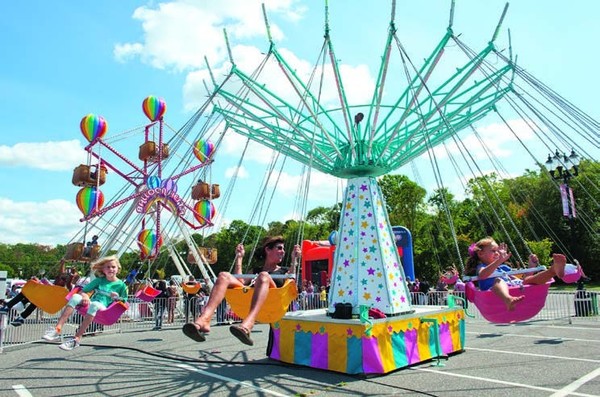 Ask people what they love about living in South Jersey and undoubtedly you'll get the familiar answers about its proximity to major cities like Philadelphia and New York, or that it's a quick shot down the Parkway to the Shore. But what really makes this area such a great place to call home is its surrounding communities and all they have to offer. From tranquil park settings and buzzworthy restaurants to top-notch schools and cutting-edge medical facilities, we are lucky to have such great resources at our disposal.
For our annual Top Towns rankings, we dug deep into these areas in an effort to devise this year's rankings. We also used key data compiled from the state police, the state department of local government services and the state department of education. We then devised a weighted formula that combined average property values and taxes, crime incidents reported per 1,000 residents and high school performance (consisting of SAT scores, the number of AP classes offered and graduation rates). The towns are broken into two categories: a population more than 10,000 (big towns) and fewer than 10,000 (small towns).
Taking the top spot this year is Marlton, a community that has been buzzing lately with several development projects. Add in a highly respected school system, solid property values, quality dining and retail options and a focus on civic engagement and it's easy to see why they are No. 1. That's not to say that several other towns wouldn't be worthy of the recognition, in fact, the data is incredibly close for all the towns in the top five. The bottom line: The sum is greater than the parts and it's just another example of why South Jersey is a great place to call home.
THE TOP 25 OVERALL
Article continues below
---
advertisement


---
1. Marlton
2. Moorestown
3. Haddonfield
4. Medford
5. Harrison Township
6. Woolwich
7. Voorhees
8. Washington Township
9. Cherry Hill
10. Mount Laurel
11. Mantua
12. Southampton
13. Cinnaminson
14. Burlington Township
15. Waterford
16. Delran
17. Lumberton
18. West Deptford
19. Bordentown
20. Haddon Township
21. Franklin Township
22. Monroe Township
23. Florence
24. Collingswood
25. Gloucester Township
THE TOP 10 SMALL TOWNS
1. Chesterfield
2. Medford Lakes
3. Shamong
4. Tabernacle
5. North Hanover Township
6. Mansfield
7. East Greenwich Township
8. Berlin
9. Haddon Heights
10. Wenonah

THE TOP 10 BY COUNTY
Burlington
1. Marlton
2. Moorestown
3. Medford
4. Mount Laurel
5. Southampton
6. Cinnaminson
7. Burlington Township
8. Delran
9. Lumberton
10. Bordentown Township

Camden
1. Haddonfield
2. Voorhees
3. Cherry Hill
4. Waterford
5. Haddon Township
6. Collingswood
7. Gloucester Township
8. Bellmawr
9. Winslow Township
10. Pine Hill

Gloucester
1. Harrison Township
2. Woolwich
3. Washington Township
4. Mantua
5. West Deptford
6. Franklin Township
7. Monroe Township
8. Glassboro
9. Deptford
10. Woodbury
A LOOK AROUND
Marlton
A South Jersey suburb with a tight-knit community, Evesham Township bursts with opportunities for a nurturing family life as well as a hub for business endeavors. Long-awaited commercial and residential projects that were on the horizon in previous years have come to fruition. Completed projects include the four-story, 55-unit Jackie's Crossing apartment complex and big-name eateries such as Chickie's & Pete's, Shake Shack and Honeygrow, among others.
Medford
Known for more than half of the town's land being dedicated open space, Medford is nestled between farmland and the Pinelands National Reserve. Keeping its "hometown" charm intact, shops and eateries line historic Main Street while camps, bike paths and trails promote recreational activities—making it a beautiful municipality for families in our area to settle.
Harrison Township
Homw to integrated communities like Mullica Hill, Harrison Township's almost 20 square miles span across farmlands and tight-knit communities. The township is also home to the William Heritage Winery—which has been growing in popularity after being named the state's "Winery of the Year" in 2011 and 2014 by the Garden State Wine Grower's Association. On the horizon, construction is underway for the township's Inspira Medical Center Mullica Hill that is slated to be completed in December of next year. The five-story, $349 million facility will have 204 beds.
Voorhees
A bustling township in Camden County, Voorhees' less than 12 square miles are filled with opportunities where businesses bloom, grow and undergo redevelopment. Proposed plans for a Super Wawa and Tractor Supply Co. are stirring within the township that would be located on Route 73 by Kresson Road. The Voorhees Town Center, previously the Echelon Mall, might be undergoing a redevelopment in the future if town officials condemn the space, which is almost 50 percent vacant.
Cinnaminson
Blending its community, families and businesses, Cinnaminson prides itself on offering an effective education that has led to a 90 percent graduation rate. With caring neighbors and a local government to be proud of, the township opens its arms to new businesses looking for roots while building up those that are already here growing. Projects in the works include a new hotel, restaurant and two retail pads along Route 130, and affordable senior housing on Riverton Road to name a few.
Haddon Township
Boasting a small-town charm, Haddon Township's downtown district on Haddon Avenue gives residents and visitors alike the access to mom-and-pop businesses, restaurants and even a place to take a stroll with family and friends. New businesses on the horizon include a small-format, 48,000-square-foot Target that is slated to open in July at the Westmont Plaza, while PJW Group's taco and tequila bar at the former Irish Mile location is also planning a July opening.
Collingswood
With a thriving main drag where shops and eateries of all kinds sit along Haddon Avenue, Collingswood has a reputation for being close to the city without the hustle and bustle. With a population of less than 14,000 people, the town caters to its residents by holding a myriad of events throughout the year like First Friday, the Collingswood Farmer's Market, Pop Up Gala, Restaurant Week and more.
Chesterfield
One of the state's original 104 townships, this small town in Burlington County spans just less than 22 square miles with a population of just under 7,700 people. Wanting to keep farmland sacred, Chesterfield has preserved more than 7,000 acres through state and county programs. This was also made possible by the Old York Village community that was built on 560 acres of land.
Shamong
A member of the Pinelands National Reserve, Shamong's almost 45 square miles of land are green with trees and farmland making it a good area to cultivate crops. Home to Valenzano Family Winery, one of the area's most popular with award-winning wines, the winery maintains 88 acres of farmland to grow its vineyards. In other news, as of February, Shamong and Medford Lakes have merged municipal courts bringing all matters to the Medford Lakes' court.
East Greenwich Township
A small residential and farming community in Gloucester County, home to unincorporated communities like Clarksboro and result, East Greenwich has focused building its township on the basis of family, friendship and love. Maryland-based convenience store Royal Farms recently opened its doors at the former Berkley Diner site.

Published (and copyrighted) in South Jersey Magazine, Volume 15, Issue 2 (May 2018).
For more info on South Jersey Magazine, click here.
To subscribe to South Jersey Magazine, click here.
To advertise in South Jersey Magazine, click here.
Author:
Kaytlyn Mroz and Peter Proko
Archives
---
Who's Who in Health Care
Former Shawnee star Doolittle Calls It A Career
Camden County College welcomes Baseball Hall of Fame
South Jersey Football Games of the Week
Out & About
QB Ronnie Borden is Back in the Game
Should fans be worried for the Phillies bullpen?
South Jersey Football Games of the Week
A look at South Jersey's Top H.S. Girls' Soccer Teams
Out & About
Eagles will be fine after close call in opener
High School Football Games of the Week
Is it Super Bowl or bust for the Eagles?
What's New in South Jersey?
From New Jersey to Nashville
More...