1 Dead, 1 Hospitalized After..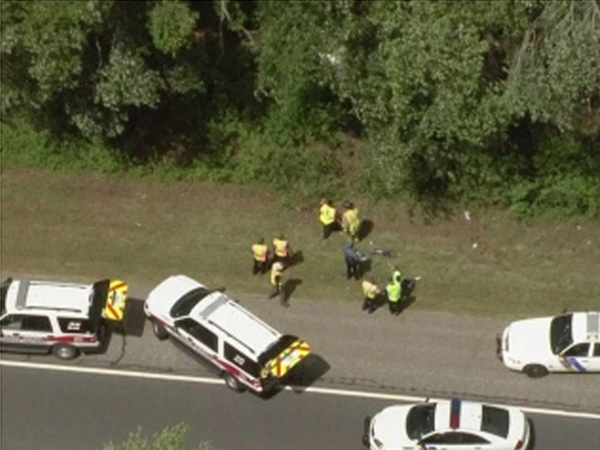 1 Dead, 1 Hospitalized After Box Truck Accident On Atlantic City Expressway Near Winslow Township
Authorities say one person is dead and another hospitalized following an accident involving a box truck that has left only one lane open on the Atlantic City Expressway in both directions near Winslow Township on Wednesday.
The accident happened west of Exit 33 in Winslow around 2:20 p.m.
Authorities say the box truck lost control when went into the woods.
Authorities say a woman passenger was pronounced dead at the scene of the accident and the male driver of the box truck was flown to Cooper University Hospital.
One westbound lane is open on the expressway.
Crews are currently working the scene.
Photograph courtesy of CBS.

Author:
http://philadelphia.cbslocal.com/2018/05/23/all-lanes-closed-on-atlantic-city-expressway-near-winslow-township-after-accident/
Archives
---
South Jersey Coronavirus (COVID-19) Developments (February 26)
South Jersey Coronavirus (COVID-19) Developments (February 23)
South Jersey Coronavirus (COVID-19) Developments (February 19)
South Jersey Coronavirus (COVID-19) Developments (February 12)
South Jersey Coronavirus (COVID-19) Developments (February 5)
South Jersey Coronavirus (COVID-19) Developments (February 1)
South Jersey Coronavirus (COVID-19) Developments (January 29)
South Jersey Coronavirus (COVID-19) Developments (January 28)
South Jersey Coronavirus (COVID-19) Developments (January 22)
South Jersey Coronavirus (COVID-19) Developments (January 21)
South Jersey Coronavirus (COVID-19) Developments (January 14)
South Jersey Coronavirus (COVID-19) Developments (January 8)
South Jersey Coronavirus (COVID-19) Developments (January 4)
South Jersey Coronavirus (COVID-19) Developments (December 23)
South Jersey Coronavirus (COVID-19) Developments (December 21)
More Articles