Phillies Need to Improve Road Record and Offense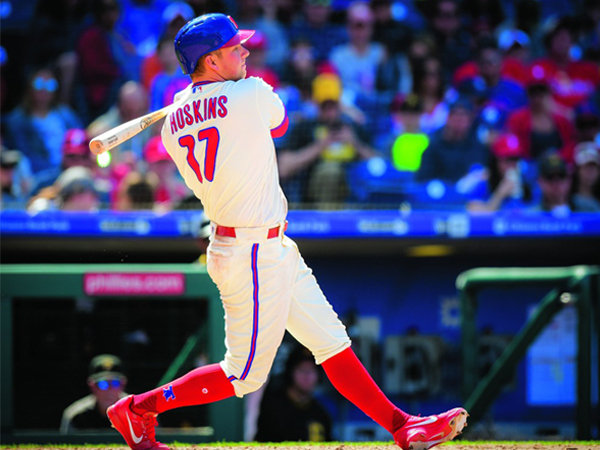 The Phillies are no doubt vastly improved from last year's 66-96 team. In fact, it is often said that a team's position by Memorial Day is an indication of where they could end up.

If that is the case, then the Phillies should remain in contention all season. After Memorial Day's games, the Phillies stood 29-22 and were just one game out of first place in the NL West.

One thing the Phillies will have to be better at is winning on the road. No way the Phillies will fall to the depths of last year when they were 27-54 away from Citizens Bank Park.

After Monday's difficult 5-4 loss to the host Los Angeles Dodgers, the Phillies were 10-13 on the road.

It appears as if the biggest improvement on the Phillies is their starting pitching. Aaron Nola looks like he is headed to the all-star game and the addition of Jake Arrieta has helped on so many fronts.

Article continues below

---
advertisement


---


First off, he remains one of the National League's top pitchers with some of the nastiest stuff. Secondly, he has been veteran mentor to a young staff, setting the tone for hard work.

What has to improve for the Phillies to remain in contention is their offense.

It can be said that the only starter who is producing above his expected level is centerfielder Odubel Herrera, who through Memorial Day was hitting .332 with a .914 OPS.

Every other Phillie was regular was hitting under .270.

Scott Kingery, who got off to such a quick start in his first MLB season, has struggled at the plate.

To his credit, Kingery hasn't let his offensive struggles hurt his defense. While he has played a variety of positions, Kingery, whose best position is second base, has looked more comfortable each game at short, as he has gotten regular season with J.P. Crawford on the disabled list.

The other player who has really slid is Rhys Hoskins, who last season and early this year was hailed as the Phillies latest star.

His average dropped to .230 through Monday. Not only that but he had a scary moment when he hit himself in the face with a foul ball and had to leave the game against the Dodgers.

Hoskins still has been getting on base, witnessed by his .360 on base percentage, but the Phillies need him to revert to the player we saw last year.

In addition, Cesar Hernandez, who has proven to be a really efficient offensive player, has also been slumping. Out of all the Phillies, he is the one who they likely have to worry about the least.

Catcher Jorge Alfaro has been a big hit when it comes to throwing out base runners, but on offense, he has been striking out too much.

A positive sign is that first baseman Carlos Santana, who batted .153 in March/April, had lifted his average to .214 through Monday.

Third baseman Maikel Franco is improved of the previous two seasons, but is still looking for more consistency.

The fact that the Phillies were seven games above .500 with so many hitters struggling may be looked on as a good sign.

At the least they should remain in contention as long as their offense can experience an upgrade over the final two-thirds of the season.
© SouthJersey.com 2018. All rights reserved. This article or parts thereof may not be reprinted or reproduced by any other party without the express written consent of SouthJersey.com. For more information, please call 856-797-9910.

For more Local Sports features, visit our South Jersey Sports page.
Author:
Marc Narducci
Archives
---
The Long Journey in a High School Football Season
Four South Jersey Regional Football Champions
A Familiar Voice
Men of The Year 2021
Joining the Family Business
Giving Kids a Shot
Deck the Halls
High School Football Regional Championship preview
South Jersey Coronavirus (COVID-19) Developments (December 1)
There is still a place for Thanksgiving football
Eagles soap opera continues
A Familiar Voice
Executives of the Year
Observations of the South Jersey Football Teams in championship play
'Lifeblood of the Economy'
More...