Best of the Shore 2018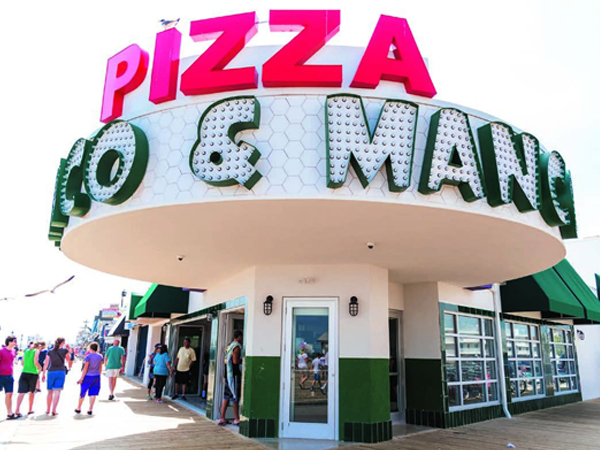 Summer has (unofficially) arrived, and that means we're heading to the Shore, where we're trading in the dress shoes for flip-flops, office chairs for beach chairs and the 9-to-5 for "it's 5 o'clock somewhere."

However you like to spend your time at the beach, our annual Best of the Shore roundup will keep you happy, whether it's grabbing some salty treats on the Boardwalk, taking your spouse out for a long overdue cocktail or challenging the kids to a rematch at mini golf.

This is the definitive list for food, drinks, entertainment and family activities from Cape May to Long Beach Island— including readers' picks and brand-new additions—ensuring no chance of boredom this summer. Stake out your spot in the sand and settle in for the most wonderful time of the year.

BREAKFAST
Avalon
Early risers are wise to head to Fishin' Pier Grille to start their day off right with an array of breakfast staples like oversized omelets, pancakes and plenty of crispy bacon. A trip to Kudos American Grilleshould always include an order of the Chesapeake Eggs Benedict with ham and jumbo lump crab or their cinnamon French toast made with homemade bread.
Article continues below
---
advertisement


---


Cape May
The most important meal of the day is too often just a bagel on the go during normal mornings, but on vacation at the Shore we like to splurge. George's Place—once featured on Diners, Drive-ins & Dives—is a Greek restaurant with a long history of serving delicious breakfasts to locals and visitors alike. Allow us to recommend the Breakfast Quesadilla: two eggs with choice of meat, peppers, onions, cheddar cheese and salsa.



Long Beach Island


On the island, breakfast is a priority. Whether you're craving a stack of pancakes ranging from buttermilk to apple pecan, Uncle Will's Pancake House is your spot. If bagels are moreto your liking, Beach Haven's Bagel Shack makes all its bagels in-house, while curating mouth-watering sandwiches featuring fixings from bacon and cheese to hash browns. Your classic diner is Mustache Bill's in Barnegat Light, which has hadits fair share of the spotlight, as it offers bottomless coffee and famous chipped beef.



Margate/ Ventnor


You'll find everything you need to charge up for the day at Hannah G's in Ventnor, from three-egg omelets stuffed with Italian sausage, spinach andcheese to Belgian waffles, pancakes and a variety of breakfast sandwiches. The Mexican Breakfast—two eggs any style, corn tortillas, avocado, salsa, black beans and sweet plantains—is a favorite at nearby Lisa's where the French toast with pumpkin mascarpone,pecans, crumbled bacon and a caramel drizzle also wows us.



Ocean City


At the OC Surf Café, where surfboards adorn the walls inside and out, breakfast is a real crowd pleaser, with plenty of omelets, pancakes and combos to go around, but we recommend their specialties, like the Old Salt—a grilled Philly soft pretzel roll topped with creamed chipped beef—or the steak and egg tacos. For a French toast fix, head to the Varsity Inn where you can have it the traditional way, or make it "Cinfully Good" and replace the bread with a cinnamon bun, which is served with house-made honey-cinnamon butter.



Sea Isle City


If a hearty breakfast is what you seek, then look no further than Steak Out, where the Big Mofo checks all the boxes. Start by choosing a waffle, three pancakes or three slices of French toast and then get ready as you try and devour the accompanying two eggs, your choice of scrapple, bacon, ham, sausage or pork roll, either waffle fries or home fries and toast. At Dock Mike's Pancake House, there's a lot of satisfying items on the menu, but the pancakes remain the star of the show with varieties like piña colada and Jersey corn to help break the monotony.

Stone Harbor
Sweet and savory fans alike will enjoy Borghi's By the Bay, serving the fluffiest waffles that almost melt in your mouth and a breakfast burrito that is almost enough for two people—made with scrambled eggs, peppers, caramelized onions, fresh tomatoes, Vermont white cheddar cheese in a toasted flour tortilla with Sriracha ranch and home-fried potatoes. Café Noir has that neighborhood coffee shop feel with top quality products being served, including La Colombe Coffee, a variety of baked goods from bagels to pastries, breakfast sandwiches and yogurt parfaits.



Wildwood


Breakfast—sometimes well past the early bird special—is a rite of passage at the Shore. In Wildwood, we like to head to Samuel's Pancake House to carb-overload on stacks of their pancakes in the Oreo and s'mores varieties. Or, we choose to frequent Surfside West Diner where The Hangover—layered home-fried potatoes, American cheese, creamy chipped beef and topped with an over light egg—is sometimes just what the doctor ordered. But when the beach is calling our names, we stop by Wild Fox Café for coffee or tea and a treat to hold us over until dinner.

COCKTAILS


Avalon


With several signature cocktails to choose from, The Sandbar Village is a great place to grab a drink whether you're starting your evening or looking for a nightcap. The Strawberry Mule made with Ketel One, ginger beer and hits of strawberry and lime is a summer staple, but there's something to be said for ordering the $25 mai tai bucket and grabbing a seat overlooking the beach.



Cape May


Nicknamed "Cape May's Living Room," patrons love the stylish, 1930s-inspired décor of The Brown Room located in Congress Hall. Several U.S. presidents were known to frequent Congress Hall and provide the inspiration for the Presidential Cocktails. Our go-to is the Whiskey Smash—similar to a Mint Julep and said to be a favorite of James Buchanan—which consists of Collingwood bourbon, lemon juice, blackberry simple syrup and mint.



Long Beach Island


Whether you prefer your drink straight or neat, Ship Bottom's The Arlington knows a thing or two about cocktails. Just try its Pimm's Pt. 2, made with strawberry mint shrub, lemon, soda and Beefeater Gin. For a rooftop vibe, Daddy O serves up specialty drinks, craft and imported beers and more—all with a view. By Barnegat Light, the Daymark Bar & Restaurant has an impressive cocktail list, like the Barrel Aged Manhattan, while also offering live entertainment on select nights.



Margate/ Ventnor


Frozen drinks are in order when stopping by Ventura's Greenhouse, where a blended rum runner always seems to quench our thirst. If you don't want to risk brain freeze, the lineup of specialty cocktails like the Blew out My Flip Flop—spiced rum, blue Curacao, crème de banana, pineapple juice, sour mix and ginger ale—will do the trick. We're suckers for a well-made Manhattan, and over at Steve and Cookie's, they have a half-dozen choices to wet our whistle. The rest of their cocktail menu pays equal homage to other classic libations and the selection of aperitifs and digestifs appeal to sophisticated sippers.



Ocean City


Charlie's Bar & Restaurant in Somers Point may be most recognized for its world-class wings, but the drinks are just as worthy. The Candy Red Apple Martini with Tito's Handmade Vodka, butterscotch schnapps, sour apple schnapps and a splash of cranberry is a sweetly tart and refreshing cocktail, and the Orange Whip (Rum-Chata, Stoli Ohranj vodka, whipped vodka) tastes like a spiked creamsicle.



Sea Isle City


You can catch us soaking up the sun on the patio at Henri's sipping on a bevy of quality made martinis and frozen drinks like the popular Strawberry 302—a blended cocktail made with potent Bacardi 151 rum. Doc Magrogan's Oyster House boasts a respectable wine list, seasonal sangrias and lots of mojitos, margaritas and standard cocktails, not to mention lots of local craft beers on tap.



Stone Harbor


Margaritas, cocktail, frozen drinks and even a tequila bar—Buckets Margarita Bar & Cantina has it all and a killer view of the bay to boot. We can't stop sipping on the Strawberry Jalapeño Margarita and The Stone Harbor Vice—piña colada and strawberry daiquiri blend, served with Gosling's Dark Rum Floater. Fred's Tavern, an iconic establishment serving locals and vacationers since the 1930s, serves a refreshing Seven Mile Splash—Three Olives Orange Vodka, Three Olives Raspberry Vodka, Sprite and cranberry juice.



Wildwood


Drinks, the water and a sunset go hand in hand down the Shore so we make it our mission to search for locations that include all three. At The Wharf Restaurant, you can find an extensive wine, beer and draft list while also indulging in specialty drinks like the Strawberry Blonde Martini. If you're a frozen drink connoisseur like us, the Boathouse Restaurant & Marina Deck gives the Butterfinger a twist by mixing Butterscotch Schnapps, Dark Crème De Cacao and Topics Ice Cream for a new way to enjoy the beloved candy bar.

FAMILY FUN


Avalon


Every Thursday night, Dune Drive becomes the hub for family fun during Thursdays on Dune, with plenty of activities and giveaways for the little ones and live music at Veterans Plaza. Through mid-June, every Tuesday is Open Cornhole Night over at Avalon Community Hall, where those who register can toss bags for bragging rights. And when it comes to a little family friendly competition, Pirate Island Golf will do the trick as long as dad doesn't cheat on the scorecard.



Cape May


When dragging the chairs, umbrella and kids' toys down to the beach becomes too much of a hassle, it's
hard to go wrong with a visit to the Cape May County Park and Zoo. Admission is free—although donations are accepted—and some of the gorgeous animals that call the zoo home include snow leopards, red panda bears and African lions. For a more risky adventure, Cape May Ghost Tours offer the opportunity to check out the town's old Victorians said to be haunted by resident spirits.



Long Beach Island


Fun doesn't have to end at the beach, as Fantasy Island Amusement Park and Thundering Surf Waterpark feature arcades, rides, Boardwalk-eats and a Flow House. The Surflight Theatre and Show Place Ice Cream Parlour does theater right as its neighboring sit-down ice cream parlour comes with a singing staff—but you may have to participate depending on what you order. In Viking Village, antique shops run the gamut, plus a visit to the nearby Barnegat Lighthouse is an itinerary must.



Margate/ Ventnor


Margate's Beachstock is a 14-hour party on the sand (no beach tags required!) with lots of live entertainment, activities for the family (limbo lessons anyone?), demonstrations, vendors, a volleyball tournament and much, much more. They don't call it "the planet's biggest beach party" for nothing.



Ocean City


Could the kids use a break from riding the waves? Head to Asbury Avenue for weekly "Funtastic Tuesdays" from 10 a.m.–1 p.m. for entertainment, face painting, balloon artists and more, or check out "Wacky Wednesdays" at the Music Pier for a new activity every week, like french fry sculpting and other crafts. That rainy day savior miniature golf takes a turn for the spooky at Haunted Golf, where golfers are more likely to laugh than scream. Little buccaneers will love Pirate Voyages, an hour of swashbuckling fun, complete with sea chanteys and treasure hunting on an authentic pirate ship called Sea Dragon.



Sea Isle City


Over the course of two days, Sea Isle's largest summer festival, Skimmer Weekend attracts thousands of visitors each year with lots of activities for the kids, live entertainment, plenty of food and craft vendors. This year's celebration culminates with a car show on Father's Day.



Stone Harbor


Island Water Sports is your place for all kinds of water activities away from the beach for the entire family, from an Aqua Park on the bay with a climbing wall and cliff to a blob launching pad, kayaking and jet skiing, to taking off from the water on a Flyboard—a wakeboard-style device that uses water power from a jet ski to propel you up to 20 feet in the air. After you're done playing in the water, bring your beach chairs to Tuesdays at the Tower, a free concert series held every Tuesday at the 95th Street Water Tower Plaza with a beer and wine garden on hand.



Wildwood


Fun for the whole family is easy to find, but we tend to be partial to things that feed our sense of adventure. Morey's Piers are always a favorite, no matter what your age, while Dark Star Pirate Cruises will recruit your maties to search for booty. When you want a break from the sand, Splash Zone Water Park has 15 attractions within the park for your family to enjoy. And don't forget about that yellow boat that sticks out like a beacon atop the waves while you are lounging on the beach—that is the Thundercat Dolphin Watch.

FINE DINING


Avalon


Marie Nicole's Grill made the trek from Wildwood and planted down new roots in Avalon last year, but the quality of their polished plates like the Duroc Pork Chop with a bacon and Brussels sprout hash and apricot-cranberry chutney remains unchanged. Then there's Café Loren, a quaint restaurant where diners buzz about the artfully plated dishes like the pan-seared halibut with a pancetta and sweet pea risotto and ginger carrot emulsion. The always crowded dining room at The Diving Horse is a testament to the wonderful assortment of items on the constantly evolving menu. Snag a reservation and go for one of the nightly specials to guarantee yourself a memorable meal.



Cape May


Just a short walk away from the Cape May Lighthouse sits The Red Store, where James Beard Award-nominated chef and owner Lucas Manteca invites guests to try a multi-course tasting menu for dinner that impresses with its flavors as well as its presentation. Seafood risotto is a favorite at Tisha's, a BYOB located in the middle of Washington Street Mall. Enjoy a romantic dinner on the porch overlooking the ocean at Peter Shields Inn & Restaurant, or savor the fresh local ingredients that make up the dishes served at The Ebbitt Room.



Long Beach Island


The Gables is where fine dining with seasonal fare meets a romantic back-drop: think sitting in a flower-adorned porch and noshing on local blackened sea bass or roasted strawberry endive salad. Surf City's Yellowfin will change the way you eat seafood with their expertly crafted dishes including rare seared tuna with wasabi mash or miso black cod. Raimondo's is your go-to Italian spot as it's been in business since 1991, with favorites including linguini alla vongole or Chilean sea bass over rock shrimp risotto.



Margate/ Ventnor


Scratch-made pastas and Italian specialties like grilled artichokes with prosciutto finished with shaved grana padano and basil olive oil help put La Padella Ristorante in a class all its own. Speaking of Italian food, Red Room Café consistently puts out stellar plates like the Fettuccine Funghi. Ribbons of pasta swim in a light cream sauce with a medley of earthy shiitake, porcini and crimini mushrooms for a rich and rewarding entrée. The modern touches, from the inspired and inventive food to the finessed plating, at Cardinal Bistro make it one of the more exciting spots to dine at the Shore and we are constantly intrigued by the creations coming out of the kitchen.



Ocean City


Vacations naturally call for a chance to dine more intimately, and you'll find just that at Vittorio's. The family-owned restaurant presents plates of authentic Italian, including homemade lobster ravioli, and nightly specials where the chef's creativity shines. But if you want dinner and a drink, cross the 9th Street bridge to The Doc's Place for American fare—classics like filet mignon, rack of lamb and crusted salmon—and a vast wine list, all served with a view of the Ocean City skyline across the water.



Sea Isle City


Stellar service and a splendid menu help make A Modo Mio one of the best fine dining experiences at the Shore. The gnocchi swims in a gorgonzola cream sauce with walnuts and balsamic reduction and the mahi mahi with arugula and cherry tomatoes cooked in a saffron white wine are just a few of the reasons why we are repeat customers. La Fontana Coast pleases with their refined pasta dishes, veal medallions and langostinos, but the risotto is unforgettable. Go with the scampi version with sautéed jumbo shrimp in a basil-rose cognac cream sauce.



Stone Harbor


The food never disappoints at Jay's on Third, a popular BYO that is expanding their space with plans of the addition being ready in July. We recommend the melt-in-your-mouth scallops with mushroom risotto, tomato jam and celery root-pink peppercorn nage. Ristorante Luciano and Spiaggetta, also BYOs, both make home-made pasta from scratch that is divine, including Ristorante Luciano's Fettuccini Alfredo and Spiaggetta's Amatriciana—rigatoni tossed with crushed Roma tomatoes topped with crispy guanciale and Romano cheese.



Wildwood


When you want a night out—without the kids—we are pleased to have options for date night even at the beach. One Fish, Two Fish has been chef-owned and operated since 2012 and features a menu complete with Spicy Tuna Tartare, House Braised Beef Short Ribs and a Fresh Local Berry Panacotta to finish. The Establishment at 100 serves up quality dishes like Warm Marinated Olives and Lamb Leg Steak that you can wash down with a beverage like the Melting Sunset.



HAPPY HOUR




Avalon


Happy Hour at The Whitebrier is a must. High-energy crowds, many of whom just stepped off the beach, flock to enjoy live entertainment, discounted drinks and plenty of delectable bites from the sushi to small plates like the pork bao buns and chevre arancini. With several areas, including the open rooftop, at The Windrift, your happy hour visit will include a variety of well-made cocktails, light bites and scenic views of the Atlantic.



Cape May


Guests can't help but notice the beautiful, glass-top bar in bright aqua blue at Fins Bar & Grille, and the tropical fish in the aquarium add to the overall vibe.It all makes for a smooth transition after a day at the beach to grab one of their 20 beers on tap. At the iconic surfer bar The Rusty Nail, visitors can actually see the ocean from the patio as they sip on a signature margarita and listen to live entertainmentevery night during the summer.



Long Beach Island


It's always happy hour somewhere on the island and The Sea Shell Resort & Beach Club is one spot to hit. Happy hour at its outdoor Tiki Bar is from 4-6 p.m. with live music along the pool. The Old Causeway'shappy hour goes from 3 to 6 p.m. and includes $1 oysters, 75 cent clams and 50 cent wings. The newly renovated Surf City Hotel hosts happy hour in its Clam Bar from 3-6 p.m. with specials on drinks and food.



Margate/ Ventnor


Bellying up to the bar at Luciano Lamberti at happy hour is just asmuch about the qualityfood as it is the drinks. For $6, you can munch on items like roasted mushroom and artichoke flatbread, sautéed long hots or mussels fra diavolo. Johnny's Café and Lounge draws a happy hour crowd seven days a week from 4 to6:30 p.m., but on Wednesdays the specials last all night. Expect $7 drinks made with Van Gogh Vodka and lots of sliders, clams casino, grilled lollipop lamb chops and much more.



Ocean City


For a happy hour that's more than just a few beerspecials, head to Baia in Somers Point. Here you'll find $4 wines, $3 draughts and $8 apps, and we're not talking about mozzarella sticks. Instead, think sushi tuna tacos or sautéed mussels in a saffron fennel broth. Not to mention the outdoor decks (plural) and live music. In this setting, happy hour could last all night.



Sea Isle City


While the daily happy hours at The Ocean Drive (affectionately known as The OD) are always a good time, it's the weekend parties that really pop. Saturday's famed No-Shower Happy Hour and the Sunday Jam are where you'll find beachgoers covered in sand hoisting drinks while moving and grooving to live music. With five bars in one location, both inside and outside, revelers can be found throughout Kix McNutley's where hot entertainment mixes perfectly with cold drinks.



Stone Harbor


After a relaxing day at the beach, happy hour is usually the first thing that comes to mind, and Stone Harbor Bar & Grill is a great place to relax with a cold drink in your hand and feel the cool, ocean breeze when its large garage windows are open. The Watering Hull is another establishment with open air seating and they have some of the best deals on the island with $2 off drafts, $5 glasses of house wine and $5 Tito drinks from 4 to 6 p.m.

Wildwood
In between the beach and dinner, we find time to kill at two of our favorite happy hour spots. Bungalow No. 7 Beach Bar is deemed a "breezy oceanfront oasis" with drinks, light cuisine, fire pits, live music and ocean views aplenty. North End American Grill serves up the specials with a daily happy hour from 4-7 p.m., $6 appetizers, dollar oysters and special drink prices all summer long.

HEALTHY OPTIONS


Avalon


At the Surf Snack Shack you'll find all the smoothies you need to help you replenish after a long day on the sand or an even longer night out on the town. You may even want to skip the ice cream cone and grab yourself one of their addictive acai bowls packed with fresh ingredients that are good for you and taste even better.



Cape May


Believe it or not, not everyone at the Shore wants to gorge on pizza and ice cream. A tasty and healthy alternative is Good Earth Organic Eatery, which has left its mark in West Cape May since its owners emigrated from Italy in 2012. The blackboard menu constantly changes to serve seasonal and local ingredients from area farms and fishermen, and they also have their own juice bar and homemade desserts like gelato and dark chocolate coconut pudding.



Long Beach Island


Go with the healthy option as Greenhouse Cafe offers heart-smart, low-sodium and other health-conscious items like its gluten-free Manhattan clam chowder and more. Living on the Veg serves up vegetarian and vegan eats from wraps and burritos to deli sandwiches and fresh fruit smoothies. If you're looking for energy after a workout, Surf City's Pyour Pour does fresh-pressed juices, acai bowls and avocado toast variations including one topped with smoked salmon, red onions and capers.



Margate/ Ventnor


The folks at Done help take the guesswork out of your next meal with shelves full of prepared foods that are properly portioned. Whether you're grabbing on the go or taking dinner home for the family, you won't ever have to worry about sacrificing flavor for eating right. Acai bowls, fresh smoothies and cold-pressed juice make Greens and Grains a popular spot for the health-conscious crowd. The Enlightened Café has plenty of feel-good food, but building your own bowl with a choice of proteins like pulled chicken or spicy chickpeas and a base of sweet potato quinoa hash or farro and then finishing it with veggies and sauce lets you control your own destiny.



Ocean City


At Bashful Banana Bakery & Cafe, which offers a healthy gourmet menu catering to gluten-free, non-dairy and vegan dietary restrictions, breakfast like the Waffle & Whip—a whole grain Belgian waffle topped with famous banana whip and fresh fruit—looks like a cheat meal but has zero guilt. Salads at Yianni's Café are the perfect midday meal, but we're partial to the Greek, topped with homemade dressing made using extra virgin olive oil from the owner's grove in Crete. Sate your sweet tooth at Yoasis, choosing from 16 frozen yogurt flavors, fruity smoothies and beach bowls with acai.



Stone Harbor


There is no shortage of healthy options in this now health-conscious world we live in, starting with Playa Bowls—formerly known as Shore Juice. Gracing the menu are smoothies, juices, and pitaya and acai bowls—super fruits blended into thick smoothies, topped with an endless amount of more healthy toppings such as strawberries, bananas, granola and coconut flakes—to name a few. Juice Girl provides similar items, with an extensive detox juice menu to keep your body in check. If you want a salad or sandwich packed with healthy proteins, veggies and fruits, Green Cuisine is your place, and they accommodate customers who are gluten-free and other special diets.



Wildwood


For those of us who like to "try" and stick to our diets while at the Shore, it's sometimes hard to find a spot with plentiful options. In Wildwood, we choose Alumni Grill because of the variety. Our go-to dishes? The Greek Veggie Burger with sautéed spinach, feta cheese, tomato and homemade tzatziki sauce, and the Grilled Veggie Salad—fresh spinach, tomato, cucumber, zucchini, squash, portabella mushroom, roasted red peppers, onions and a side of balsamic vinaigrette.

ICE CREAM


Avalon


The flavors at Sundae Best run from the traditional (vanilla fudge, cookie dough) to you gotta try this (grilled pineapple, mango habanero) and they make waffle cones fresh daily. Families have been lining up at Avalon Freeze for decades to get their hands on the soft serve, milkshakes and the infamous Banana Boat. Over at Buccaneer Ice Cream, large sundaes reign supreme and none is more impressive than The Shipwreck—12 scoops of ice cream with 15 toppings, hot fudge, whipped cream and caramel with the obligatory cherry on top.



Cape May


The Peace Pie craze has spread to other Shore towns along with locations in South Carolina and Florida, but the original store can still be found in Cape May. Taking the ice cream sandwich to a whole other level, Peace Pie combines specialty ice cream and signature pie fillings between freshly made cookies. If waffles are more your thing, head to Fine Fellows Creamery for a sundae featuring Liege-style Belgian waffles and interesting flavors like pomegranate blueberry chocolate chunk.



Long Beach Island


It wouldn't be summer without classic LBI mainstays scooping up this creamy dessert. Skipper Dipper, an LBI classic since 1978, offers hard and soft ice cream from blueberry graham swirl to party cake, which can be topped with a custom sprinkles blend, and is worth the long lines. Surf City's Scoop City Ice Creamoffers 35 rich flavors, while Dairy King remains a tried and true staple on the island, serving up the likes of cherry dip soft serve, sundaes and frozen yogurt.



Margate/ Ventnor


The retro vibe at Margate Dairy Bar only adds to the experience as you wait patiently to get your hands on a pretzel cone with scoops of pistachio or perhaps their new flavor this summer, campfire s'mores. With more than two dozen specialty sundaes, Two Cents Plain has plenty of options, but be sure and go with one that features their homemade peanut butter fudge for a delightful dessert.



Ocean City


Eating a Kohr Bros. cone—soft serve piled high and covered in jimmies—can be a race against time in the summer heat, but it continues to be a treat we can't miss year after year. For hard ice cream fans, Hobby Horse Ice Cream Parlor is scooping up dozens of flavors like espresso chip, coconut almond joy, peanut butter pie and sticky bun, all of which can be smothered with hot fudge or caramel and topped with whipped cream for an indulgent sundae.



Sea Isle City


Marita's has been scooping their delicious homemade ice cream since 1987 and their loyal following only grows with each passing summer. The Sea Isle Butterfinger flavor is a favorite, but truth be told, we've never had a bad one from the bunch. Eager ice cream aficionados use their bodies as human doorstops to line up at Yum Yums for the chance to sample one of their more than 40 flavors, not to mention the waffle ice cream sandwich.



Stone Harbor


It's no secret Springer's has been a fan favorite since they opened in 1975 and is known as a Shore institution, with lines wrapped around the block nightly to try over 50 flavors of freshly made ice cream they churn day after day. Down the street, Wafflewich takes a different approach creating made-to-order Coney waffle and ice cream sandwiches shaped like hot dog buns. If you're in the mood for frozen yogurt, Bonnie's Toppings is the place to go, with eight flavors—including one ice cream flavor and one sorbet— and almost 20 toppings to choose from to make the perfect frozen treat.



Wildwood


There is nothing quite like ice cream down the Shore. At Duffer's, the flavors range from sticky bun and vanilla fudge to chocolate marshmallow and butter brickle—and the kicker is, they are all homemade. But when we want our ice cream to tell a story, we hit Cool Scoops for their Dusty Road Sundae served in a "classic '50s car" or their brownie waffle rightfully named "You're a Good Waffle Charlie Brownie."



Avalon


Lots of places come and go down the Shore, but Circle Pizza has been serving up pies to a loyal contingent since 1968, and their walkup counter across from The Princeton is always a good spot to grab a slice and go. Meanwhile, Shorebreak Pizza Grille cooks up crispy thin-crust delights like The Fig—a white pie with mozzarella and blue cheese topped with prosciutto, dried figs and finished with truffle oil.



Cape May


Every Shore town has plenty of pizzerias worthy of a visit, but for something a little different try Lucky Bones Backwater Grille. Featuring thin-crust pizza out of their brick oven, they offer options highlighting local seafood as well as unique pies like the Croque Madame, topped with Gruyere and Locatelli cheeses, soppressata, bacon and sunny side eggs.



Long Beach Island


When it comes to pizza, the island doles out classic pies with a New York influence. Beach Haven's Bay Village Pizza serves up some of the island's best New York-style pies and slices and has the accolades to prove it. At Surf City Pizza, creative pies like the 18-inch Penne Vodka Pizza are worth a try, while classic pies and calzones fill up the menu. For a brick-oven option, MKT Eatery has made a name for itself thanks to its fresh pies— just remember it's cash only.



Margate/ Ventnor


The specialty pies at Bocca Coal Fired Bistro are blazed at a scorching 900 degrees, giving the dough a perfectly blistered texture that allows you to taste the coals in every bite. Order up a Chicken Florentine with grilled chicken, spinach, silky ricotta and fire-roasted red peppers, finished with a garlic basil pesto.

Ocean City
Since 1956 people have been lining up on the Boardwalk at Manco & Manco Pizza, where the pies are topped with the trademark swirl of sauce and cheese plus a dash of dried oregano for a tasty slice that hits the spot day or night. A few blocks from the boards is Bennie's Bread, an Italian bakery and market offering authentic Neapolitan pizzas in a wood-fired brick oven, like the California, topped with roasted red peppers, olives, goat cheese and arugula.


Sea Isle City
We have recognized Basilico's before for being a wonderful fine dining spot, but it's time we gave a shoutout to their pizza as well.These 10-inch "personal" pies only come a few ways and aren't available for takeout, which makes them even more special to us. We recommend their spin on the margherita, a white pie with fresh tomatoes, basil, garlic and both mozzarella and ricotta. The Neapolitan pies coming out of wood-fired ovens at Fratelli's have the perfect charred edges and chewy crust. The Capricciosa, made with ham, artichokes, mushrooms, mozzarella and crushed tomatoes is just one example of the mouthwatering pizzas you'll find here.



Stone Harbor


Mack's Pizza of Stone Harbor, part of the of Manco and Manco Pizza family, has been a staple in Stone Harbor for over 30 years and for good reason—thin crust, a tomato sauce that tastes like it came out of your grandmother's kitchen and the right amount of cheese. Seven Mile Pies is another favorite serving unique thin-crust specialties you won't find anywhere else, like the Gyro, made with beef or lamb and tzatziki sauce topped with cucumbers, white onions and dill.



Wildwood


While there are numerous spots to grab a slice on the Boardwalk, two contenders continue to be at the top of our list year after year—Sam's Pizza Palace and Mack's Pizza. Off the Boardwalk, Poppi's Brick Oven Pizza & Kitchen is our go-to spot for a pie like the "Wildwood Famous," which features mac and cheese with smoked mozzarella.


QUICK BITES




Avalon


The Crab Bagel over at Circle Tavern is to be admired as much as it is to be devoured. An everything bagel is smeared with homemade crab dip, then topped with cheddar and jack cheeses, then baked in the oven and finished with a dusting of Old Bay. The Avalon Brew Pub is still a fairly newcomer to the scene,but they've already got our full attention with the Brew Pub Fries. The spuds are topped with tender braised short rib and plenty of Wisconsin cheese sauce with pickled chili peppers and scallions to round out the impressive plate.



Cape May


Since taking over Hot Dog Tommy's from former owners Tommy and Mary Snyder two years ago, Bruce and Dina Carlino have continued serving the same tasty treats—and Bruce has even assumed the Hot Dog Tommy character, complete with the goofy wiener hat. But their dogs are no joke. Just a short walk from the beach, they offer favorites like the Thunder Dog, topped with mashed potatoes, baked beans, mustard, onions and cheddar cheese.



Long Beach Island


There's more to LBI than just seafood and the 18-mile island is replete with quick eats like La Bamba Mexican Restaurant, which doles out classics like nachos, quesadillas and burritos the authentic way. For your pick of wings and their accoutrements, The Chicken or the Egg features 17 sauces, all varying in level of spiciness—not to mention it's open 24/7. For a quick bite, Woodies Drive In offers old school treats with a twist like a peanut butter burger or bacon chili cheese dog.



Margate/ Ventnor


The Mexican food at Tipsy Taco and Tequila hits on all cylinders, from the fried plantains to the soft shell tacos and should always be on your radar. If you're in the mood for wings, the place to be is Maynard's Café where sauces range from hot and Texas barbecue to unique options like Thai coconut and whiskey teriyaki.



Ocean City


Although we are usually confronted with a line at this veteran establishment, a bucket of Curly's Fries is always worth the wait—and the burns on the roof of our mouth. Meanwhile, a newcomer to the Shore scene, Crunchik'n, caught our tastebuds' attention with its Korean fried chicken wings and popcorn chicken tossed with honey soy and sweet chili sauces. Or venture off the island to Somers Point's Grilled Cheese & Crabcake Co. for the briny and crunchy fried pickle chips served with a spicy remoulade dipping sauce.

Sea Isle City
Forget counting calories when you head to Uncle Oogie's where the Boli Buns (think mini stromboli) call our name frequently. But we also can't ignore the assortment of Belly Buster Fries. The barbecue version comes with crispy fries caramelized in a spicy sauce and then topped with ground beef, fried onions, bacon and melted American cheese. And their crab fries actually come with four ounces of real crab meat, imagine that. Just off the sand on 59th Street is where you'll find Bubba Dogs serving up a handful of signature dogs and sandwiches. You'll want to order the Pinchos at Hank Sauce as they make the perfect summertime snack. Fish or chicken is covered in sauce and stacked on a skewer with a baguette slice underneath to catch all the drippings.



Stone Harbor


You might never get regular fries again after having the decadent Truffle Fries at Harbor Burger Bar. Shoestring fries are tossed with truffle oil and parmesan cheese, served with a truffle aioli—basically it is heaven on a plate. The Water Star Grille puts an Asian twist on their Ahi Tuna Nachos, which is composed of ahi tuna, kimchee cabbage, soy, sambal (chili pepper hot sauce) and avocado sour cream. It is a somewhat refreshing dish that will leave you wanting more.



Wildwood


Whether we are in between our home-away-from-home and the beach or just out exploring Wildwood's offerings, our snack spots vary. Dogtooth Bar & Grill's Homemade Volcano Shrimp give us just enough kick with their spicy "lava" sauce that keeps us coming back for more. And when we are off our diets, we choose the Doo Whopper at Grab A Weiner—a hot dog is deep-fried, then served with mayonnaise, tomato, lettuce and bacon between a bun.

SEAFOOD


Avalon


The Shore and seafood are synonymous which is why we can't get enough of the menu at Sylvester's Fish Market where the Blackened Mahi Mahi sandwich and grouper wrap are some of our go-to orders. Tonio's Seafood Shack turns the Reuben sandwich on its head by subbing the corned beef for a breaded lobster tail to create one of the more unique bites you'll have anywhere.



Cape May


The most difficult part of a visit to the quaint and casual Cape May Fish Market nestled in the Washington Street Mallis choosing what to order. From their renowned lobster rolls and crab cakes to locally sourced scallops and shrimp, there is something for every seafood lover in your group.



Long Beach Island


When it comes to seafood, Shore Fire Grille is a sure win. With a menu offering a myriad of options, it's hard to choose between their crab quesadilla, salmonburger or fish tacos. Beach Haven's The Clam Bar is as classic as they get, serving clams, mussels and scallops courtesy of Harvey Cedars Shellfish Company. Before the Causeway, Mud City Crab House in Manahawkin is known for its blue claws, snow crabs and steamed whole lobsters—just don't beafraid to get a little messy.



Margate/ Ventnor


The smoked salmon from Downbeach Barbecue at the Margate Farmer's Market is the talk of the island. Cured overnight and then slow-smoked with oak, the fish is salty, sweet and dripping with flavor. Get in line now, it sells out fast. The name Tomatoe's may not scream sushi, but anyone who knows, knows. The Jason specialty roll is just one example with shrimp tempura blending with spicy lobster and creamy avocado before being topped with seared pepper tuna and a bit of wasabi sauce. The Grilled Mahi sandwich at Margate Food Truck comes with a fiery homemade sauce and grilled pineapple to add a sweet-hot taste.



Ocean City


Sitting on the beach with the salty sea breeze in our face makes us crave seafood, so we head to the Boardwalk. Ike's Famous Crabcakes is a household name for those who frequent Ocean City, and since 1990 the handmade grilled crabcakes have been the eatery's claim to fame. Try them in their classic serving style or in a quesadilla to take back to your blanket. For a taste of the Hawaiian variety, Hula Restaurant & Sauce lightens things up with fresh grilled fish filets, like the one on the Ahi Burger— grilled tuna served with sesame spread on a sesame seed bun.



Sea Isle City


Grabbing a table over-looking the bay at Mike's Seafood is a rite of passage every summer, but you must be prepared to wait as the crowds are thick as cigar smoke. Not to worry though, the line is part of the experience and chances are you'll run into familiar faces, make some new acquaintances and have a couple drinks along the way. Atmosphere aside, Mike's is worth the wait as the menu full of steamed, fried and combination platters never disappoints. Grab some crab legs, crack open a lobster and toast the new friends you met outside.



Stone Harbor


Flounder, scallops, shrimp and soft shell crabs—you can find all of that and more at Donna's Place. For the best crab cakes, Back Bay Seafood is the place to go (takeout only), and for a one-of-a-kind seafood experience, Asian Style BBQ Pacu Fish Ribs—yes, you read that right—is a must try at Quahog's Seafood Shack.



Wildwood


What would the Shore be without mouthwatering seafood to accompany it? Our cravings bring us to the Crab & Seafood Shack where we devour the Shrimp Po Boy—seven finger shrimp on cole slaw, topped with aioli sauce. For a quick snack in between amusement rides with the family, we find ourselves at Morey's Surfside Pier where we grab a Crabby Pretzel at Joe's Fish Co. And always looking for the best cup of chowder, Hooked Up Seafood's truly New England Clam Chowder is our own piece of happiness.

SWEETS


Avalon


Kohler's Bakery is an institution in Avalon and no stay in town is complete until you've grabbed a number and waited with the throngs on the patio for the chance to grab a box of fresh-made cinnamon buns and some cream doughnuts. The baked goods at Isabel's Bakery and Café are all worthy of your attention, from the scones and cookies to the sinful pies and the tantalizing carrot cake. The youngsters will enjoy a run through Seven Mile Sweets where they can fill bags with a variety of their favorite candies, but you're bound to see some nostalgic treats for yourself too.



Cape May


Cape May Peanut Butter Company bills itself as the happiest place in Cape May, and it's hard to argue. This charming gourmet shop at the Washington Street Mall stocks everything from nine nut butter flavors— such as fan favorite butter scotch—to over 40 different jams, including India pale ale and habanero. They also carry a wide variety of candy like peanut brittle and peanut butter cups, and even dog treats as well.



Long Beach Island


Satisfy your sweet tooth at The Local's dessert and coffee bar in Ship Bottom, where freshly baked goodies span cronuts, cannoli and cookies. Beach Haven's Holiday Snack Bar or "home of the homemade snacks," has been baking pies—which can be served à la mode—and cakes like Lady Lord Baltimore and chocolate since 1948. For the fudge enthusiast, Country Kettle Fudge whips up freshly made fudge in an array of flavors including maple walnut, chocolate chip mint and Oreo crunch.



Margate/ Ventnor


With locations in both Margate and Ventnor, we don't have to travel far to satisfy our sweet tooth at Jagielky's. For more than four decades, thisshop has lured chocoholics with their decadent assortment of crowd-pleasing candies. No trip to Ventnor No.7311 for morning coffee is complete without stocking up on fig rolls, lemon walnut biscotti, orange currant scones or, well, you get the picture.



Ocean City


Give your blood sugar a morning jolt off the beaten path—1st Street to be exact—at Brown's Restaurant, where people line up early (rain or shine) for melt-in-your-mouth doughnutsdipped in cinnamon and sugar, vanilla, chocolate or honey glaze and powdered sugar. Take acandy-making tour and try some samples at Rauhauser's, now in its third generation, and bring home the chocolate covered blueberry clusters—the family's trademark treat. Over at Crazy Susan's Cookie Company, cookie concoctions like Heath bar crunch and oatmeal cherry coconut are bought up and devoured before they cool from the oven. Of course, no tripto Ocean City is complete without the obligatory overflowing tub of piping hot caramel corn from Johnson's Popcorn—keeping dentists in business since 1940.



Sea Isle City


The homemade doughnuts—especially the jelly and cream varieties—at Maryanne Pastry Shoppe are can't miss, but really you can do no wrong with any of the baked goods from the cherry turnovers to the cakes at this beloved bakery. If mammoth cinnamon buns are your thing, then head to Mrs. Brizzle's Bunswhere the oversized sweet treats are cloaked with a fresh dollop of vanilla icing.



Stone Harbor


When your sweet tooth is calling, make your way to Bread & Cheese Cupboard. We recommend the cream cheese bun and a sweet and salty treat—Muddy Pigs—a chocolate dipped donut topped with bacon and a vanilla drizzle. For a different kind of sweet treat, crêpes from Crespella Gourmet Creperie, will leave you more than satisfied. With almost 20 different sweet options, it's hard to choose just one, but we couldn't get enough of the raspberry compote-filled crêpe finished with a Nutella drizzle and a generous scoop of vanilla ice cream to top it off.



Wildwood


Visiting friends or family down the Shore and don't want to show up empty-handed? We always rely on these three spots for our favorite treats. An assortment of fresh cream fudge from Douglass Fudge, doughnuts or sticky buns from Britton's Gourmet Bakery or cannoli from Potito's Bakery will always be crowd-pleasers.



Published (and copyrighted) in South Jersey Magazine, Volume 15, Issue 3 (June 2018).

For more info on South Jersey Magazine, click here.
To subscribe to South Jersey Magazine, click here.
To advertise in South Jersey Magazine, click here.

Author:

Matt Cosentino, Josephine Cusumano, Liz Hunter, Kaytlyn Mroz, Peter Proko and Julie Shannon
Archives
---
Who's Who in Health Care
Former Shawnee star Doolittle Calls It A Career
Camden County College welcomes Baseball Hall of Fame
South Jersey Football Games of the Week
Out & About
QB Ronnie Borden is Back in the Game
Should fans be worried for the Phillies bullpen?
South Jersey Football Games of the Week
A look at South Jersey's Top H.S. Girls' Soccer Teams
Out & About
Eagles will be fine after close call in opener
High School Football Games of the Week
Is it Super Bowl or bust for the Eagles?
What's New in South Jersey?
From New Jersey to Nashville
More...