Moorestown Lacrosse Returns to its Accustomed Top Spot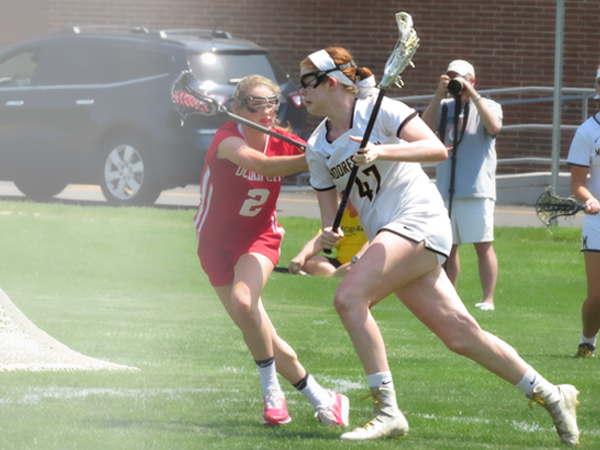 Moorestown's girls' lacrosse team has set such high standards that in seasons when the Quakers "only" win a South Jersey or state championship, it is considered somewhat disappointing.

That doesn't seem fair, but the Quakers have set and matched expectations so many times, that few programs in any sport face such intense pressure.

Yet over the years, Moorestown has been able to meet or even surpass the high expectations. This year was one of them. The Quakers ended as the No. 1 team in New Jersey after beating Group 4 state champion Ridgewood, 14-9 in the Tournament of Champions final.

Thus the Quakers (23-2) won their first TOC championship since 2014, an eternity for this program. It was the 21st time that the Quakers were standing at the top of the state at the end of the season.

This was the 60th season of the program and for most of those years, the Quakers have been dominant.

This year was no different.

Fittingly, Moorestown was led in the final by senior Kacey Knobloch, who had four goals in the TOC final. She is the daughter of coach Deanna Knobloch, considered among the best in the country. Kacey Knobloch will continue her education and lacrosse career at James Madison University.
Article continues below
---
advertisement


---


Moorestown also received three goals each from Penn recruit Robin Panzarella and junior Kayla Frank.

The Quakers ended their season on a 15-game winning streak.

Moorestown was the No. 1 seed in the tournament and Ridgewood, which lost to the Quakers, 10-9 on March 31, was the No. 2 seed.

To show how dominant Moorestown was, one only had to look at the NJSIAA Tournament. The Quakers outscored teams 106-24 in their seven tournament games.

The big hurdle was a 7-6 win over perennial power Summit in the state Group 3 championship. Frank had three goals and Panzarella added two in the victory. Ironically, Moorestown beat Summit in the state Group 3 final the last time the Quakers went on to win the TOC in 2014.

Summit won its first TOC crown in 2016. Any year that both Summit and Moorestown are in Group 3, make that Group incredibly challenging.

This year's state title was the 23rd for Moorestown, most in state history.

To show how dominating Moorestown has been, since the introduction of the Tournament of Champions in 2007, Moorestown has won seven titles. The next closest team is Ridgewood with two.

This year's team will lose quality seniors, but the reason Moorestown has been so successful is that there are always players ready to step in and keep the tradition going.

Expect more of the same next year, although the Quakers will likely be enjoying this one for at least a few weeks before beginning preparations to defend their crown in 2019.

© SouthJersey.com 2018. All rights reserved. This article or parts thereof may not be reprinted or reproduced by any other party without the express written consent of SouthJersey.com. For more information, please call 856-797-9910.

For more Local Sports features, visit our South Jersey Sports page.

Author:

Marc Narducci; Photo by Marc Narducci
Archives
---
Phillies' Realmuto is heating up
SJ pitcher is 37th pick in MLB draft
Mainland grad fully enjoys MLB draft
Millville's Kenndy moving up the minor league ladder
Phillies not in a bad position at the All-Star break
Memorable season for Bishop Eustace baseball
TOP DENTISTS 2021
Another distinguished award for Rowan baseball program
Help Wanted
A TALE OF THREE WEDDINGS
Who's Who in Health Care
Two South Jersey pitchers headed for potential first-day selections in MLB draft
Colleges After COVID
Family Fun Outdoor Movies Events Near You
South Jersey 4th of July Shore events guide
More...