A Draft Night of Surprises for the 76ers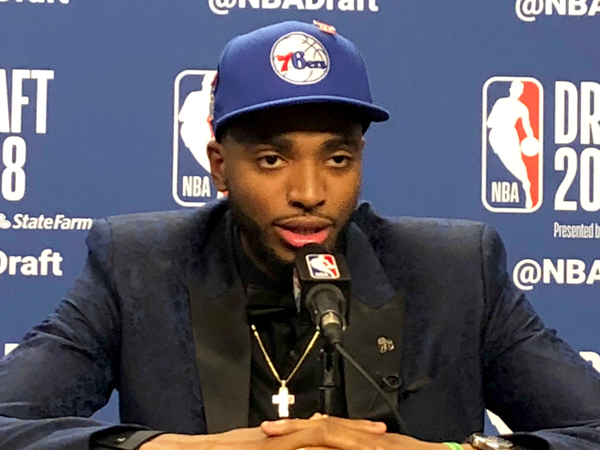 It was an eventful draft night for the 76ers and especially for local product Mikal Bridges of Villanova.
After he was drafted 10th overall by the Sixers, Bridges had a press conference at the Barclays Center in Brooklyn, where the draft was staged and was emotional in explaining how much it meant for him to be drafted to the local team.
Then less than an hour later he was traded to the Phoenix Suns for the rights to the No. 16 pick, Texas Tech freshman guard Zhaire Smith and a 2021 unprotected first round pick from Phoenix via Miami.
It must be known that if a draft trade is made, the NBA never allows a player who was selected by the team he was traded from to go to the podium and meet with the press.
Obviously, this is a trade that gained steam after Bridges was selected. The Sixers really wanted Smith and were likely waiting to see if he was available when Phoenix made the pick at No. 16.
The difference between Smith and Bridges is that the former Villanova star is ready to contribute right away. Smith may take some time, but he was considered one of the top athletes in the draft.
The 6-foot-7 Bridges will turn 22 in August, which is considered old for an NBA rookie in these days of one-and-done college players.
Bridges, was considered one of the best 3-and-D players in the draft, somebody who can make the three pointer and play tough defense. He hit 43.5 percent of his three-point shots as Villanova won the second NCAA title in his tenure. As a redshirt freshman, Bridges was a key reserve, averaging 6.4 points in 20.3 minutes per game, when Villanova also was a national champion.
Smith helped lead Texas Tech to the Elite Eight of the NCAA Tournament for the first time in school history, where the Red Raiders were eliminated by none other than Villanova and Bridges, 71-59.
The 6-foot-5 Smith hit 45 percent of his three-point attempts but only attempted 40 shots from beyond the arc. His perimeter game needs improvement as does his overall offensive game.
However, as good as a defender as Bridges is, there are many people who felt the 6-5 Smith could be the best perimeter defender in the draft. Others felt he could have been the best athlete, with a 42 inch vertical leap.
Where will he be in two to three years?
That is the main question.
Yet this trade was more about the players. That unprotected pick, is seen as gold to some teams. While it is in 2021, who knows what type of team Miami will be then.
Plus the Sixers are loading up assets to possibly make a sign-and-trade deal for potential free agents, with their biggest target LeBron James.
So it may take a while to judge this trade, but there is no doubt that Bridges would have been able to compete for immediate minutes.
Smith will have a tougher time, but Sixers coach and interim GM Brett Brown loves defensive-oriented players and really had an affinity for Smith.
The Sixers brought him to their Camden practice facility twice, the second time as a final checkup two days before the draft to make sure that he was the player worth making a trade for.
Article continues below
---
advertisement


---
© SouthJersey.com 2018. All rights reserved. This article or parts thereof may not be reprinted or reproduced by any other party without the express written consent of SouthJersey.com. For more information, please call 856-797-9910.
For more Local Sports features, visit our South Jersey Sports page.
Author:
Marc Narducci; Photo by Marc Narducci
Archives
---
Just Getting Started
Shawnee's Joe Kessler Continues his amazing run
Sixers offer hope for Philadelphia sports fan
On the Horizon
New key rules for seeding high school boys & girls basketball teams
2022 Annual Resource Directory
Setting the Standard: Top CEOs/CFOs 2022
Tax-Saving Tips
Early story lines in the South Jersey boys' basketball season
South Jersey Soccer Coaches Association names the best of the best
Is Jalen Hurts the Eagles QB of the Future?
South Jersey Coronavirus (COVID-19) Developments (January 14)
Big Season for Timber Creek grad Devin Leary of N.C. State
Camden-Lenape highlights the best of South Jersey boys' basketball
Just Getting Started
More...