Jersey Shore July 4th Guide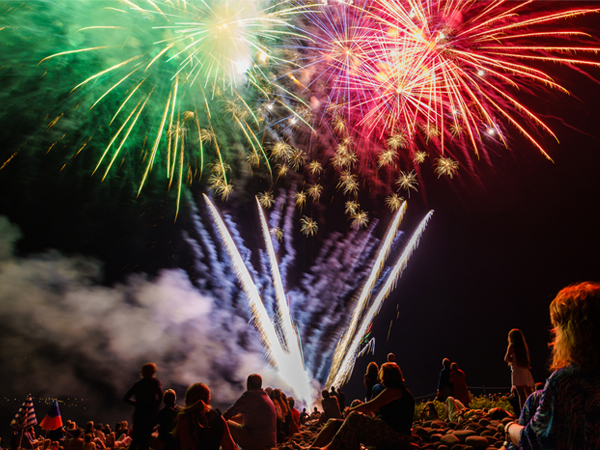 It's time to celebrate Independence Day with these Jersey Shore events!
Avalon 4th of July Celebration

Wednesday July 4: 30th Street Beach, 9:30 am-10 pm
Field races will begin at 9:30 am at the 10th Street Recreational Field and from 6-9 pm, come enjoy the Family Fun Fest at 30th Street Beach. The Bay-Atlantic Symphony Concert will begin at 7 pm at the Avalon Community Hall, followed by fireworks at dusk back at the 30th Street Beach.


Barnegat Township Independence Day Celebration and Concert
Article continues below
---
advertisement


---

Saturday June 30: Municipal Dock, 7-9 pm
The performance by Reunited will begin at 7 pm, followed by fireworks starting at dusk. The rain date will be Thursday July 5rd.

Beachstock Margate
Saturday June 30: Huntington Avenue Beach, 8 am-10 pm
Returning this year, is the volleyball and lifeguard competitions, vendors, local retailers, sand sculpting lessons, Stacey's Surf lessons, Margate Fire Departments Cool Blast, kid's treasure hunt, face painting, beer and margarita garden and, at dusk, a bonfire and a family friendly movie. No beach tags are required for the event.
Beach Haven 4th of July Fireworks

Wednesday July 4: Taylor Avenue Park, 8:30-10 pm
Come enjoy Independence Day fireworks with the family.

Lavallette Beach Treasue Hunt

Sunday July 1: President Avenue Beach, 6-7 pm
Kids of all ages can explore down in the sand and dig to find coins. Every kid will walk away with a prize and a fun memory with the family.


Lavallette Independence Day Celebration

Sunday July 1: 18 Kerr Avenue, 8-9:30 pm
The festivities will begin with patriotic music and entertainment at the community gazebo. Then, at dusk, sit back and enjoy the beautiful Independence Day fireworks


Ocean City Independence Day Celebration

Wednesday July 4: Music Pier, 9:30 am-10 pm
Start off the morning at 10 am with a bike parade in 2 locations, Longport Bridge Parking lot (North End) and Asbury Avenue (South End). The kite flying competition begins at 7 pm at the Ocean City Music Pier, followed by live entertainment. A spectacular boardwalk fireworks di splay tops off the night at 9 pm.


Sea Isle City Concert Under the Stars, Separate Ways (Journey Tribute)

Saturday June 30: Excursion Park, 7:30-9:30 pm
Every Saturday in the summer from mid-June to the end of August, Sea Isle hosts some of the best party bands and tribute bands around.


Sea Isle City Family Dance Party

Tuesday July 3: Excursion Park, Sea Isle City, 7:30-9 pm
Children and adults of all ages are welcome to come out and dance to music provided by a DJ, who will liven up the evening with a conga line, fun activities, and dances. There will be leis, treats, and a bubble machine for the kids.
Wednesday July 4: 715 Boardwalk, 9:30 pm
A spectacular fireworks display on the oceanfront will be viewable from anywhere on The Classic American Boardwalk.
Wednesday July 4: Strathmere Firehouse, 9 am
The parade categories include: motorized floats, hand pulled floats, walkers, pets, trikes, scooters, bikes, wagons, and strollers. The rain date is Thursday July 5th.
Stone Harbor Independence Day Celebration

Monday July 2: 95th Street Beach Pavilion, 7-10 pm
Fireworks will be set off at the barge at approximately 9 pm and can be seen at any beach end. There will be jazz and blues performances by Eddie Morgan, Rebirth, and Ms. Shawn Ashley from 7-9 pm. The rain date will be Tuesday July 3rd.
Tropicana's Free Fireworks Series

Wednesday July 4: 2831 Boardwalk, Atlantic City, 10 pm
Light up Atlantic City's skies with a free spectacular fireworks display. The shows, designed by Fireworks by Grucci, will be displayed from the beachfront and will include intricately designed scenes and vivid effects.


Ventnor Mile and Independence Day Celebrations

Tuesday July 3: Newport Avenue,Ventnor City, 7-9 pm
Registration for the run begins at 6 pm at the Community Building. Light refreshments, music, and awards will follow the run. If you wish to attend for the music and awards, the event is free, but there is a cost to participate in the run.


Ventnor Concerts on the Beach

Wednesday July 4: Newport Avenue Beach, 7-11 pm
Bring your beach chairs down to the Newport Ave Pavilion and enjoy a free concert.
Wildwood Fireworks on the Beach

Friday June 29: Pine Avenue Beach, 10 pm
Pull up a beach chair or just stop in your tracks on the Boardwalk for a few minutes of breathtaking color and light.


Wildwood Crest Summer Music Series, Soul'd Again

Saturday June 30: Centennial Park, 7:30-9:30 pm
Live music for the entire family at the Centennial Park entertainment pavilion with Soul'd Again, featuring soul, funk and olides. Bring a blanket or a chair


Wildwood Boardwalk Parades

Tuesday July 3: Wildwoods, 7:30-9 pm
Entertainment varies between Main Stage Harmony or Drum and Bugle performers on the Wildwoods Boardwalk from 16th Avenue to Wildwoods Convention Center.

Wildwood Independence Day Family Parade

Wednesday July 4: Wildwoods, 9 am
Check in begins at 8:15 am, 9th and Atlantic Avenues, North Wildwood. The parade starts at 9 am at 9th and Atlantic Avenues in North Wildwood and proceeds north to 1st and Surf Avenues. Prizes will be awarded for the best decorated bikes in red, white, and blue theme


Wildwood Crest Summer Music Series, The Roundhouse Band
Wednesday July 4: Centennial Park, 7:30-9:30 pm
Live music for the entire family at the Centennial Park entertainment pavilion with the Roundhouse Band, performing pop, rock, and dance hits.



To see our extensive listing of South Jersey events, including local community events, programs at your local libraries, nightlife, fairs and festivals, plays, and many more, check out our Events Calendar
here
. Have an event that you want listed in our events calendar? Add your event
here
.
Author:
SouthJersey.com - Editorial Staff
Archives
---
South Jersey 4th of July Shore events guide
South Jersey 4th of July events guide
South Jersey 4th of July Guide
South Jersey Family Fun Guide
South Jersey Trick or Treat Curfews
October Datebook
More Articles