Adam Taliaferro All-Star Game a Great Event to End the Scholastic Season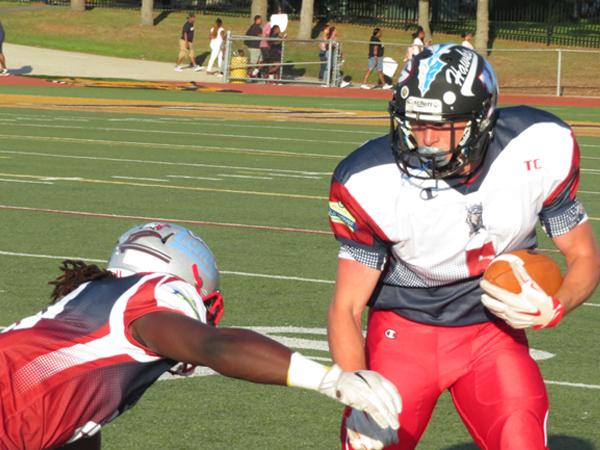 It was the final sports event of the South Jersey scholastic sports season and the Adam Taliaferro Foundation/South Jersey Football Coaches Association All-Star Classic was a fitting conclusion another great sports season.
This game attracted many of the top graduating senior football players in South Jersey. More importantly, it was played on June 28 before a big crowd at Rowan University.
Proceeds benefit the Adam Taliaferro Foundation, which has helped raise nearly $1 million over the years for those in the tri-state area who have suffered spinal cord injuries.
The White team beat the Blue, 26-13, but the final score isn't the big deal there. What mattered is that money was raised for a good cause and also many players got to experience one last memory from their high school career.
In fact for some players, it was the actual last time they will play football. Haddonfield center, Will Murray for instance is attending the University of Alabama and will concentrate on his academics.
"I will miss playing football so it was really nice to be able to go out in a game like this," he said.
The organizers named two MVPs, one from each team. The White team consisted of players from Camden, Gloucester and Salem counties, while the Blue team had players from Atlantic, Burlington, Cape May and Cumberland counties.
The winning Blue team's MVP was Sterling quarterback C.J. Barrett, who threw for 199 yards and three touchdowns. He also showed great scrambling ability by rushing for 40 yards.
Barrett will continue his career at Rowan University so he gave his future fans a glimpse at what he is capable of.
The MVP of the Blue team was Rancocas Valley defensive end Daequan Jackson-Swoope.
Both MVPs were three-sport players, with Barrett also playing basketball and baseball land Jackson-Swoope wrestling and running track.
While it is often said that there is a lack of intensity at all-star games, nothing could be further from the truth. The players on both sides played hard. Winning meant a lot to these graduating seniors, especially the ones who won't be suiting up anymore.
For those players competing for college football, this was an excellent tune-up.
"This showed me what I have to work on," said Collingswood defensive lineman Malik Dunbar, who will be attending Delaware Valley College.
Another highlight was seeing Adam Taliaferro at the game. He saw his football career end after suffering a spinal injury at Penn State that left him paralyzed. He made a remarkable comeback, is able to not only walk, but still works out consistently and at 36, is in tip-top shape. He is a policy analyst for Bristol-Myers Squibb, a New Jersey Assemblyman and a married father of two young children.
He is an inspiration to those who have suffered injuries and the work of his foundation has been outstanding. The football game is the foundation's biggest fund raiser and it lived up to its billing as one of the top events of the scholastic sports season.
Article continues below
---
advertisement


---
© SouthJersey.com 2018. All rights reserved. This article or parts thereof may not be reprinted or reproduced by any other party without the express written consent of SouthJersey.com. For more information, please call 856-797-9910.
For more Local Sports features, visit our South Jersey Sports page.
Author:
Marc Narducci; Photo by Marc Narducci
Archives
---
The Long Journey in a High School Football Season
Four South Jersey Regional Football Champions
A Familiar Voice
Men of The Year 2021
Joining the Family Business
Giving Kids a Shot
Deck the Halls
High School Football Regional Championship preview
South Jersey Coronavirus (COVID-19) Developments (December 1)
There is still a place for Thanksgiving football
Eagles soap opera continues
A Familiar Voice
Executives of the Year
Observations of the South Jersey Football Teams in championship play
'Lifeblood of the Economy'
More...