Here to Help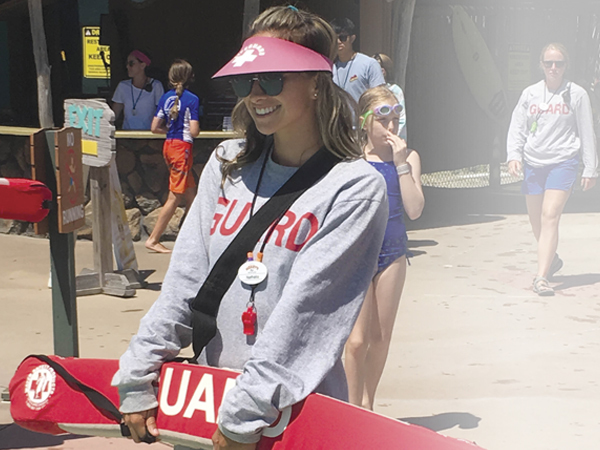 International students taking part in an exchange program help fuel summer tourism.
During the summer months, the Shore points—and other tourist destinations— across New Jersey suddenly become a melting pot of cultures from around the world. As towns swell with new visitors, employers scramble to fill seasonal positions often passed on by area teens, so they are turning to the international community for help.

Thanks to the international student exchange program known as the J-1 Summer Work Travel student visa program, they are able to fill countless jobs. This is a non-immigrant visa category for individuals who are approved to participate in work-and-study-based exchange visitor programs.

According to Nathan Arnold of the U.S. Department of State's Bureau of Educational and Cultural Affairs, the program provides thousands of university students from around the world the opportunity to experience American culture while working in the United States during their break from school. Arnold says that many of the participants say this is the only way they are able to come here and experience America. He adds that participants establish connections with U.S. citizens, build networks, improve English-language skills and form lifelong friendships.

Article continues below

---
advertisement


---


"From our standpoint, the Summer Work Travel program is first and foremost an educational and cultural exchange program," says Arnold. "The primary goal of the Exchange Visitor Program is to allow participants the opportunity to engage broadly with Americans, share their culture, strengthen their English language abilities, and—if there is a work or training component—to learn new skills or build skills that will help them in future careers."

Nathalia Andrea González, a 21-year-old student from Colombia studying industrial engineering at Universidad Militar Nueva Granada, says that her favorite part of the program is getting to meet new people, make friends and learn about different cultures.

"I also have the opportunity to share my own culture, food and language with others," says González, who is currently working as a lifeguard at Morey's Piers as well as helping out at one of their restaurants, Joe's Fish Co.

"The J-1 program offers a great opportunity for cultural exchange," adds Hristijan Mihajloski, a 22-year-old from the Republic of Macedonia who is studying history at St. Cyril and Methodius University of Skopje. "I get to learn all about the United States and it gives me a chance to teach others about Macedonia. I also get to meet a lot of new friends. Every day I am learning something new about the American culture and most importantly, I am getting tons of work experience and have many opportunities to learn and grow through my employment at Morey's Piers. But I always make sure to give back by sharing my Macedonian culture with Americans."

Filling a Need
In addition to expanding their cultural horizons, González, Mihajloski and others in the program serve as much-needed labor for tourist destinations that struggle to fill positions that help keep their businesses running. Denise Beckson, director of operations and human resources for Morey's Piers in Wildwood, says that the J-1 student visa program makes it possible for the Boardwalk to be up and running all summer long. As part of a seasonal resort town where she says the "traffic lights are turned off in the winter," it's not surprising that they cannot fully staff without also hiring international students.

"Wildwood does not have a large local population but in summer, our population of tourists swells, and we simply don't have the local source to fill all the positions needed," Beckson says. "Many members of the Wildwood community rely on the international student exchange program to supplement our summer workforce."

For Morey's Piers, international students work primarily as ride operators, lifeguards, games operators, and in admissions, retail and food and beverage. But across Wildwood—and other New Jersey towns for that matter—international students also take positions in grocery stores, as cleaning staff or as desk clerks.

To the question as to whether these international students are taking jobs away from American students, the businesses we spoke with gave a resounding "no." They certainly also employ American workers but struggle to find enough who are willing to do the work.

"The truth is, a lot of our local children do not want an entry-level job," says Tammy Davis, director for the Greater Wildwood Hotel Motel Association. "Without the J-1 program, most of our hotels would not have a cleaning staff or desk clerks."

Though no cuts to the program have occurred, there was chatter last summer about the Trump Administration considering changes. Businesses in Wildwood say that cuts could be potentially "devastating" to the tourism industry.

"With more than 150 hotels just in Wildwood, it would be devastating to our community not to have access to the J-1 program for hiring," says Davis.

"Cuts in the Summer Work Travel program would cause some Shore businesses to close entirely and others to cut their hours of operation," adds Vicki Clark, president of the Cape May County Chamber of Commerce.

"This would have a negative effect on local workers who would lose hours as well. Businesses hire international students to supplement their local employment but without these students, the hours of operation for many businesses would change drastically. And not only for the businesses that hire the international students, like Morey's Piers, but also neighboring businesses to the Piers, who set their hours of operation around the hours that the Piers are open. Without the Summer Work Travel program, businesses who don't even employ international students will be impacted by the loss of these student employees. Cape May County does not have enough local population to fill all the jobs available."

As summer 2018 surges forward, Arnold says that the J-1 visa will continue to be implemented as it has in the past. In 2017, 104,923 international students participated in the program, according to Arnold. Of those, 5,083 came to the state of New Jersey. He expects summer 2018 to end up with a similar number.

In terms of how students' time is spent, much of it is working. However, students do also have opportunities to travel in their leisure time. Beckson says that Morey's Piers runs bus trips to places like Niagara Falls or Washington, D.C.

"Many of our international students take advantage of that opportunity— and so do many of their American counterparts," Beckson says. "We have kids from Bulgaria and kids from Cherry Hill who all want to go see Niagara Falls. This is a whole program for us. While it does absolutely provide necessary labor that we need, we also appreciate the cultural component and make sure that we're providing opportunities for the students that work with us."

González says that she is planning to participate in travel to Niagara Falls, Philadelphia and Six Flags Great Adventure, among other potential destinations.

While she has already learned and experienced memories that are sure to last a lifetime, it is perhaps the friendships that González says will remain the most impactful.

She adds: "I have made so many new friends from different parts of the world like Russia, Poland, France and Jordan—and they are all amazing."
Published (and copyrighted) in South Jersey Magazine, Volume 15, Issue 4 (July 2018).
For more info on South Jersey Magazine, click
here
.
To subscribe to South Jersey Magazine, click
here
.
To advertise in South Jersey Magazine, click
here
.
Author:
Lindsey Getz
Archives
---
Bishop Eustace's Danny O'Rourke a model of stability
South Jersey Football Games of the Week
Eagles saved their season with win over Carolina
A Difficult Loss
Top Physicians 2021
Phillies wasted lights-out seasons from Bryce Harper and Zack Wheeler
Another strong season for Olympic American Girls' Soccer
South Jersey Football Games of the Week
'You Do Not Have to Suffer'
Egg Harbor Township Football Showing Great Improvement
Phillies face a difficult, but not impossible final week
Continuing the Difficult Climb
South Jersey Coronavirus (COVID-19) Developments - Booster Shots (September 27)
South Jersey H.S. Football Games of the week
Something to Build On?
More...