Lenape's McAneney Reflects on Being an Ex-Coach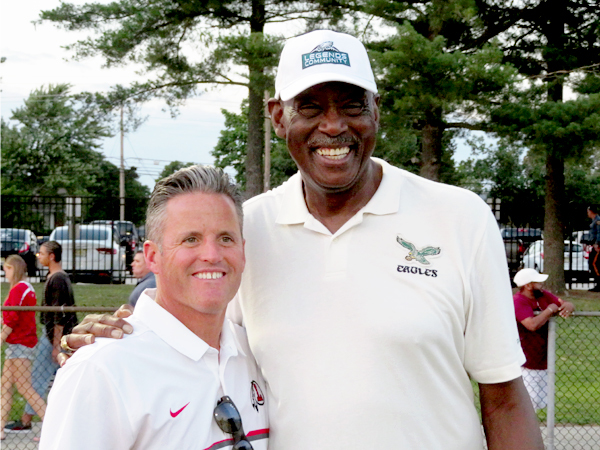 Tim McAneney certainly went out on top. Not long after McAneney guided Lenape to its first ever sectional title since the advent of NJSIAA football playoffs in 1974, he announced his retirement from coaching.
McAneney insists that it is something he was thinking about for a long time and even if the Indians had not won the South Jersey Group 5 crown with a 10-7 victory over Rancocas Valley, this still would have been his last year.
"I wasn't tired of high school football, I felt I needed to spend more time with my wife and kids," said McAneney, the father of four. "It is not like they wanted me to do it, they would have been fine if I kept coaching, but I found myself in the offseason wanting to spend more time coaching football but also knowing I wanted to be at their stuff."
McAneney says even while at other events, his mind was always on improving his team.
On the way out, McAneney received the honor of being inducted into the South Jersey Football Hall of Fame in June. He finished with an overall coaching record of 103-75, which included 51-24 at Lenape, 8-3 at Holy Cross and 44-48 at Bishop Eustace.
"It was kind of surreal," he said of his induction. "I don't feel old enough to be in the Hall of Fame. I just look at the names in the book and if you are in with the names in the book, it is a pretty good club."
As another season is not too far from beginning, this will be a real test for McAneney, the son of the late Vince McAneney, among the greatest coaches in South Jersey history. Vince McAneney presided over powerhouse Pennsauken teams.
His son says he learned so much from his father about coaching.
Both McAneneys were so successful not only for their football knowledge, but their ability to communicate with their players.
That rapport with the players is among many things McAneney will miss about coaching.
"I will absolutely miss coaching," he admits. "I will miss the kids, I will miss game night."
And he will miss the challenge of taking a team, molding it, seeing it improve week to week.
Who knows, maybe someday he will return to coaching, whether as a head coach or assistant. For now, McAneney is at peace with his decision, happy to spend more time with his family.
In the end, he couldn't coach half-way. That is why he spent so much time thinking of ways to improve the team, whether it was in the season, in March, April, May or June.
That is why McAneney was such a success. Football was a 12-month-a-year vocation and he loved every minute of it and it showed in his work.

Article continues below

---
advertisement


---
© SouthJersey.com 2018. All rights reserved. This article or parts thereof may not be reprinted or reproduced by any other party without the express written consent of SouthJersey.com. For more information, please call 856-797-9910.
For more Local Sports features, visit our
South Jersey Sports
page.
Author:
Marc Narducci; Photo by Marc Narducci
Archives
---
Seizing the Opportunity
What's on Your Mind
In the Groove
We're Number One?
Prime Performer
Best of the Best 2021
Land of the Free
Brooklawn fall one game short of an American Legion state title
Can't Hack It
Ben Simmons uncomfortable stay with the 76ers
Filling a Critical Void
Out and About
Flyers reshape team
Power 50
A strong showing by South Jersey products in the MLB Draft
More...