Cape May County Officials Warn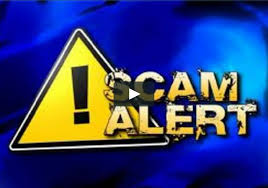 Cape May County Officials Warn Of Recent Check Scam Impacting Businesses
Officials are warning the public of a recent check scam impacting the Cape May County area.
Detectives say multiple businesses in the county have received fraudulent checks for items they are selling.
The checks are written for a sum larger than the amount requested for the item and tend to be written from a large business or municipal accounts.
Cape May County officials say businesses in the area should check their operating accounts for any transactions which appear to be fraudulent.
Anyone with information on this scam should contact the Cape May County Prosecutor's Office at 609-465-1135 or report it anonymously through the Cape May County Sheriff's Tip Line at cmcsheriff.net or through the Cape May County Crime Stoppers, 609-465-2800.

Author:
https://philadelphia.cbslocal.com/2018/07/21/cape-may-county-officials-warn-of-recent-check-scam/
Archives
---
South Jersey Coronavirus (COVID-19) Developments (February 26)
South Jersey Coronavirus (COVID-19) Developments (February 23)
South Jersey Coronavirus (COVID-19) Developments (February 19)
South Jersey Coronavirus (COVID-19) Developments (February 12)
South Jersey Coronavirus (COVID-19) Developments (February 5)
South Jersey Coronavirus (COVID-19) Developments (February 1)
South Jersey Coronavirus (COVID-19) Developments (January 29)
South Jersey Coronavirus (COVID-19) Developments (January 28)
South Jersey Coronavirus (COVID-19) Developments (January 22)
South Jersey Coronavirus (COVID-19) Developments (January 21)
South Jersey Coronavirus (COVID-19) Developments (January 14)
South Jersey Coronavirus (COVID-19) Developments (January 8)
South Jersey Coronavirus (COVID-19) Developments (January 4)
South Jersey Coronavirus (COVID-19) Developments (December 23)
South Jersey Coronavirus (COVID-19) Developments (December 21)
More Articles