Wentz Looking to Play in the Eagles Opener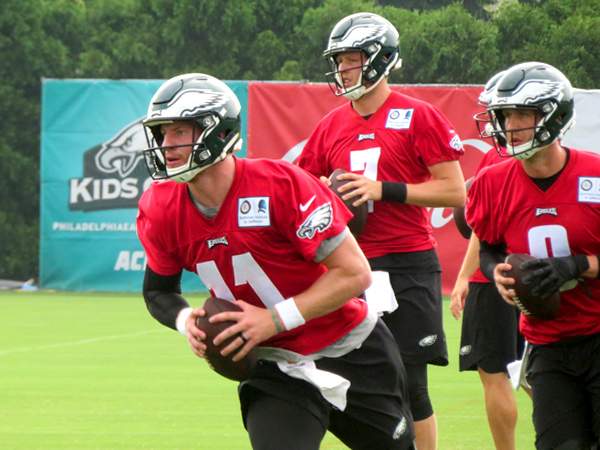 As the Eagles look to defend their Super Bowl title, they have more intrigue than many defending champs during training camp and it all centers around quarterback Carson Wentz and his comeback from injury.
Wentz suffered a season-ending torn ACL during in a 43-35 win at the Los Angeles Rans on

Dec. 10

.
At the time of the injury, it was speculated that Wentz could miss the first month or so of the 2018 season.
Before his injury, Wentz was likely on his way to being named the NFL's MVP.
As it was, he was named second-team All-Pro by the Associated Press and earned his first Pro Bowl honor.
Wentz completed 265 of 440 passes for 3,296 yards, 33 touchdowns and just seven interceptions. He also rushed for 299 yards (4.7 avg.).
Everybody knows by now that Nick Foles replaced Wentz, and was named the Super Bowl MVP, throwing for 373 yards and 3 touchdowns, while also catching a TD pass in the 41-33 win over the New England Patriots.
Foles showed he is capable of leading the Eagles, which means the teams should be even more cautious in bringing Wentz back.
Yet there was Wentz a full participant in the Eagles first padded practice in training camp on July 28.
Wentz has worked hard in his rehab and there is no doubt he wants to be on the field when the Eagles open the NFL season with a

Thursday

night game

Sept. 6

against the visiting Atlanta Falcons.
The Eagles remain naturally cautious with Wentz. A day after being a full participant, his workload was scaled back considerably.
He will continue to have days where he is a limited participant in practice.
This reporter saw Wentz during the second day of practice and he looked sharp, but he is also wearing a red jersey that quarterbacks have, indicating no contact allowed.
Nobody knows how he is going to feel when people are going full speed and there is no red jersey in an actual game.
While only the doctors know for sure, Wentz would be just under nine months from the injury if he returns for the

Sept. 6

opener.
He has worked extremely hard and his goal was always to suit up for the Falcons game.
That said, if there is even the slightest indication that he isn't 100 percent, he shouldn't start the opener or any other game. And that should be the case even if the Eagles didn't have a backup the caliber of Foles.
Wentz, 25, has such great promise. In only his second year, he was a dominant player at what is arguably the most difficult position in any sport.
When Wentz returns, the Eagles don't want him favoring the leg, or even thinking about it.
So they will be naturally cautious and may have to make a difficult decision to initially sit a player who obviously wants to return to the field as soon as possible.
Article continues below
---
advertisement


---
© SouthJersey.com 2018. All rights reserved. This article or parts thereof may not be reprinted or reproduced by any other party without the express written consent of SouthJersey.com. For more information, please call 856-797-9910.

For more Local Sports features, visit our South Jersey Sports page.

Author:
Marc Narducci; Photo by Marc Narducci
Archives
---
Dick Allen a glaring omission in recent Hall of Fame vote
One Last Thing: Off the Ice
The Long Journey in a High School Football Season
South Jersey Coronavirus (COVID-19) Developments (December 7)
Sandwich Supremacy
Four South Jersey Regional Football Champions
A Familiar Voice
Men of The Year 2021
Joining the Family Business
Giving Kids a Shot
Deck the Halls
High School Football Regional Championship preview
South Jersey Coronavirus (COVID-19) Developments (December 1)
There is still a place for Thanksgiving football
Eagles soap opera continues
More...