Working Together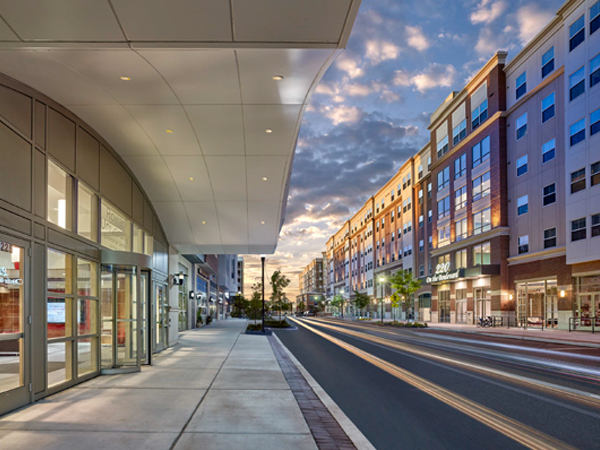 Glassboro and surrounding towns are feeding off each other's energy and continuing to create a thriving community.

You'd be hard-pressed to find someone in South Jersey, or anyone in New Jersey for that matter, who doesn't know about the revitalization in Glassboro— specifically Rowan Boulevard. It has changed the landscape of the town and Rowan University and fostered major economic growth.

"There are only so many towns in South Jersey that have downtowns and that have gone through the renaissance that ours has," Joseph Brigandi Jr., Glassboro administrator and executive director of economic development says. "There are a number of factors for that. We have a major university that is growing substantially in size and is prestigious with the two medical schools, and the enrollment has increased significantly. I think having that resource there, even though all our development isn't directly Rowan related, not many other towns have a resource like that and have allowed to expand and build."

That goes for some of the surrounding towns on Route 322 and Delsea Drive— Clayton, Mullica Hill and Pitman. Glassboro recognized that and is doing their part to provide resources and help those towns grow and become more prosperous.
Article continues below
---
advertisement


---


"We like to work together and complement each other," he says. "We're constantly reaching out to neighboring towns saying, 'We don't want to compete with you, we want to complement with you.' It doesn't do us any good if our town turns into a thriving town and then the town next to us doesn't. "We've been meeting with people from Pitman and other towns to figure out ways to partner together. We're coming up with a concept that's in its very early stages and if it's something we can make work, we'd beopen to doing."

Pitman
This small, yet growing town next to Glassboro, is one of the towns making a push to integrate with their neighbors more.

"The Greater Pitman Chamber of Commerce, the economic development committee and council members have ongoing meetings on a regular basis with Lavon Phillips (Glassboro's director of business development)," Vanessa James, president of the Greater Pitman Chamber of Commerce says. "The consensus is we don't want to be left behind; we want to be part of the growth. Lavon has been particularly helpful and we'vealso had meetings with counterparts in Mantua and Mullica Hill to talk about what we can do to all work together. It's going to be mutually beneficial for all of us to work together."

This town already has a lot going for it— a charming street filled with shops, breweries and a theater that has brought not just many out-of-towners to see the show, but has brought other business to town, James says. "Part of Pitman's success started over10 years ago when the Broadway Theatre reopened; it brought traffic into town. When there is a night when there's a show, Pitman is packed."

They hope a new addition to the town will be packed when it's completed in the coming months—Pocket Park. It will be located on Theatre Avenue—an under-utilized street between the Broadway Theatre and Mama Marie's Italian Market.

"The street will be closed off and pavers will be installed; we'll have tables and string lights across the buildings and music occasionally," James says. "It will be a little mini park. People can grab ice cream or a sandwich and sit out and relax."

Probably the biggest addition to the historically dry town is a liquor license. After the success of Kelly Green and Human Village breweries and Stage Right Wine Bar, Pitman voted overwhelming to see a liquor license.

"This is a historic moment for the town and we want to make sure we sell the liquor license for the best price possible," James says. "We think this can have a positive impact on economic growth. We're focused a lot on the uptown, but we have a lot of commercial property available on Woodbury-Glassboro Road—one of the most heavily traveled roads in Gloucester County. That could be potential space for a large restaurant. We like the idea where somebody could get a cocktail, which could be appealing to people, and have them stay in town for a show and so forth."

Clayton
A new apartment complex located at the north end of Clayton is paying tribute to veterans, called Camp Salute. The $20 million project was financed by the federal Low-Income Housing Tax Credit program and is a joint venture between People for People Foundation of Gloucester County and Conifer Realty.

Consisting of 76 units, it is veteran preference housing, with 25 percent of the units set aside for disabled veterans. Some of the veterans recently started moving in, and according to Tom Bianco, mayor of Clayton, it's the only project in the United States that has credited veteran advocates on the site.

"It is an honor to have this project in the Borough of Clayton," Bianco says. "We owe it to our veterans' to make sure there is suitable housing when they return and there are services available to assist them in adapting to day-to-day activities. The Borough of Clayton has always been supportive of our veterans when they return home from defending our country. Three of the streets have been named after Clayton veterans at Camp Salute."

Bianco says Camp Salute wouldn't have happened without the advocacy of Senate President Steve Sweeney and Freeholder Director Robert Damminger. He also noted Sweeney thought this project would be a model for future veteran housing projects.

"They have backed Camp Salute and leant their support to this project through their support of the redevelopment study, the housing authority and the Gloucester County Office of Veterans Affairs," he says. "The Gloucester County Freeholder Board has a very strong Veteran Affairs department and believes we owe it to our veterans to ensure there is suitable housing for them and their families and to have services available to assist them."

In addition to Camp Salute, more businesses have made their way into Clayton. A microbrewery is expected to open this year—the first in the town, Helping Hand Behavioral Services opened its second location in the municipality and Bianco said they have had a lot of interest in their industrial park over the last two years.

Last Phase of Rowan Boulevard
The last phase of the Rowan Boulevard project—A-4, on 57 North Main and 114 Victoria Streets—will be completed within the next few weeks. This $75 million phase consists of three buildings with student apartments (604 beds), 20 market rate apartments and 18,000 square feet of retail space.

Some Glassboro residents, students and others across South Jersey are surprised by how quickly the entire Rowan Boulevard came to fruition, but not Dante Germano, COO of Nexus Properties, who built Rowan Boulevard.

"This had everything to do with Rowan's exponential growth," he says. "When we started with this [project] in 2011, Rowan was growing, but come 2013, they just grew so quickly—adding 1,000 students a year. They had around 11,000 students in 2011 and now they have around 18,000."

That rapid growth fueled the need for more student housing and pushed parts of the project to get done quickly. "It fueled the economics of the project and allowed us to do the other two components (market rate apartments and retail)," Germano says.

He knew there would be some challenges with retail, but he was confident having a walkable environment would draw students and residents living on the boulevard to the stores, as well as nearby residents.

"We know retail is struggling all over the place because of online shopping and it has changed dramatically, but the bars (Chickie's and Pete's and nearby Landmark Americana), convenience stores and all the things you want within walking distance are available to you, and it helps fuel the apartment growth. We are most pleased with the fact that there isn't a single apartment available. All 20 apartments are spoken for and we now have a waiting list."

Mullica Hill
The other side of 322 is also under construction, with the anxiously awaited Inspira Medical Center in Mullica Hill slated to open in November 2019. The state-of-the-art hospital, a $349 million project, will certainly have an impact on residents in Gloucester County and beyond, and especially Rowan University, which already sponsors its residency programs. Inspira also recently approved a medical house cancer center that will have a connection right to the hospital.

Inspira isn't done there. Joining the growing trend of investing in innovation, Inspira also took space in the South Jersey Technology Park nearby with the recent opening on the Inspira Innovation Center, which focuses on implementation of patient-focused products and technologies.

"The emphasis is on improving patient care and improving patient experience," John DiAngelo, president and CEO of Inspira Health System, says. "One of the reasons why we took space in the technology park was because we'd have access to the folks who are of the same mindset because there are a lot of startups in that building," DiAngelo says. "It's something we can do together with them."

Each room is dedicated to working on a different innovation and they aren't using just computers—they are using the entire space and building replicas to test everything they create. For example, they are in the process of duplicating a living room so they know almost exactly how a patient recovers at home and how they can make that process better for the patient.

"When you get discharged from the hospital and go home, that's the next phase of recovering and gives us the ability to work with people and test various programs," DiAngelo says.

"Another example is when a patient is sent home after recovering from congestive heart failure, it's imperative to watch if that patient gains weight because that most likely means your heart is starting to fail. We used to have nurses who would call and ask if you weighed yourself, and now we have wireless scales. You open the app on your phone, step on the scale and the results go to our doctors and they can tell right away if you have a problem."

Another mammoth project on 322 is the development of a 300-acre multi-sports athletic complex on Rowan University's West Campus Fields leased by Elite Development Program (EDP). The complex is expected to include 55 soccer fields, 10 baseball fields, 120,000-square-foot indoor track and a 4,500-seat arena and a hotel, among other amenities. It will primarily be used for youth sports tournaments and expected to draw 1.5 million visitors a year, and will be the future home of Rowan University's athletics.

"It's a revenue generator on the private side," says Lou Manzo, Mullica Hill mayor. "Between 20-30 weekends of the year they'll have 400-500 soccer teams play tournaments, and there will be lacrosse and basketball tournaments as well. EDP is the biggest presenter of tournaments on the East Coast and it's the perfect relationship [with Rowan] where they can lease the land cheaply."

In his 11th year as mayor, he has seen plenty of changes in Mullica Hill—both good and bad—but he's proud his town is still known for its quaint feel, with its historic charm and Victorian homes gracing many blocks. He's also proud of the relationships that have been built between neighboring towns and working together as one large community.

"Every Gloucester County official works together and are all friendly. It started with [then Freeholder Director Steve] Sweeney and it kept going with the [current] freeholders," he says. "In some places the county relationships is nonexistent. We are all enjoying each other's energy and it's exciting."

What Businesses are Saying
RASTELLI AT HILL CREEK FARMS
Lauren Rastelli, Director of Marketing & Events
"As a new business, we have found that the local residents have embraced us and we've hired so many great local people. Being a farmers market has also allowed us to partner with many local farmers and businesses to bring their products directly to the Mullica Hill customer. Everyone has made us feel so welcome and the response we've had so far has been overwhelming from both residents and local businesses. We already feel like we are at home here in Mullica Hill."

LANDMARK AMERICANA
Dave Goldman, Co-owner
"The community has been so supportive of us over the years. Local government is always looking for ways to help bring business to town and generally improve business conditions. There's a level of support we feel from all aspects of the borough that is incredibly comforting and integral to our success."

HFM INVESTMENT ADVISORS, LLC
Kristine Robinson, Director of Marketing
"We wanted to be located in a community that embraces continuing and higher education and found Glassboro to be the perfect fit for us. … Since moving our office to Glassboro three years ago it has been exciting to see the momentous changes happening all around us. Together, the borough and [Rowan] University strive to transform Glassboro into a destination and we are proud to be a part of that."

DENTAL ARTS GROUP
Ramin Bahram, CEO and Founder
"We always heard of the vibrant and family-oriented community in Pitman. Since our mission at Dental Arts Group is to deliver happiness, both for our teammates and patients, we thought Pitman was an ideal location for us. We cannot be happier to have chosen Pitman as a location for our office and we hope to make ourselves part of the community."

TRIFECTA THERAPEUTICS
Jeremy Boyd, Owner
"What isn't there to love about being in Glassboro? The town itself is growing rapidly, fueled by innovation and technology. It is filled with youth and energy which rubs off on me and my practice, as I can have a high energy and I believe 'fun' practice compared to the traditional rehab which is get in do your exercises and get out. I believe a lot of how my practice acts is due to the town and the local population itself. I am extremely blessed to have started my practice here."

NANCY KOWALIK REAL ESTATE GROUP
Nancy Kowalik, Owner
"I am Mullica Hill proud! People here shop local; they promote people that are authentic. Many families here have told me how proud they are as many have seen me start a business from nothing that now has grown to something simply spectacular. There is no better place to have a business."


Published (and copyrighted) in South Jersey Biz, Volume 8, Issue 7 (July 2018).



For more info on South Jersey Biz, click

here

.
To subscribe to South Jersey Biz, click

here

.
To advertise in South Jersey Biz, click

here

.

Author:

Julie Shannon
Archives
---
Eastern and Cinnaminson are top girls' and boys' seeds in South Jersey Soccer Coaches Tournament
Healthy People, Healthy Business
South Jersey highschool football games of the week
Best of Home and Garden
Back to School
Ready to Take Flight
Bishop Eustace's Danny O'Rourke a model of stability
Who's Who in Real Estate
Special Delivery
South Jersey Football Games of the Week
Eagles saved their season with win over Carolina
A Difficult Loss
Top Physicians 2021
Phillies wasted lights-out seasons from Bryce Harper and Zack Wheeler
Another strong season for Olympic American Girls' Soccer
More...