Phillies Dominguez Looking to Snap Out of Slump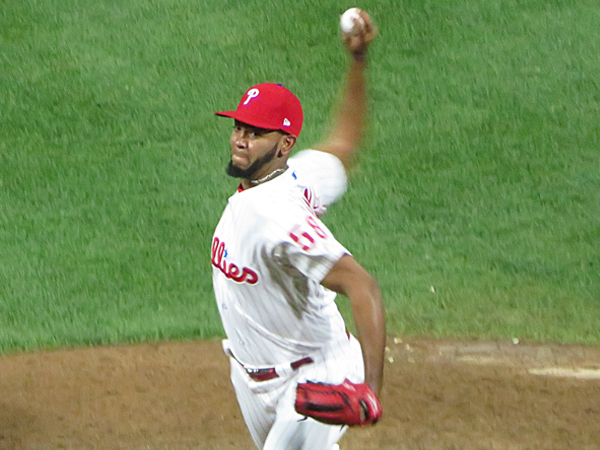 By all accounts Phillies reliever Seranthony Dominguez has enjoyed an outstanding rookie season and burst on the scene and made a major impact much more than anybody could have anticipated.

Before this year he had spent the majority of his professional career as a starting pitcher. Then all of a sudden, Dominguez burst on the scene and was the Phillies closer in his first MLB season.

Dominguez, who turns 24 in November, never played above Double-A before this year. He began the season at Double-A Reading, advanced to Triple-A Lehigh Valley and was in the majors on

May 7

, making his debut with the Phillies.

He signed made his debut with the Phillies in the 2012 Dominican Summer League and since then has worked his way up.

He started out so well this season for the Phillies that there was talk that he should be considered for a spot on the all-star team.

Article continues below

---
advertisement


---


He did not allow an earned run in his first 12 appearances, covering 14 2/3 innings. Yet as the months have gone by, the 6-foot-1, 185-pound Dominguez has seemed to tire.

Entering this week, in his first nine August appearances, he had a 9.00 ERA. In the first three months he had given up on home run. In August, the total was three entering this week.

Dominguez has electric stuff. According to Frangraphs.com his fastball averages 98.1 miles per hour. His changeup averaged 90.6 MPH and his slider averaged 88.6 MPH.

There is more to pitching than throwing hard, but Dominguez has the stuff to handcuff batters. What he has lost in August is his command to consistently throw strikes. And MLB hitters are so talented that they can tee off on a 98 MPH fastball if they know one is coming.

It appears in the last five weeks that manager Gabe Kapler may go with a closer-by committee. The hot hand will likely get to close games.

And with the rosters expanding on

September 1

st, expect the Phillies to bring in some Triple-A relief enforcements.

That said, the closer could still be Dominguez. Besides regaining his command, he must also regain his confidence.

For the season he has a 3.15 ERA. That isn't the ERA of a shutdown reliever, but there are many who are worse. What isn't impressive is that he has 14 saves, but four blown saves. Three of those blown saves came in the first four weeks of August.

Before August, his ERA was a sterling 1.91.

Dominguez had an especially difficult outing on August 22nd. He entered the ninth inning at Washington with the Phillies leading 7-6. The right-hander got the first two batters before surrendering a double to Juan Soto and then a walk-off home run to Ryan Zimmerman.

The key to being a quality reliever is to have a short memory. That is easier said than done when the player is in his first MLB season, but Dominguez proved to be dominating in nearly the first three months and now a key will be whether he can recapture that form in the final five weeks.
© SouthJersey.com 2018. All rights reserved. This article or parts thereof may not be reprinted or reproduced by any other party without the express written consent of SouthJersey.com. For more information, please call 856-797-9910.
For more Local Sports features, visit our
South Jersey Sports
page.
Author:
Marc Narducci; Photo by Marc Narducci
Archives
---
Along the Fairways
An amazing season for Joel Embiid
Best of Health Care
Basketball club honors players
The First Step
Head in the Cloud
Vail playing at top-level college ball
Seizing the Moment
A Budding Business
Whole Hearted
Eyes on the Prize
Fully Focused
Divided opinion on Eagles trade with Miami
Giant Steps Forward
Timber Creek's Leary heads to Illinois
More...