Looking to Make an Impact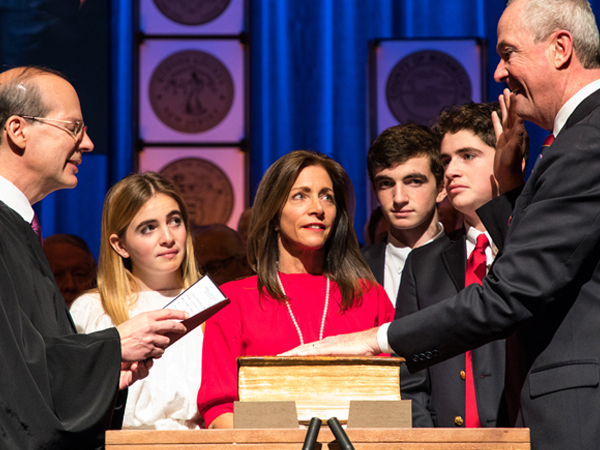 Tammy Snyder Murphy opens up about making a difference, her husband Gov. Phil Murphy and why New Jersey feels like home.

While speaking with First Lady Tammy Snyder Murphy, it's clear she is taking on her new role with the same approach she's had since starting her career in 1987: She just goes with it.

"I will tell you where I aim to go and where I am sent are not entirely the same thing all the time," Murphy says during an exclusive interview with South Jersey Magazine. "I've found that I have a lot of interests and I, somehow, am exposed to other issues that would not have been somewhere I would have thought I would have gone."

Per her history, the Virginia native attended the University of Virginia, where she double majored in English and communications, because "I wanted to be able to speak, read and write by the time I graduated; having not much of an idea as to what I wanted to do." Murphy adds, "In fact, I thought I was going to go into journalism at one point in time or go into law, but that didn't end up happening."
Article continues below
---
advertisement


---


Instead, Murphy found herself on the trajectory for a career in financial services as an analyst, working at companies including Goldman Sachs and Investcorp—where at the time, she started as the only female professional working in the company—which took her abroad to locales includingLondon and Germany.

One thing led to another and while abroad, she rekindled a friendship with now Gov. Philip D. Murphy, and soon, the two were married and living in Germany—where the duo represented the United States—soon relocating to Hong Kong and eventually, New Jersey.

That's where Murphy's story takes off and where our interview begins. As the First Lady to the 56th Governor of New Jersey, Murphy has found herself involved in a myriad of projects, but she's always ready to talk democracy and why she loves all of New Jersey—the southern, central and northern parts.

So what led you to a career in finance?
When I was graduating from college, all the big corporations [would come to] colleges and you would literally drop your résumé into boxes and then they would interview you. I ended up, for reasons that I cannot explain, having job offers from various financial services companies, as well as some retailers. I decided I would try out financial services as an analyst because they had a defined program and I felt that I never had any background in finance. The program was supposed to be about [one-to-two] years and I was rather stunned when 16 months into the program, I was asked if I would stay on, which kind of took me by surprise and perhaps why I sit here today because I think had I not been asked to stay on, I likely would have gone to graduate school and done something else.

And how did you cross paths with your husband?


Phil and I had met back in 1987 when I was still at the University of Virginia. He came down to interview [on behalf of] his company [Goldman Sachs] and while he did not interview me, I met him there and I knew him when I was working at Goldman Sachs and we were just friends. We re-met because he was running Goldman Sachs in Germany and I was living in London and working a lot in Germany, so about a year after we caught up with each other again, we went out on our first date and six months later, essentially we got married. [An] 18-day relationship helps a lot when you know everybody'sfriends and more, but anyways, I pray our kids don't follow in our footsteps, but it's worked out for 24 years for us. I ended up moving to Germany with Phil and then we moved from there to Hong Kong and we had our first child just before we went over to Hong Kong.

What drew you both to New Jersey?
We always assumed we would be back in the New York area so we were trying to figure out where Thanksgiving would take place, where was Halloween and we started looking in earnest to find a place to live. For many, many reasons, we chose New Jersey and that was back in 1997. We started looking and we bought our home in 1998 and this is where we've called home ever since.



Within your role now, what are some causes you're passionate about and directly involved in?


I am a charter member of Al Gore's Climate Reality Action Fund so the environment is something that's really important to me. If you told me that I had to work on one thing, I would probably pick the environment or women and children's issues, being a mother and having four children. … I'm also working on Drumthwacket [the Governor's residence]. I've also been exposed to a lot of issues around incarceration, gun safety, the opioid crisis [and] I've spent a significant amount of time, unexpectedly, on women and children mortality rates— particularly the disparity between blacks and whites in New Jersey because we're in an appalling place on that front.

You mentioned Drumthwacket, what kind of work are you doing there?
I think we are one of only four states in the U.S. that doesn't mandate that the governor must live in the mansion and Drumthwacket is a gem. It is something that should be accessible to every person in New Jersey. … Drumthwacket is a great tool that can be used by Phil and the entire administration to help promote New Jersey. … It has an incredible story and history, but it needs a lot of help. It's not as accessible to our state as it should be, and I [have] a lot of chances to bring it up in terms of its maintenance, but also in terms [of ] people's exposure to it. We've got some Rutgers students who we now have going to work in the garden because Rutgers has one of the best horticulture schools in the country. … They're working this summer diligently to help with storm water management and to help us figure out how the garden should be laid out. We are in talks right now with Stockton and their hospitality area, where we might be able to get some students who might actually get credit for serving as interns inside the house and understanding how we pull events together. … That's a very big project for me because Drumthwacket has incredible potential. … I feel like it really will benefit our state if we can really get this thing up and running in a great way. That's something that takes up a lot of my time, which was unexpected, I have to say.

What legacy do you hope to leave here in New Jersey?
In terms of my own personal legacy, I haven't even really given it any thought. I am here to help Phil and [Lt. Gov.] Sheila Oliver make New Jersey stronger and fairer for everybody. There are lots of examples across our state where we just have not taken care of all nine million of us over decades and there is just so much to do. There are so many opportunities to help people that I just want to show up every day, and if I can help in any way, shape or form, that's what I'm going to do. I don't have a grand plan for my own personal legacy, by any such. I will make myself available and where I think I can add value and help promote that stronger and fairer state for everyone, I'm right there.

Have you spent much time in South Jersey?
We've been in South Jersey for years, so it's not just a kind of here and now. … We've always gone down to Atlantic City, the two of us, for a night or two just to have fun, go running on the Boardwalk, go shopping and just be in South Jersey. We have done that for a very long, long time, but I would say starting with the inauguration, it was really important to me, and to us, that we made sure the inauguration was accessible to everyone in New Jersey and it wasn't a very limited ticket access, swearing-in and a high-cost evening gala. What I effectively did, I turned the entire inauguration into a five-day inaugural and we hit all 21 counties.

Speaking of Shore towns, which one would you say you visit most often?
Well I'm probably not going to tell you about a favorite! One thing that is fun is Phil and I like to run and find how we can do things that will touch different types of people, so we are now trying to do different 5Ks or 10Ks around New Jersey. We did one for Race to Cure Blood Cancers 5K in Toms River.

You've lived in New Jersey since 1998, what is it about the state that feels like home to you?
It is home. I've never lived anywhere longer than I've lived in New Jersey. I've moved around the world a lot and this is the one place where I actually have owned a home myself and where I have actually lived. We chose to raise all four of our kids here, we've got school connections here and [I'll] tell you what I do love: I love the diversity of New Jersey. That is not only just in terms of the different types of people and cultures that have come together in New Jersey, but you've got everything from the Shore to horse country and the best part of all? New Jersey has attitude and everybody has something to say, they're not shy and you've got to love that.

Published (and copyrighted) in South Jersey Magazine, Volume 15, Issue 5 (August 2018).

For more info on South Jersey Magazine, click

here

.


To subscribe to South Jersey Magazine, click

here

.


To advertise in South Jersey Magazine, click

here

.

Author:

Josephine Cusumano
Archives
---
So You Wanna Be a Talk Show Host?
Go Figure!
A Viral Sensation
Here to Help
Health Care Roundup
Another Strong Year Expected in the WJFL Liberty Division
Bad for Busine$$?
Eagles Addition of Josh McCown Adds a Twist to the Backup Quarterback Situation
Jersey Shore Nightlife Guide
South Jersey Nightlife Guide
Haddonfield Sports Program Earns Top 10 National Ranking
South Jersey Happy Hour Guide
Lasting Impression
A Look at the South Jersey Football Group Pairings
Biz in Brief
More...