Phillies Nola Remains in Tight NL Cy Young Race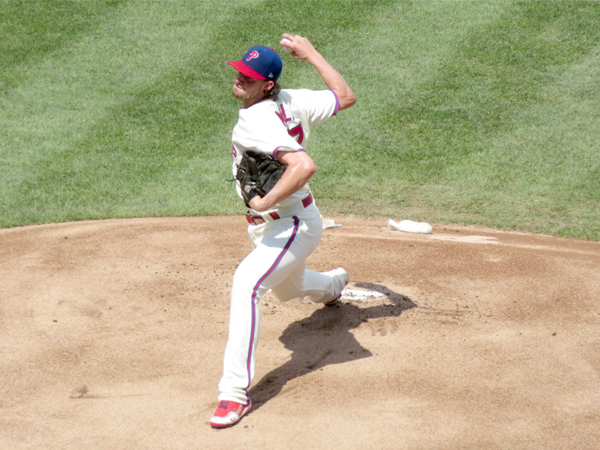 It's been established for a while that there are three candidates for the National League Cy Young Award and with less than a month to go, the race remains tight.

The candidates are the Phillies Aaron Nola along with fellow righthanders Jacob deGrom of the NY Mets and Max Scherzer of the Washington Nationals.

Right now, the perceived leader is deGrom who should sue his team for lack of run support. In the old days, when those voting for the Cy Young Award valued won-loss record, deGrom wouldn't have stood a chance.

Yet in this age of analytics, when there are so many other valuable ways to measure a pitcher, the W-L record isn't as important. Remember when Seattle's Felix Hernandez won the AL Cy Young Award with a 13-12 record in 2010?

That was the voters' way of saying pitches can't always control whether the team receives a win or loss and that it is not a major way to evaluate a pitcher.
Article continues below
---
advertisement


---

Hernandez had a 2.27 ERA in an incredible 249 1/3 innings pitched.

deGrom lowered his league-leading ERA to a microscopic 1.68 after earning a no-decision during

Monday's

4-2 win over the Los Angeles Dodgers. He allowed just one run in six innings and now has 230 strikeouts in 188 innings. The fact that he is just 8-8 shows how inept the Mets have been.

Nola has the wins that some still give credit for, but he also has some other impressive stats.

He is 15-4 with a 2.23 ERA in 181 2/3 innings. Unlike deGrom ad Scherzer, Nola is pitching in a pennant race. (After

Monday's

loss Miami, the Phillies remained four games out of first place, trailing the Atlanta Braves in the NL East with 25 games left).

Nola had a rare rough start in

Sunday's

8-1 loss to the Chicago Cubs, allowing three solo home runs and four earned runs in 5 2/3 innings. He still had plenty of moments of dominance, with 11 strikeouts.

Like deGrom, Scherzer is pitching for an underachieving team, but again, that has nothing to do with his performance.

Scherzer received no-decision in

Monday's

4-3 win over the St. Louis Cardinals in 10 innings. The righthander threw seven innings, allowing three earned runs while striking out 11.

For the season he is 16-6 with a 2.28 ERA.

Scherzer has struck out 260 in 193 2/3 innings. His WHIP (walks and hits per innings pitched) is a miniscule 0.88. (Nola's is 0.974 and deGrom's is 0.96).

Yet deGrom's ERA seems to be the leading argument in his favor. And after his start against the Dodgers, he tied a Major League record by allowing three runs or fewer in 25 consecutive starts.

That tied King Cole, who also went 25 straight starts for the Chicago Cubs in 1910.

All three pitchers have a high WAR (wins above replacement) with Nola at 8.9, Scherzer at 8.8 and deGrom at 8.1, according to Baseball Reference.

Scherzer has already won three Cy Young awards, two with Washington and one with the Detroit Tigers.

The race with the three is so close, but right now it appears that it is deGrom's award to lose which makes at least every fifth game the Mets play worth watching.


© SouthJersey.com 2018. All rights reserved. This article or parts thereof may not be reprinted or reproduced by any other party without the express written consent of SouthJersey.com. For more information, please call 856-797-9910.


For more Local Sports features, visit our
South Jersey Sports
page.
Author:
Marc Narducci; Photo by Marc Narducci
Archives
---
Seizing the Opportunity
What's on Your Mind
In the Groove
We're Number One?
Prime Performer
Best of the Best 2021
Land of the Free
Brooklawn fall one game short of an American Legion state title
Can't Hack It
Ben Simmons uncomfortable stay with the 76ers
Filling a Critical Void
Out and About
Flyers reshape team
Power 50
A strong showing by South Jersey products in the MLB Draft
More...