More Than 500 Public Drinking Citations Issued In Sea Isle This Summer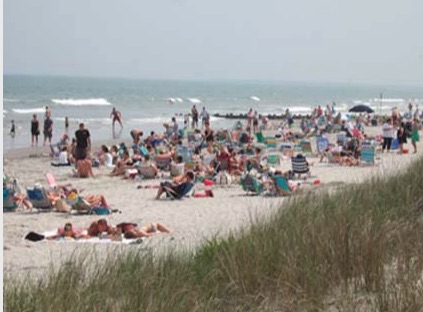 More Than 500 Public Drinking Citations Issued In Sea Isle This Summer
Sea Isle Police reportedly issued more than 500 citations for public drinking in an effort to combat drinking on the beach this summer.
Police Chief Tom McQuillen tells Sea Isle News 509 summonses for public drinking have been handed out this summer.
During Memorial Day weekend, the police department launched an aggressive enforcement program to combat the issue, after receiving multiple complaints from the community about public drinking.
McQuillen told the publication police targeted the beaches and other popular tourist areas where families and children may have been exposed to foul language and rowdiness due to public drinking.
"Everyone is entitled to the same peaceful experience on the beach. We were there to make sure that happened," McQuillen told Sea Isle News. "We want you to come here and have a good time. But we want you to obey our ordinances."
McQuillen said he hopes this summer's campaign against public drinking will help to educate everyone about Sea Isle's law. He adds police plan to be back on the beach again next summer issuing summonses for public drinking.
Article continues below
---
advertisement


---
Author:
https://philadelphia.cbslocal.com/2018/09/10/more-than-500-public-drinking-citations-issued-in-sea-isle-this-summer/
Archives
---
South Jersey Coronavirus (COVID-19) Developments (February 26)
South Jersey Coronavirus (COVID-19) Developments (February 23)
South Jersey Coronavirus (COVID-19) Developments (February 19)
South Jersey Coronavirus (COVID-19) Developments (February 12)
South Jersey Coronavirus (COVID-19) Developments (February 5)
South Jersey Coronavirus (COVID-19) Developments (February 1)
South Jersey Coronavirus (COVID-19) Developments (January 29)
South Jersey Coronavirus (COVID-19) Developments (January 28)
South Jersey Coronavirus (COVID-19) Developments (January 22)
South Jersey Coronavirus (COVID-19) Developments (January 21)
South Jersey Coronavirus (COVID-19) Developments (January 14)
South Jersey Coronavirus (COVID-19) Developments (January 8)
South Jersey Coronavirus (COVID-19) Developments (January 4)
South Jersey Coronavirus (COVID-19) Developments (December 23)
South Jersey Coronavirus (COVID-19) Developments (December 21)
More Articles