Townsend's Inlet Bridge To Close For 8 Months For Renovation Project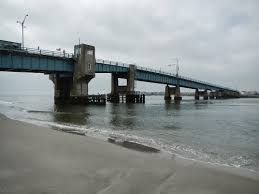 A major bridge at the Jersey Shore that connects Avalon and Sea Isle City will be shut down for eight months.
The Townsends Inlet Bridge closed around 4 a.m. Monday for an $8.6 million renovation project.
Seven of the 27 spans of the bridge will be replaced.
It was closed in April for emergency repairs after inspectors spotted structural damage.
The bridge will be closed until May 22.

Author:
https://philadelphia.cbslocal.com/2018/09/17/townsends-inlet-bridge-to-close-for-8-months-for-renovation-project/
Archives
---
South Jersey Coronavirus (COVID-19) Developments (February 26)
South Jersey Coronavirus (COVID-19) Developments (February 23)
South Jersey Coronavirus (COVID-19) Developments (February 19)
South Jersey Coronavirus (COVID-19) Developments (February 12)
South Jersey Coronavirus (COVID-19) Developments (February 5)
South Jersey Coronavirus (COVID-19) Developments (February 1)
South Jersey Coronavirus (COVID-19) Developments (January 29)
South Jersey Coronavirus (COVID-19) Developments (January 28)
South Jersey Coronavirus (COVID-19) Developments (January 22)
South Jersey Coronavirus (COVID-19) Developments (January 21)
South Jersey Coronavirus (COVID-19) Developments (January 14)
South Jersey Coronavirus (COVID-19) Developments (January 8)
South Jersey Coronavirus (COVID-19) Developments (January 4)
South Jersey Coronavirus (COVID-19) Developments (December 23)
South Jersey Coronavirus (COVID-19) Developments (December 21)
More Articles