Super Women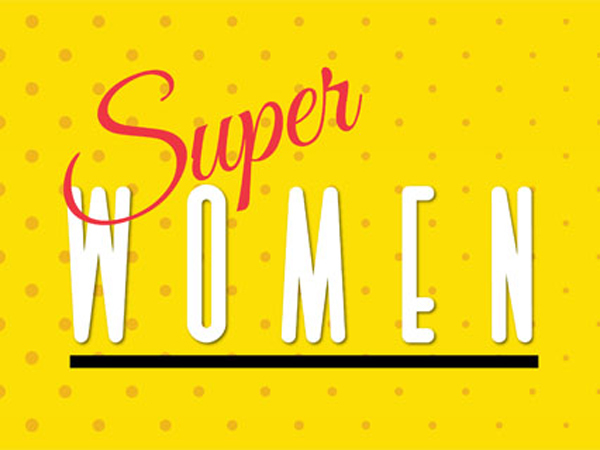 Selfless. Giving. Caring.

These are just a few of the many words that could be used to describe this inspiring group of wonderful ladies who are doing big things to help make a difference in our communities.

Elena Piperno, Woman of the Year
To say giving back is in Piperno's blood would be an understatement. When she was just 5 years old, her family founded The Domenica Foundation in honor of her late grandmother, and it was then that she saw firsthand how rewarding it can be to make an impact in someone else's life. Soon after, she was helping distribute holiday baskets to families in need and by the time she was looking to enroll in college, she chose Providence because it was the only school in the country to offer a degree in public and community service studies. During her collegiate years, Piperno volunteered in local schools and helped facilitate after-school programs for at-risk youth. She would go on to help enrich the lives of children from as far away as South Africa and closer to home in Camden, where she designed and managed academic and extra-curricular programs for middle school students attending the city's parochial schools. In 2014, she became the corporate social responsibility manager for A.C. Moore and helped launch the company's "Crafting a Better World" philanthropic initiatives. In just two years, she doubled the company's charitable contributions and has raised more than $3.5 million. Piperno has also lent her efforts to several other worthy causes like Alex's Lemonade Stand, Toys for Tots, the American Cancer Society and the Alicia Rose Victorious Foundation. Her work with the latter has resulted in a partnership that has created mobile arts and craft stations used by children at various hospitals including Virtua Voorhees, Cooper Hospital, Children's Hospital of Philadelphia and Weismann Children's Rehabilitation Hospital. The South Jersey Cultural Alliance awarded Piperno the Paul Aiken Encore Award for working with Symphony in C to bring musical education to inner-city youth. And to bring things full circle, the 30-year-old now heads up the foundation named after her grandmother and works with many local organizations like Cathedral Kitchen and Heart of Camden regularly. Through her work at the foundation, she has been able to help create scholarship programs that have helped more than 100 students from Camden attend Camden Catholic, Gloucester Catholic and Paul VI.
Article continues below
---
advertisement


---


Katie Wright
Wright grew up helping organizations like Big Brothers Big Sisters of America and her local SPCA and she credits her early volunteer work with motivating her to turn a passion into a profession. After working for Morgan Stanley and then Raymond James, charged with spear-heading community outreach and nonprofit involvement, she grew fond of the work but felt limited by the confines of the financial industry. This led to Wright doing a little soul searching and ultimately to her founding RightCause, a marketing consultancy firm that helps for-profit and nonprofit organizations come together for a greater good. The main goal of the firm is to help businesses identify worthy causes that will help them strengthen not only their brand reputation, but also their community engagement. Wright's ability to bridge the gap between an audience, a cause and a client has made several lasting, meaningful connections.

Carol Pavlicin
For more than a decade, Pavlicin has been the executive director of Urban Mission Fellowship, a nonprofit that aims to improve the lives of urban youth and their families. The organization has established several key principles—such as respect for each other, respect for teachers and more while allowing them to grow spiritually. But Pavlicin's biggest goal is to establish personal relationships with those she comes across, which is just one of the reasons why two nights a week during the school year, she helps organize transportation and food for children so they can receive tutoring lessons to help bolster their grades. As a result many of the children involved with the program have gone on to attend college.

Chantay Harris
As the founder of TELL-Teens Experience Learning Life, Harris serves as a mentor and life coach for more than 80 teenage girls. Last year she was named an emerging leader by the Burlington County Chamber of Commerce and she has also received several other awards, including being recognized by the mayor of Camden, the Camden County Board of Freeholders as well as the New Jersey State Senate. Somehow in the midst of all her work empowering young women in the area, Harris has time for her day job at Cooper University Hospital where she works as a health coach, assisting high-risk patients with chronic diseases. In addition, she is a staunch advocate of raising awareness against domestic abuse, child abuse, helping the homeless population in South Jersey as well as seniors and veterans.

Lin Rubright
Rubright is the founder and director of the Anna Foundation, a nonprofit she created with her husband in 2004. The foundation is dedicated to the enhancement of the educational experience of students with developmental delays participating in inclusive education. It's a cause that holds special meaning, as Rubright is the mother of six daughters, two of whom (Anna and Rachel) have Down syndrome. The Anna Foundation not only offers academic assistance, but also stresses the importance of social inclusion, organizing events like the Mall Haul, which partners students with and without disabilities and gives them gift cards to go on a shopping spree together. Currently, the foundation is working on developing a job training and preparation program that will include résumé writing, mock interviews, social etiquette, networking and more.

Lisa Brandinelli Quanci
This Haddonfield resident is no stranger to worthy causes around town, lending a hand whether it be through the civic association, Cub Scouts or working at Habitat for Humanity sites through her local church. But her biggest triumphs have come thanks to her work with the United Service Organizations (USO) of Pennsylvania and Southern New Jersey. Quanci began volunteering with the USO in 2014 and since then has made a major impact working at the hospitality center located inside Philadelphia International Airport where she leads by example; doing anything she can to help the guests of the USO. That may mean coordinating travel needs, providing meals or synchronizing efforts with airport security and police—she once played a vital role in helping a soldier returning from Africa make it to the hospital in time to witness the birth of his child. Furthermore, as an escort for the "Families of the Fallen" program, she facilitates travel for families with loved ones whose dignified remains are being transferred to Dover Air Force Base. And when the hospitality center suffered structural damage, Quanci helped raise money for a new facility at the airport, selling her original paintings of the American flag. Her devotion has resulted in her being named the organization's Volunteer of the Year last year and she also has been awarded the Presidential Award for Service.

Merilee Rutolo
With more than 15 years experience working with nonprofits, Rutolo has dedicated herself to helping bring noticeable change to Camden. As the COO at Center for Family Services, she has worked tirelessly to help address issues like education, income, housing and health that many families in the city are faced with. By forming collaborative partnerships with key members of the community, she has turned the nonprofit from a $10 million organization with 30 programs to a $40 million organization with now more than 70 programs. She was integral in securing a grant that brought Head Start and Early Head Start to Center for Family Services and she also helped obtain $30 million to implement a Promise Neighborhood, which allows the Center for Family Services to make a direct impact in the city's most troubled communities.


A British transplant, Morlino moved to New Jersey after marrying her boyfriend whom she met overseas while he was stationed in England with the Air Force. While it may have been love at first sight, the mutual admiration for dogs is what just may have sealed the deal for Morlino. After moving stateside, the former pediatric nurse practitioner immediately began volunteering with local animal charities and nonprofits to better familiarize herself with the ins and outs of dog rescue and adoption. That experience led her to start MatchDog rescue, a 501(c)(3) organization that saves at-risk pups from kill shelters and finds them loving homes. However, Morlino does more than just simply send a dog to a willing foster family, instead spending time to get to know the people first so she can try to find them the perfect match. In its first year, MatchDog rescued more than 600 dogs and placed them into new homes.

A pediatric critical care physician employed by CHOP at Virtua Voorhees, Walker has made her life about helping children. And so in April 2017, in search of a creative outlet, she opened ARTery, an exploratory art studio in Medford that focuses on childhood development demonstrated by independent exploration. Recently the studio hosted three workshops that allowed children to make pillowcases for other kids who are admitted to the hospital as part of a community outreach effort. In addition, she has lent the studio and her time to partner with several organizations from the Girl Scouts of Central and Southern New Jersey to Alex's Lemonade Stand, Camp Oasis, local churches, daycares and more. She has also championed pediatric nursing simulations for critical care and has volunteered her time to coordinate mock emergencies to help prepare the Virtua Voorhees staff for potential real life encounters. Within one month of her living in Medford, she also established a Little Free Library program, donating a portion of all Jewish holiday-related workshops to the PJ Library of Southern New Jersey.

In December 2010, Baionno was diagnosed with breast cancer and because the disease had already spread to her lymph nodes, she immediately began aggressive treatment. She was only two chemotherapy treatments in when she suffered a mild stroke, which affected her eyesight and gait. Nevertheless, Baionno fought through the tough times and now feels obliged to pay it forward dedicating her time and energy to helping others. In fact, her involvement with community service details a laundry list that includes her current role as vice president for United Way of Gloucester County's United Women, co-president of the Junior Women's Club of Woodstown, not to mention secretary of the Greater Swedesboro Business Association and her work with the Girl Scouts. She has also worked with various breast cancer support groups, Meals on Wheels, helped with roadside cleanup and the March of Dimes.

Manuela Morais

As a community advocate and owner of her own law practice, Morais dedicates herself to encouraging and developing the next generation of women through mentorship and engagement. This has led to her being recognized for strides she has made to empower women professionally, but also for her community outreach. This year she was appointed to the boards of both the Girl Scouts of Central and Southern New Jersey and the Rotary Club of Moorestown, where she serves on the international committee. Her experience emigrating to this country inspired her passion for helping others in similar situations, not only professionally but on a personal level as well. As a longtime supporter of Catholic Social Services, she has lent her expertise to their immigration legal needs and assisted in their annual toy drive, which benefits unaccompanied minors who enter the U.S. without a legal guardian. Morais is also in the process of working alongside her mother to start offering English as a second language classes in her office.

Lannutti is one of those people who always finds time to help others, no matter how busy she is. An owner of two small businesses in Washington Township, she is always finding ways to grow the community in her hometown and using her role on the township's chamber of commerce to align with local charitable causes. But perhaps most impressive is her work with several area foundations, two of which she founded. When her best friend Toni was killed in 2011 by a distracted driver, the news hit hard, especially since Toni was two days away from giving birth to her second child. To honor her friend, Lannutti helped create the Toni Donato Bolis and Baby RJ Foundation, which works to bring awareness and education against distracted driving. Then in 2018, Lannutti founded Blackbird Foundation, which supplies equipment and funds therapies for special needs children whose families are struggling with rising costs of care. It's a cause near and dear to Lannutti, as her 5-year-old daughter Sophia Toni was diagnosed in December 2016 with IQSEC2, a rare gene mutation. At the time Sophia was one of only 45 people in the world with the diagnosis. Lannutti has since founded the IQSEC2 Foundation along with three other mothers from outside New Jersey in an effort to help fund research and support families coping with this little known disorder. She also has plans to run for the Washington Township Board of Education in the future and credits her firefighter husband and close-knit family and friends with influencing her to affect the lives of so many others.

A successful managing partner with Charny, Karpousis, Altieri & Donoian, this attorney has been able to partner her legal expertise with a strong desire for assisting community members who need it most. She regularly provides pro bono work for South Jersey Legal Services, handling divorce cases for indigent individuals, and through her volunteer work with the New Jersey Family Court's Matrimonial Early Settlement Program in the tri-county region, she spends time reviewing cases to help reach a fair settlement for all parties. She also spent two four-year terms serving on the District IV Arbitration Committee where attorneys volunteer their time to hear legal fee disputes between litigants and their former attorneys. Outside of the legal world, Donoian-Pody has been a longtime supporter of the Ronald McDonald House Southern New Jersey, often making breakfast for families and serving on the organization's 35th annual gala planning committee. She has also been directly involved with various food drives to help the Food Bank of South Jersey and also organized holiday toy drives for families in need.

Nicole Taylor

In 2009, after having surgery to help remove kidney stones, Taylor was living a seemingly healthy life without any major problems to speak of. However, in January 2016, she began experiencing excruciating abdominal pains and another stone was discovered. She was vomiting, dehydrated and visibly shaking and would be admitted to the ER for testing, where it was discovered she had an abnormally high white blood cell count and a heart rate of 170. After being moved to the ICU, she had emergency surgery to release an infection caused by the kidney stone, but unfortunately the infection had spread through her entire body. She went into septic shock and was fighting for her life in a medically induced coma. Doctors had told her family that if she did not start responding to medication, her organs would shut down and she would die. Luckily, Taylor survived the encounter, but felt compelled to raise awareness.

She helped work tirelessly to push the state to pass mandatory sepsis protocols and personnel training for early identification in all of New Jersey's hospitals and thanks to her commitment, in January of this year New Jersey became one of only three states to mandate sepsis protocols.

On June 17, 2017, Maguire's world was turned upside down when she lost her mother Michelle in a domestic violence-related homicide. Determined to honor her memory, with the help from family, Maguire started Guardian Angel Chel, a way to help at-risk individuals receive life-saving panic buttons free of cost. "Chel" was Maguire's mother's nickname and she thought it was only right to create a cause to help others because that was one of her mom's greatest attributes. When prompted, the device alerts a list of contacts to the user's location, letting them know of trouble. It can also send off a high-frequency alarm as a deterrent to would-be attackers. The issues of domestic violence and suicide awareness have become two very important causes in Maguire's life, so she has begun dedicating herself to helping others find hope where they think it may be lost. She cites her main goal as to now fight for people like her mother who can no longer fight for themselves.


Debbie Savigliano

Savigliano is the founder and president of Bianca's Kids, a non-profit that grants wishes to sick, needy and foster children all over the country. The organization was created in the memory of her beloved niece, Bianca Yodice, who was killed in 2010 after being struck by a car. Since the group's inception, Bianca's Kids has helped more than 20,000 children and families in New Jersey and across the United States. And because Savigliano wanted total transparency, she posts every bit of outreach on social media to share the impact her donors have made on people's lives. Savigliano's work has garnered plenty of attention and recognition, including being awarded the 2017 Community Quarterback Award by Santander Bank and the Philadelphia Eagles as well as being honored with the Martin Luther King Volunteer of the Year award.


Monika Williams Shealey

A native of Florida, Shealey has served as dean for the Rowan University College of Education for the past five years and during her time she has made quite the impression. As a former special education teacher, perhaps no one understands better the importance of addressing matters that plague our educational system. With a master's degree in special education from the University of South Florida, an educational specialist degree in learning disabilities from the University of Miami and a Ph.D. in education from the University of Central Florida, it is easy to see why the future of education is so near and dear to Shealey. It's one of the reasons she created a signature Ph.D. program at Rowan aimed at addressing workforce diversity, helping prepare the next generation of educators.


To read the digital edition of South Jersey Magazine, click

here

.



Published (and copyrighted) in South Jersey Magazine, Volume 15, Issue 7 (October 2018).

For more info on South Jersey Magazine, click

here

.
To subscribe to South Jersey Magazine, click

here

.
To advertise in South Jersey Magazine, click

here

.

Author:

Peter Proko
Archives
---
Who's Who in Health Care
Former Shawnee star Doolittle Calls It A Career
Camden County College welcomes Baseball Hall of Fame
South Jersey Football Games of the Week
Out & About
QB Ronnie Borden is Back in the Game
Should fans be worried for the Phillies bullpen?
South Jersey Football Games of the Week
A look at South Jersey's Top H.S. Girls' Soccer Teams
Out & About
Eagles will be fine after close call in opener
High School Football Games of the Week
Is it Super Bowl or bust for the Eagles?
What's New in South Jersey?
From New Jersey to Nashville
More...