The Positives and Negatives of the Phillies 2018 Season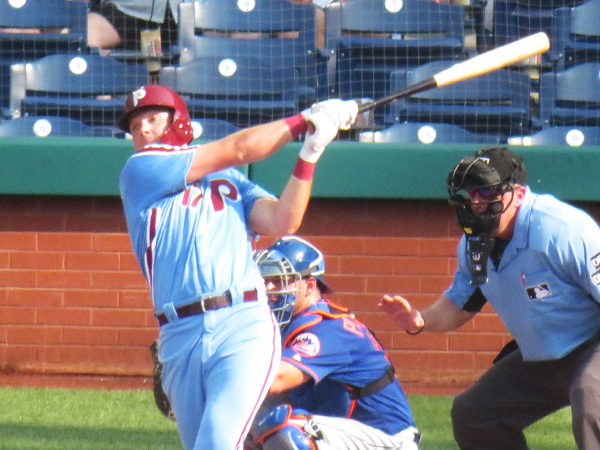 Can a season be both successful and disappointing?

When it comes to the Phillies, the answer is a resounding yes. The Phillies finished 80-82, a 14-game improvement over the previous season. Yet expectations were heightened by how well they played until the final two months of the season. On

Aug. 5

, the Phillies won a 5-3 home game against Miami, to improve to 63-48. That was the second best record in the National League.


After that, they plummeted to 17-34, eventually finishing third in the National League East, 10 games behind the Atlanta Braves.


In the beginning of the season the Braves and Phillies were looked at in the same lens. Both were young teams, expected to improve, but didn't appear ready to challenge the Washington Nationals for the division.

Article continues below

---
advertisement


---
The Braves went ahead of schedule and part of that was the way they played against the Phillies. Before winning two final meaningless regular season games against Atlanta, the Phillies were 5-12 against the Braves.


In fact, the Phillies didn't fare too well against the rest of the division. They were 8-11 against both the Nationals and New York Mets and 11-8 against Miami, which had the worst record in the National League.


Here is a look at some of the positives and negatives of the season.


Aaron Nola.
It wasn't that long ago that Nola was described as a "No. 3 starter at best." That's an inaccurate description by a wide margin. He should be no lower than No. 3 in the Cy Young voting (although the Mets Jacob deGrom should be the runaway winner). Nola was 17-6 with a 2.33 ERA. He struck out 224 in 212 1/3 innings and had a miniscule 0.95 WHIP.


Rhys Hoskins.
In his first full season, he delivered in every area but batting average, where Hoskins hit .246. He had 34 home runs, 96 RBI, an .850 OPS and a 125 OPS+, which means he was 25 percent above average in adjusted OPS. Hoskins had trouble in left field and it wouldn't be surprising if he moved back to his accustomed first base this year.


Wilson Ramos.
He hit .337 with an .879 OPS and 135 OPS plus in 101 plate appearances for the Phillies after being acquired from Tampa Bay. The only knock on him was that he was hurt. He suffered a hamstring injury before being acquired and never seemed to be able to run 100 percent. Still, he can sure hit and is just 31. He will be a free agent and there should be plenty of teams vying for his service, and the Phillies should be one of them.


Scott Kingry.
The spring training sensation who signed a six-year deal that guaranteed him $24 million. Kingry was a major disappointment. In 484 plate appearances, he hit .226 and had a 61 OPS+.
Cesar Hernandez.
A favorite of manager Gabe Kapler, he has great speed but isn't a good base runner. In addition, Hernandez hit just .253 with 150 strikeouts in 608 at-bats. He did hit 15 home runs, but too many times was swinging for the fences. He could be on the trade block and that would enable Kingry to move back to his accustomed second base position.
Free agent signings.
Righthander Jake Arrieta and first baseman Carlos Santana cost a combined $45 million for this past season and neither really lived up to that price.
Arrieta, on the surface, had stats that weren't terrible, but he didn't come through enough in the clutch. He was 10-11 with a 3.96 ERA, but he is far from the dominating former Cy Young award winner he was with the Chicago Cubs. Arrieta struck out just 138 in 172 2/3 innings.
Most of all, his end-of-the-season slump coincided with the Phillies. In his final 10 starts, the team was 2-8. Arrieta had a 5.40 ERA and managed to pitch just 53 1/3 innings.
Santana was signed due to his ability to reach base and he did have a .352 on-base percentage, thanks largely to drawing 110 walks. Yet he batted just .229 with 24 home runs and 86 RBI, but that isn't the type of production that should be expected of the highest paid position player.
Odubel Herrera.
In his fourth Phillies season, he has yet to show progression. His numbers on the surface, look OK, but his wild bouts of inconsistency, hurt the team. He batted .255 with 20 home runs and 71 RBI. Like so many of the Phillies, he swing for the fences too much with 122 strikeouts in 550 at-bats. In the first two months of the season he was being mentioned as an MVP candidate, but couldn't sustain that pace. No doubt his name will appear in offseason trade rumors.
The starting pitching other than Nola
. While Zach Eflin, Vince Velasquez and Nick Pivetta all had their moments, there weren't enough of them. All three struggled as the Phillies had their late-season collapse. The only positive is they received great experience and the Phillies hope that will pay off in 2019.
© SouthJersey.com 2018. All rights reserved. This article or parts thereof may not be reprinted or reproduced by any other party without the express written consent of SouthJersey.com. For more information, please call 856-797-9910.


For more Local Sports features, visit our
South Jersey Sports
page.
Author:
Marc Narducci; Photo by Marc Narducci
Archives
---
Who's Who in Health Care
Out & About
QB Ronnie Borden is Back in the Game
Should fans be worried for the Phillies bullpen?
South Jersey Football Games of the Week
A look at South Jersey's Top H.S. Girls' Soccer Teams
Out & About
Eagles will be fine after close call in opener
High School Football Games of the Week
Is it Super Bowl or bust for the Eagles?
What's New in South Jersey?
From New Jersey to Nashville
Frustrating times for Millville's Mike Trout
High School Football Games of the Week
Hammonton's Kenny Smith off to a quick start
More...