Standing Strong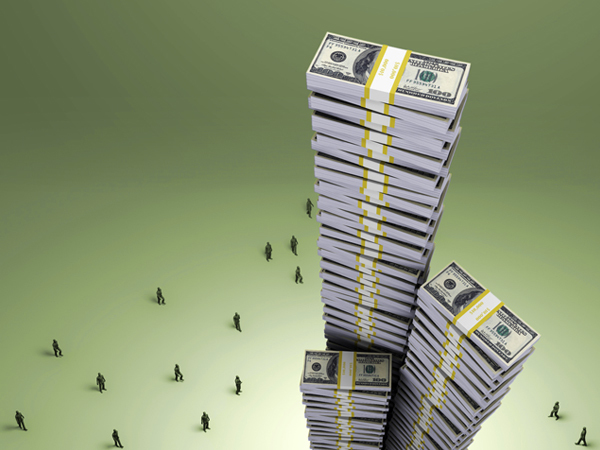 South Jersey's robust economy looks to continue into 2019, albeit cautiously.
Our annual Money Issue covers the current economic climate, specifically our fourth quarter financial forecast and what we can expect in the beginning of 2019. Additionally, we find out why more people are

investing their money

and the best way to do it property, as well as what

credit unions have to offer

and how they help small businesses get off the ground.

Economics, as with the vast majority of subjects in life, is not an easily defined topic. Though experts may use specific indicators to illustrate the success—or failure— of an economy, how these indicators are interpreted by individual experts can vary and opinions can change quickly.

Take the New York Stock Exchange, for ex- ample, whose performance is often an indicator of how the United States' economy is faring. The stock market was fairly volatile toward the middle of October and some experts suggest the drop it experienced may indicate a shift in the country's strong economy and the foreshadowing of a 2020 recession, while others suggest the drop was a normal stock market correction and the economy remains right where it needs to be.

Article continues below

---
advertisement


---


Of course, other indicators are also used to measure success, including the total output of product—or gross domestic product (GDP) and in the first two quarters of 2018 the United State's GDP was the highest it's been in years. Unemployment is also at the lowest rate in decades, but interest rates and energy prices are going up, both increases that could suggest potential change is in the air.

While indicators can create a guessing game, for now the national economy is strong and South Jersey has been following suit.

"[The current financial climate of South Jersey] is very good," says Capital Bank President Dave Hanrahan. "Most business owners I talk with are quite busy, and more optimistic than they've been in years.

"There have been some challenges to be sure, like attracting and retaining talent, and rising costs," he continues. "But overall, business owner confidence is better than we've experienced in quite a long time." Richard W. Dapp, senior vice president and chief commercial lending officer for Franklin Bank, agrees the area's economy has been strong, and notes that even the areas in South Jersey that tend to lag in many economic areas have seen improvement.

"In recent decades, it has been my experience that the southern counties of New Jersey seem to be the first to experience recession and the last to experience recovery," he says. "This is particularly true of Salem, Atlantic and Cumberland counties.

"This extended recessionary cycle and short-lived recovery cycle has been a tough aspect of life for individuals and businesses in Southern New Jersey," Dapp continues. "That said, we are currently experiencing gradual economic improvement in our South Jersey market area. For the first time in almost a decade we are experiencing growth in both residential and commercial construction and seeing construction financing opportunities in the banking area."

The strong economy can be attributed to several factors, including regulatory relief, rising interest rates and tax cuts at the federal level, says Robert Curley, TD Bank South Jersey market president.

Curley says he actually measures economy based on his customers' performance and "there is clearly a much higher level of confidence and optimism taking on new projects and expanding business since the last presidential election."

He does point out, however, that New Jersey lags behind the country in most measures, including employment and economic activity.

"This lag has been caused in part [by] broader national and global trends affecting some of New Jersey's core industries, including pharmaceuticals, financial services and tourism," he says. "The rest of the underperformance is related to more Jersey-specific factors, with weakness in the housing construction market and fiscal issues across both state and local governments, which weigh heavily on New Jersey, as it's no secret our state is not the friendliest when it comes to doing business."

Brian Jones, president and CEO of The First National Bank of Elmer, also ac- knowledges the difficulties individuals and businesses encounter by opting to call New Jersey home and suggests the difficulties may increase without further economic changes.

"The cost to live in New Jersey is still too high … from property taxes, auto insurance and many other aspects of everyday life and work," he says. "One downside of the Tax Reform Act for New Jersey was the capping of the SALT [state and local tax] deduction, along with the limitation on the deduction for mortgage interest. For New Jersey to become increasingly competitive, more meaningful changes must occur with the tax code."

Although it can be difficult living and working in New Jersey, the state does continue to bring in new revenue—with notable growth in commercial real estate construction, health care expansion, residential development and infrastructure projects, such as highways—says Vincent D'Alessandro, OceanFirst Bank's first senior vice president and president of southern region.

As a result of this expansion, D'Alessandro says he believes the state's economy will continue to grow moving forward, if not a bit cautiously.

"Many of our business clients have ex- pressed concern over the impact of the rising rate environment and that they may be cautious about expanding until they can manage the additional costs associated with such an increase," he says. "Most of our businesses do believe that the reduction in corporate taxes and the continuation of a relatively strong market will offset the in- crease in interest rates.

"There has also been concern noted with the reducing unemployment rate which, although great for the economy, puts employment pressure on finding good help," D'Alessandro continues. "All in all, the general feel we get is that business will continue to be good heading into 2019."

Curley, too, sees prospects in the future of the state, despite an economy that he sees continuing to lag behind the country's for the foreseeable future.

"Long-term prospects remain favorable, provided the state is able to tackle some of its most pressing problems, as New Jersey does possess a skilled workforce, excellent educational institutions, proximity to major urban centers—which in turn will attract millennials and retain baby boomers provided we tailor our housing products to accommodate their needs and wants," he says.

Though it is difficult to predict what the future holds, Daniel Sulpizio, senior vice president and director of retail banking for Parke Bank, says businesses should be sure to keep an eye on the economy moving forward, and make plans for what changes may come.

"Business owners should be thinking about their 2019 planning and be as pre- pared as possible for how our local, national and global economy is going to affect their specific business," he says.

Dapp agrees.

"Small business owners should replenish earnings in this positive market, but not overextend growth initiatives through burdensome capital improvement spending," he says. "Play it close to the chest by continuing to reduce debt, not overextending inventories beyond immediate needs and take a consistent and gradual approach to company growth. You have to be able to keep your hand on the throttle while your foot is always close to the brake."

To read the digital edition of South Jersey Biz, click
here
.

Published (and copyrighted) in South Jersey Biz, Volume 8, Issue 10 (October 2018).

For more info on South Jersey Biz, click
here
.
To subscribe to South Jersey Biz, click
here
.
To advertise in South Jersey Biz, click
here
.
Author:
Amanda Hamm Hengel
Archives
---
Who's Who in Health Care
Former Shawnee star Doolittle Calls It A Career
Camden County College welcomes Baseball Hall of Fame
South Jersey Football Games of the Week
Out & About
QB Ronnie Borden is Back in the Game
Should fans be worried for the Phillies bullpen?
South Jersey Football Games of the Week
A look at South Jersey's Top H.S. Girls' Soccer Teams
Out & About
Eagles will be fine after close call in opener
High School Football Games of the Week
Is it Super Bowl or bust for the Eagles?
What's New in South Jersey?
From New Jersey to Nashville
More...