Living the Dream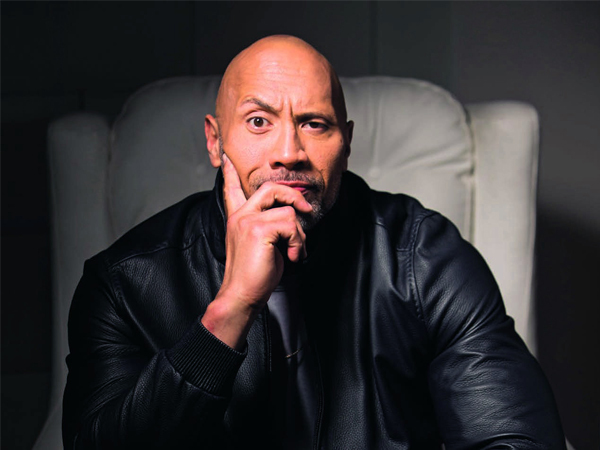 It wasn't always this easy, but Dwayne Johnson overcame the obstacles to become one of the entertainment's biggest and most beloved stars.

Dwayne Johnson has appeared in countless films, yet his real-life story could be its own movie. In fact, it reads like one of Hollywood's true fairy tales. When he was 14, his family was evicted from their Hawaii home because his mother couldn't afford the $180 weekly rent. At 15, he began grappling with depression after witnessing his mother's failed suicide attempt—he actually rescued her from walking into head-on traffic on a Nashville highway.

But, in true fairy-tale fashion, his story has a triumphant ending. Johnson would parlay his athleticism displayed as a college football player at the University of Miami, where he won a national championship in 1991, into one of the most successful professional wrestling careers ever. It was as a member of the WWF and later the WWE, that Dwayne Johnson officially became a household name, better known as "The Rock."

Article continues below

---
advertisement


---


These days, Johnson is one of Hollywood's biggest names in lights, where he toes the line between action hero and everyman, showing a knack for crossing genres rather seamlessly. One minute he's using his chiseled physique to fight off the bad guys, the next he's singing in Disney's Moana. And his omnipresence isn't limited to just the silver screen; Johnson has found a home on HBO, starring in all four seasons of its hit show Ballers.

Even his ex-wife, Dany Garcia, still likes him. The former couple was married for a decade, but now work together as partners in their production company Seven Bucks, cheekily named after the amount of money Johnson had to his name before his career took flight. When Garcia, a bodybuilder, was taking part in an Atlantic City competition a few years ago, Johnson was right there in the crowd cheering her on.

And Johnson is no stranger to the area either. Besides the countless appearances as "The Rock" during his WWE days, Johnson spent some of his teenage years in Bethlehem, Pa., where he would become a star on the football field for Freedom High School. He's even referenced the town in Ballers, citing it as the place his fictional character grew up. And to this day, he maintains a close relationship with the Philadelphia Eagles franchise, often stopping by their training facility to work out with the team when he's passing through town.

Despite having one of Tinseltown's biggest bank accounts, Johnson's humility remains his most redeeming quality. Take for instance, his direct involvement with the New Jersey chapter of the Make-A-Wish Foundation. His father, Rocky Johnson, also a former wrestler, was one of the first people to grant a wish for the state organization 35 years ago. Today, Johnson is also a wish-granter and has called it one of the best things his celebrity life has afforded him.

Furthermore, in April, when a Minnesota teen invited him to her prom, he sadly had to decline because he was shooting a movie. But not before he popped up on her high school's morning announcements to acknowledge the invite and inform her that he had rented out a local movie theater for her to bring guests to catch a screening of his latest film. Oh, he also covered all the drinks and popcorn.

We spoke to Johnson during a rare break from his hectic schedule, which includes gearing up for several new movies as well as taking care of his infant daughter who was born in April. It's Johnson's third daughter and second with longtime girlfriend Lauren Hashian.

Q&A with Dwayne Johnson
So, what an unbelievably busy time for you and a new addition to the family…
A lot of sleepless nights at the moment with baby Tiana. That's three daughters now, which of course is amazing, and I am very blessed. Not sure why I can't make boys, though [laughs]! It's not for the lack of trying and I am practicing all of the time, you can be sure of that. Some people say that practice makes perfect, but maybe in my case a boy, maybe … at some point.

I assume you took time out to be there for the birth?
Yes I did. This time around it was an incredible experience and I have learned that you have to be supportive of your partner; you have to be right there for her. … I held hands and legs. … I did it all on this. Just watching and being a part of that process was amazing.

In recent times you have talked about your past when life wasn't so great. How did it feel to open up about darker days?
When I spoke about my depression in my younger days, people did take inspiration from my comments and as I have said previously, depression doesn't discriminate. I thought that if I was going to share some stories of my past, it doesn't matter what your stature, your income or where you're born, and that is still the case— depression doesn't discriminate; we all go through it in some way.

I knew that I could share a little bit of what I had gone through and if it could help just one person, then I was happy to do it. There's something about the way that men are put together as human beings and a society which often doesn't let us talk about any time that we feel scared or vulnerable or anything like that.

You have to talk about it, never be too proud, too shy or too embarrassed. I was an only child and I kept my depression bottled up—deep, deep down inside of me, and it wasn't good. But I am happy to share my experiences if it helps other people try to feel better about themselves.

Do you take pride in the fact that you are able to work in so many different genres of film?
I'm waiting for the moment in my career where I'll throw that genre out the window and do something completely different … perhaps a musical, or a country and western [laughs], but I haven't quite had that urge just yet!
I want to bring a lot of joy and entertainment to people who are paying their money and expect their money's worth. I work very hard on my movies. … I also try to involve myself in the entire process and make sure that people who see my movies are going to leave the theater feeling happy and entertained. That's what it's all about for me.

Family Matters
Dwayne Johnson on what's most important

On being a father...
I definitely feel like I've grown into fatherhood. I think it takes time for guys to figure out who they are and what kind of life they want. Gradually you realize, "Oh, this is who I am. This is who I'm comfortable being," and you begin checking off all those boxes about what you've dreamed about achieving and that gives you more confidence. And as you get older, you find that there are more boxes out there and more goals that you set for yourself.

The older my eldest daughter gets, the more I've grown to appreciate the unique and wonderful relationship that exists between a father and a daughter. I adore talking to her about life and imparting to her all the wisdom that I've gained from going through a lot in my own life. I treat fatherhood as my greatest responsibility and I will do everything in my power to help all my children lead a truly happy and beautiful life.

Advice for his kids...
The No. 1 piece of advice I give to my children is to have confidence in yourself. You need to believe that you are good enough and that you can accomplish what you set your mind to do. You've also got to learn how to block out all the noise and all the things that distract you from your dreams and ambitions. You've got to listen to that little voice inside you that tells you that you're good enough and that you can realize your dreams.
To read the digital edition of South Jersey Magazine, click
here
.
Published (and copyrighted) in South Jersey Magazine, Volume 15, Issue 8 (November 2018).
For more info on South Jersey Magazine, click
here
.
To subscribe to South Jersey Magazine, click
here
.
To advertise in South Jersey Magazine, click
here
.
Author:
Evan Jameson
Archives
---
Who's Who in Health Care
Former Shawnee star Doolittle Calls It A Career
Camden County College welcomes Baseball Hall of Fame
South Jersey Football Games of the Week
Out & About
QB Ronnie Borden is Back in the Game
Should fans be worried for the Phillies bullpen?
South Jersey Football Games of the Week
A look at South Jersey's Top H.S. Girls' Soccer Teams
Out & About
Eagles will be fine after close call in opener
High School Football Games of the Week
Is it Super Bowl or bust for the Eagles?
What's New in South Jersey?
From New Jersey to Nashville
More...