An Elevated Experience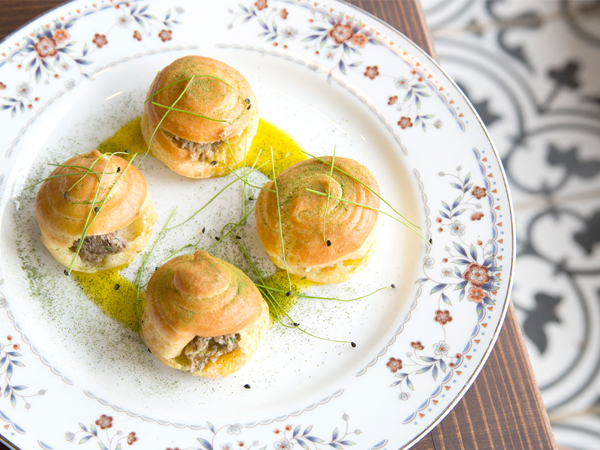 South Jersey foodies were shocked when the popular Indian restaurant IndeBlue closed its Collingswood location at the end of February, with the owners opting to focus their full attention on their Philadelphia location. Many were left wondering what was next for the massive restaurant space, which, according to IndeBlue's former owners, needed more work than it was worth.

Curious culinarians didn't have to wait long for answers, however. By May the building was in the hands of Jason and Casey Simkins, a husband-and-wife duo who each worked their way up the ladder at several Stephen Starr restaurants before branching out on their own.

The Simkins set to work on their BYOB vision, Porch & Proper, right away, overhauling the entire restaurant from the outside in. Opened in August, the makeover took the entire building from a mix of browns and oranges to a fresh, modern farmhouse vibe. The entire exterior is painted black, but is brought to life with the help of fresh greenery everywhere and the bright white of the interior's walls and draperies dancing in the floor-to-ceiling windows.

Article continues below

---
advertisement


---


Black and white move inside effortlessly, with a stunning ceramic floor playing off subtle wood finishes and rustic table settings. Even the mismatched white china is considered, turning your plates into part of the scenery.
Porch & Proper's Americana vibe plays into the menu, which celebrates farm-to-table ingredients through New American creations that are graced with a bit of international technique. The menu is seasonal, currently working autumnal ingredients for the foreseeable future, and includes plenty of small plates and snacks good for a crowd or to split amongst a small party as a tapas-style dinner.

The snack and small plates are both playful and creative. Like a plate of pastrami pancakes; silver-dollar sized pancakes finished like a deli sandwich with house-made pastrami, shredded cabbage, Russian dressing and mustard. The pancakes themselves were just bite-sized, and served as the perfect, fluffy vessel. Chopped, juicy pastrami was flavorful and meaty but still left room for other flavors, like a bite from the whole grain mustard on each cake and the hit of vinegar from the cabbage.

Wild mushroom gougeres—an airy French cheese puff—were just as bite-sized. Each was baked with The Farm at Doe Run's St. Malachi Reserve cheese made just a short drive away in Coatesville, Pa., then baked until golden and stuffed with rosemary and sautéed wild mushrooms then served with more cheese, micro chives and a drizzle of black truffle zabaglione, similar to a custard. Each bite was packed with umami flavors. The mushrooms danced with the rich black truffle sauce and brought the cheese to life.

Small plates included one of the most popular dishes on the menu at the moment, the donuts and foie. Mini doughnuts were fried and tossed in cardamom sugar, then served alongside whipped foie gras mousse and gooseberry jam, creating a perfect bite along with the fatty and unctuous mousse. When paired with the hot doughnuts the mousse would form the most decadent spread you could ask for, brightened up by the cinnamon sugar exterior of the doughnut and the sweet gooseberry sauce.

Octopus yakitori took the small plates further east, plating a whole octopus tentacle over navy beans and chopped pepperoni, then finishing it off with bay leaf oil, salsa verde and pistachio dust. The octopus was tender and well-cooked, but the overwhelming amount of pepperoni meant that salt was the only flavor you could distinguish.

Things were freshened up with a plate of salmon crudo, which plated thin-sliced raw salmon with crispy sliced apple, fresh horseradish and a dill aguachile sauce that burst with flavor. One of the highlights of a crudo is how ice-cold the dish is, as it allows the flavor to evolve and keeps the raw meat from being too fishy or chewy. This crudo was more lukewarm, and was missing a bit of that freshness.

That iciness was also missing in the lamb tartare, which featured diced, raw lamb alongside an egg yolk, diced beets, capers and bright herb oils. Because it was warmer the lamb became tough and gummy, which detracted from its rich, slightly gamey flavor. It was helped along, however, by the addition of the beets along with briny capers that popped in your mouth and the rich egg yolk. House-made rye crackers also helped to break up the texture.

The menu also features a section of pastas, all made in-house and seasonal. A classic came by way of the cacio e pepe. Translated literally to cheese and pepper, this plate features sourdough tonarelli, cooked until a nice and chewy al dente and tossed with fresh cracked pepper and super salty Havilah cheese from Cherry Grove Farm right in Lawrence Township.

The simplicity of the pasta made for a nice mid-meal break, as a way to rev up for entrées like the poached halibut. A filet of white fish was poached in rich onion nage sauce, served with emmer wheat—similar to bulgar— roasted leeks and red ikura caviar. It's hard to put into words how developed and thoughtful the nage broth was, thanks to the earthy onions and buttery thickening agent. It was completely irresistible, which made the emmer wheat a valuable asset as it soaked up all the remaining sauce that didn't make it on the fish.

The New York strip featured a 12-ounce portion sliced over a mound of mushroom risotto. It was all topped with pickled sunchokes that carried a crisp and acidic bite and a drizzling of beef jus. The steak was perfectly cooked and the combination of fresh mushrooms and rich broth meant the risotto was rich and creamy, which balanced nicely alongside the sunchokes.

It's difficult to skip dessert at Porch & Proper, as it seems like plate after plate of beautiful sweets flies out of the kitchen all night. Fall's heavy hitter is the Paris Brest, and it's both the most popular dessert of the season and also one of the heartiest. Prepared traditionally, the dish features a large pastry ring, sliced horizontally and stuffed with hazelnut mousse, chopped chocolate, fresh hazelnuts and a burnt honey sauce. This is definitely a sharing-sized plate, as the mousse is relatively heavy and packs a ton of richness alongside the chocolate and honey.

A slightly lighter option is the apple cider beignets, which arrive hot and puffy, tossed in cinnamon sugar with an apple cider sauce and maple milk jam for dipping. The beignets carried the restaurant's playful nature to the end of the meal, allowing you to build your own bite through each puffy pillow.

Porch & Proper should be appreciated for its approach to cuisine. The menu is far from standard, but it still features ingredients and plates that are good for a complex food traveler or someone out to try new things. You'll travel the globe and maybe even learn a few new things, both about food and your own palate.

Porch & Proper
619 Collings Avenue
Collingswood
(856) 477-2105
PorchAndProper.com


To read the digital edition of South Jersey Magazine, click
here
.
Published (and copyrighted) in South Jersey Magazine, Volume 15, Issue 8 (November 2018).
For more info on South Jersey Magazine, click
here
.
To subscribe to South Jersey Magazine, click
here
.
To advertise in South Jersey Magazine, click
here
.
Author:
Erica Young; Photography by Alison Dunlap
Archives
---
Who's Who in Health Care
Former Shawnee star Doolittle Calls It A Career
Camden County College welcomes Baseball Hall of Fame
South Jersey Football Games of the Week
Out & About
QB Ronnie Borden is Back in the Game
Should fans be worried for the Phillies bullpen?
South Jersey Football Games of the Week
A look at South Jersey's Top H.S. Girls' Soccer Teams
Out & About
Eagles will be fine after close call in opener
High School Football Games of the Week
Is it Super Bowl or bust for the Eagles?
What's New in South Jersey?
From New Jersey to Nashville
More...