Millville Duplex Destroyed In Fire After Truck Slams Into Gas Line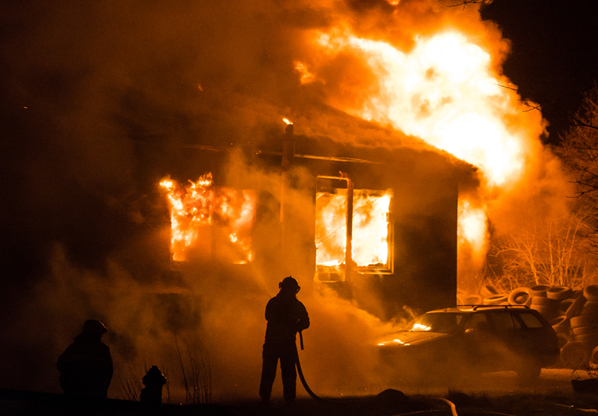 Several families are displaced on Wednesday night after an accident sends a house up in flames in Millville. It happened on the 700 block of Buck Street.
All residents could do was watch helplessly as their home burned.
"The car was totaled in the house. The car was on fire, the house was on fire," said one witness.
"I was at work today. I get a call from my boyfriend telling me that a truck had run into the side of my house and the house was on fire and basically exploded," said Hollie Biggs.
Witnesses tell CBS3 another vehicle hit the pickup truck, and the truck hit a gas line when it came to a rest inside the duplex.
No one was home when the fire started, but Biggs lost some irreplaceable family heirlooms in the fire.
"My grandfather's Navy pictures, my dad frowning up as a kid all of his pictures," said Biggs.
Thankfully their pregnant dog Bella escaped the flames but their cat did not survive.
Though the family is happy no one was inside the duplex at the time of the crash and fire, they're salvaging what they can as they work to find another place to call home. The Red Cross is helping both Hollie and another family who lived in the home.
Some firefighters were treated for minor injuries here at the scene. The duplex is a total loss.
Article continues below
---
advertisement


---
Author:
https://philadelphia.cbslocal.com/2018/11/28/millville-duplex-destroyed-in-fire-after-truck-slams-into-gas-line/
Archives
---
South Jersey Coronavirus (COVID-19) Developments (February 26)
South Jersey Coronavirus (COVID-19) Developments (February 23)
South Jersey Coronavirus (COVID-19) Developments (February 19)
South Jersey Coronavirus (COVID-19) Developments (February 12)
South Jersey Coronavirus (COVID-19) Developments (February 5)
South Jersey Coronavirus (COVID-19) Developments (February 1)
South Jersey Coronavirus (COVID-19) Developments (January 29)
South Jersey Coronavirus (COVID-19) Developments (January 28)
South Jersey Coronavirus (COVID-19) Developments (January 22)
South Jersey Coronavirus (COVID-19) Developments (January 21)
South Jersey Coronavirus (COVID-19) Developments (January 14)
South Jersey Coronavirus (COVID-19) Developments (January 8)
South Jersey Coronavirus (COVID-19) Developments (January 4)
South Jersey Coronavirus (COVID-19) Developments (December 23)
South Jersey Coronavirus (COVID-19) Developments (December 21)
More Articles