Season's Screenings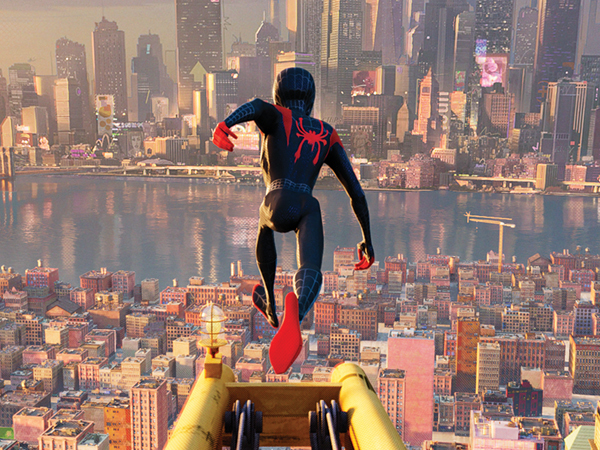 KYW film critic Bill Wine's previews the upcoming holiday season at the box office.

Ah, December: the climax of the calendar year and the climax of the movie calendar.

Hollywood loves December. After all, not only is it not all that cold in Los Angeles, but it's the time of year when even folks who don't go to the movies go to the movies.

It's also the time when the Oscar race begins to take shape. And when the studios release their most promising projects, designed to demand attention, impress the viewers and insinuate their way into the upcoming races for those cherished Academy Awards.

Suddenly, multiplex marquees are awash in movies with "must-see" credentials. Suddenly, there are lines at the theaters. Suddenly, most of us know what's playing. Suddenly, the week between Christmas and New Year's is as much about moviegoing as it is anything else.

So here is 2018's lineup (with dates subject to change, of course) of December's biggest and—if we're lucky—best movies, collectively rewarding our loyalty to, enthusiasm for and impeccable taste in holiday-season movies.
Ben is Back (December 7)
Article continues below
---
advertisement


---
Genre and Plotline: A family drama about a troubled son—a recovering heroin addict—who comes home for Christmas.

Major Players:
Julia Roberts, Lucas Hedges, Courtney B. Love

Behind the Camera:
Accomplished writer-director Peter Hedges—who has directed
Pieces of April
,
Dan in Real Life
and
The Odd Life of Timothy Green
, as well as written
What's Eating Gilbert Grape
,
A Map of the World
and
About a Boy
—is the father of male lead Lucas Hedges.
Oscar Prospects:
Given that Roberts is an Oscar winner (for
Erin Brockovich
) and a four-time nominee, and that young Hedges already has an Academy Award nod (for
Manchester by the Sea
), this one ought to at least be in the conversation.

Commercial Prospects:
Modest, perhaps, but good reviews, award mentions and the abiding appeal of Roberts could turn it into a sleeper hit at holiday time.

Reason to See It:
Roberts is pretty darn reliable, and discriminating viewers might notice the impressive level of talent in front of and behind the camera, or that this one started on the festival circuit.
Mary Queen Of Scots (December 7)
Genre and Plotline: A historical biodrama about Mary Stuart's 16th century attempt to overthrow her cousin and rival, Elizabeth I, the Queen of England. Stuart was imprisoned for years before facing execution.
Major Players: Margot Robbie, Saoirse Ronan, Gemma Chan, Guy Pearce, David Tennant, Ian Hart
Behind the Camera: Theater director Josie Rourke works from the 19th century Friedrich Schiller play, Mary Stuart, and John Guy's 2004 biography of Stuart.
Oscar Prospects: Strong. After all, Ronan and Robbie have four Oscar nominations between them, three for the former (Atonement, Brooklyn and Lady Bird) and one for the latter (I, Tonya). This one has Oscar bait written all over it.
Commercial Prospects: Likely to be seen as an award chaser, this one is not expected to break big, but the pairing of two such strong young actresses should corral it an appreciative audience. And award recognition should help.
Reason to See It: Ronan and Robbie have done such magnificent work; see it for the acting and a teaming that could re-energize the costume drama.
UNDER THE SILVER LAKE (December 7)
Genre and Plotline: A neo-noir crime dramedy about a man who discovers a woman in his apartment's swimming pool one night who quickly disappears, whereupon he pursues her across Los Angeles.
Major Players: Andrew Garfield, Topher Grace, Sydney Sweeney, Riley Keough, Zosia Mamet
Behind the Camera: Writer-director David Robert Mitchell previously helmed The Myth of the American Sleepover and the horror hit, It Follows.
Oscar Prospects: Although Garfield has an Academy Award nomination on his résumé—for 2016's Hacksaw Ridge—it's unlikely to grab that kind of attention.
Commercial Prospects: Minimal as a below-the-radar-entry, unless there's a surprise breakout performance.
Reason to See It: Film noir aficionados may flock to it, but the masses will stay away in droves.

SPIDER-MAN: INTO THE SPIDER-VERSE (December 14)
Genre and Plotline: An animated adventure, based on Marvel comics, about a Brooklyn teenager who gains superpowers following a spider bite and rounds up a team of superheroes.
Major Players: Shameik Moore, Nicolas Cage, Hailee Steinfeld, Jake Johnson, Mahershala Ali, Liev Schreiber, Lily Tomlin, John Mulaney
Behind the Camera: Experienced animators Bob Persichetti, Peter Ramsey and Rodney Rothman comprise the directorial triumvirate.
Oscar Prospects: It's animated, so there's only one Oscar it's interested in. But it'll have more than its share of competition.
Commercial Prospects: Because there are not many movies just like it, it could do some business, especially when you consider all the youngsters who wouldn't miss it.
Reason to See It: Unless you're on the decidedly young side, there probably isn't one.
MORTAL ENGINES (December 14)
Genre and Plotline: A fantasy-adventure about citizens surviving on a desolate Earth by attacking and devouring smaller towns to regain the resources they've lost.
Major Players: Hugo Weaving, Stephen Lang, Robert Sheehan, Frankie Adams
Behind the Camera: The Lord of the Rings director Peter Jackson serves as producer, while visual effects colleague Christian Rivers makes his directing debut.
Oscar Prospects: There are two: slim and none.
Commercial Prospects: Forget it. There is a famous lyric, "Somewhere over the rainbow." Well, this is "Something under the radar." Look for it to get lost in the holiday chaos.
Reason to See It: How do you feel about "special-effect-a-thons?" That's what this appears to be.
MARY POPPINS RETURNS (December 19)
Genre and Plotline: A musical family fantasy about a magical nanny who first turned up to help the Banks children in 1964—brought to Oscar-winning life by Julie Andrews—and who now pops in again in the sequel to help the kids get through a rough patch.
Major Players: Emily Blunt, Colin Firth, Meryl Streep, Emily Mortimer, Julie Walters, Ben Wishaw, Angela Lansbury, Lin-Manuel Miranda, Dick Van Dyke, David Warner, Jim Norton
Behind the Camera: Oscar-nominated director Rob Marshall (Chicago) has also brought Memoirs of a Geisha, Nine, Pirates of the Caribbean: On Stranger Tides and Into the Woods to the big screen.
Oscar Prospects: When you remake a beloved movie that received a through-the-roof 13 Oscar nominations and five Oscars—Best Actress for Andrews, Best Editing, Best Visual Effects, Best Music and Best Song for "Chim Chim Cher-ee"—it has to be taken seriously at Oscar time.
Commercial Prospects: To be Blunt, expect either record-shattering box office or at least a very strong showing.
Reason to See It: If sufficient and appropriate attention is lavished on this cherished project, it ought to be worth seeing even as a comparative curiosity piece or a large-scale, old-fashioned family entertainment in the classic mold. Also, director Marshall seems the right guy for the job.
AQUAMAN (December 21)
Genre and Plotline: A fantasy-adventure based on DC comics about Arthur Curry, who learns that he is the heir to the underwater kingdom of Atlantis and that he must become the leader of his people.
Major Players: Jason Momoa, Amber Heard, Nicole Kidman, Patrick Wilson, Willem Dafoe, Djimon Hounsou, Dolph Lundgren, Randall Park, Michael Beach, Tamuera Morrison
Behind the Camera: Influential horror maven James Wan has directed Saw, Insidious, The Conjuring, The Conjuring 2 and Furious 7.
Oscar Prospects: Atlantis would seem to be a long way from Hollywood without even a long shot at a prestigious statuette, although technical categories may not be out of reach.
Commercial Prospects: Could go either way: It could swim or it could sink. The latter is more likely.
Reason to See It: If you just can't get enough comic book-inspired superheroes, well, here's another one for you. But it kind of feels like the end of a cycle, doesn't it?

BIRD BOX (December 21)
Genre and Plotline: A dystopian science-fiction thriller about a woman and a pair of kids who have to make their way along a river blindfolded.
Major Players: Sandra Bullock, Sarah Paulson, Rosa Salazar, John Malkovich, Jacki Weaver, Trevante Rhodes, Machine Gun Kelly
Behind the Camera: Veteran Danish director Susanne Bier has brought Family Matters, The One and Only, Once in a Lifetime, Open Hearts, Brothers, Things We Lost in the Fire and Serena to the screen.
Oscar Prospects: Bullock's track record alone—an Oscar for The Blind Side and a nomination for Gravity—keeps this one in the Academy's game, but it's likely to be an also-ran.
Commercial Prospects: Bullock's popularity has long since been established, but whether the premise is too esoteric for ticket-selling success during the holiday season is yet to be determined.
Reason to See It: Bullock is the draw and she's usually both likable and convincing.
BUMBLEBEE (December 21)
Genre and Plotline: A young woman befriends a wounded Autobot warrior in this sci-fi adventure sequel in the Transformers franchise.
Major Players: Hailee Steinfeld, Justin Theroux, Angela Bassett, John Cena, Pamela Adlon, John Ortiz
Behind the Camera: Director Travis Knight made his directorial debut in 2006's animated adventure, Kubo and the Two Strings.
Oscar Prospects: This movie's scant Oscar chances would fit easily inside a bumblebee's thorax.
Commercial Prospects: For those of us who hoped we'd never again have to sit through a Transformersflick, we're about to get stung. Again.
Reason to See It: If you've seen the previous entries—and not balked or bailed—then you know whether you're ready for more.


WELCOME TO MARWEN (December 21)
Genre and Plotline: A biographical dramedy that mixes live action with performance-capture animation and is about the victim of a brutal hate-crime attack who finds a therapeutic outlet to help him through the recovery process despite severe memory loss.
Major Players: Steve Carell, Leslie Mann, Eiza Gonzalez, Diane Kruger, Janelle Monáe
Behind the Camera: Accomplished director and co-writer Robert Zemeckis won the directing Oscar for Forrest Gump, was nominated for Back to the Future for his screenplay and has a directorial résumé that also boasts Who Framed Roger Rabbit, Death Becomes Her, Cast Away, Contact, Flight, The Polar Express and The Walk.
Oscar Prospects: Zemeckis' truly impressive track record, in addition to Carell's nomination for Foxcatcher, puts this one in the current Oscar game.
Commercial Prospects: The mix of live action and performance-capture animation could ignite audiences, or could just be perceived as an esoteric arthouse flourish. The jury's out.
Reason to See It: As acknowledged as Zemeckis has been, he's still underappreciated as a major moviemaker and—look at those credits again—he's nearly always worth taking a chance on.

VICE (December 25)
Genre and Plotline: A biodrama about former veep Dick Cheney and his effect on the nation.
Major Players: Christian Bale, Amy Adams, Steve Carell, Bill Pullman, Sam Rockwell, Alison Pill, Lily Rabe, Tyler Perry, Eddie Marsan
Behind the Camera: Writer-director Adam McKay usually works in comedy, often teaming with Will Ferrell, with a résumé that includes Anchorman: The Legend of Ron Burgundy, Talladega Nights: The Ballad of Ricky Bobby, Step Brothers, The Other Guys and The Big Short.
Oscar Prospects: There are lots of Oscar accomplishments among the ensemble cast: Bale won for The Fighter; Rockwell won for Three Billboards Outside Ebbing, Missouri; Adams has five nominations and Carell one. So a nominee or two could easily surface.
Commercial Prospects: We're not talking blockbuster territory here, but with all the political interest that ordinary folks are displaying these days, the casting alone should beckon an interested audience.
Reason to See It: Hey, who wouldn't want to see Bale play Cheney? Or Rockwell play George W. Bush? Or Carell as Donald Rumsfeld? Or Tyler Perry portray Colin Powell? And political junkies can't be the only citizens who will be intrigued.
ON THE BASIS OF SEX (December 25)
Genre and Plotline: A biographical drama about Supreme Court Justice Ruth Bader Ginsburg—who was also the subject of the recent documentary, RBG—which focuses on her struggle for equal rights.
Major Players: Felicity Jones, Armie Hammer, Justin Theroux, Jack Reynor, Kathy Bates, Stephen Root, Sam Waterston
Behind the Camera: Mimi Leder, the director, works mostly in television, but has also brought The Peacemaker, Deep Impact, Pay It Forward and Thick as Thieves to the movie screen.
Oscar Prospects: Jones' Best Actress Oscar nomination for The Theory of Everything automatically puts this one in the running.
Commercial Prospects: Unlikely to become a runaway hit, but current interest in politics and a big year at the movies for Justice Ginsburg ought to give this one a boost.
Reason to See It: Jones is an accomplished actress and Ginsburg continues to fascinate.

DESTROYER (December 25)
Genre and Plotline: A crime drama about a police detective who reunites with colleagues from an undercover assignment from her past in a desperate attempt to make peace.
Major Players: Nicole Kidman, Toby Kebbell, Tatiana Maslany, Sebastian Stan, Scoot McNairy, Bradley Whitford
Behind the Camera: Karyn Kusama has also directed Girlfight, Aeon Flux, Jennifer's Body and The Invitation.
Oscar Prospects: It won't go unnoticed if for no other reason because Kidman brings an Oscar for The Hours and an impressive four Oscar nominations to the table.
Commercial Prospects: An interesting premise for a movie that might struggle finding an audience at holiday time.
Reason to See It: The prolific Kidman is always watchable, even when her films themselves fall short of the mark.
To read the digital edition of South Jersey Magazine, click
here
.
Published (and copyrighted) in South Jersey Magazine, Volume 15, Issue 9 (December 2018).
For more info on South Jersey Magazine, click
here
.
To subscribe to South Jersey Magazine, click
here
.
To advertise in South Jersey Magazine, click
here
.
Author:
Bill Wine
Archives
---
Who's Who in Health Care
Former Shawnee star Doolittle Calls It A Career
Camden County College welcomes Baseball Hall of Fame
South Jersey Football Games of the Week
Out & About
QB Ronnie Borden is Back in the Game
Should fans be worried for the Phillies bullpen?
South Jersey Football Games of the Week
A look at South Jersey's Top H.S. Girls' Soccer Teams
Out & About
Eagles will be fine after close call in opener
High School Football Games of the Week
Is it Super Bowl or bust for the Eagles?
What's New in South Jersey?
From New Jersey to Nashville
More...