Despite the Loss to Dallas, Playoffs are a Viable Option for the Eagles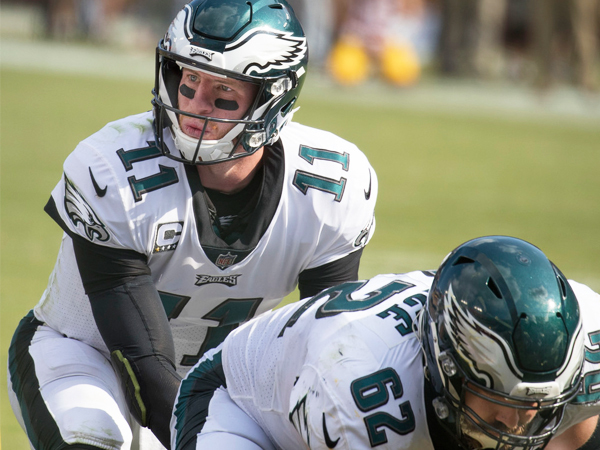 The Eagles keep getting more lives in their disappointing season. After Sunday's gut-punching 29-23 overtime loss in Dallas that dropped the Eagles record to 6-7, they still remain in line for a potential playoff berth.

Even if the Eagles lose at the LA Rams (11-2), they still could get in the playoffs.

That said, they will surely look back at the loss to Dallas a one that they clearly let get away. It didn't help that the officials took away what was clearly an Eagles fumble recovery on the opening kickoff, in a first of several muffed calls (both ways).

Still, the Eagles didn't help their own cause with several key mistakes. Missing an extra point by Jake Elliott in regulation, regardless that it was his first miss of the season, turned out being one of the key plays.

The depleted secondary couldn't deal with Amari Cooper who finished with 10 receptions for 217 yards and three TDs.

Remember when the Cowboys were criticized for trading a first round pick to Oakland for Cooper?


Article continues below

---
advertisement


---

He has helped turn the Cowboys season around. (The Eagles reportedly were offering a second round pick for Cooper).

Things actually would have been worse for the Eagles, but Dak Prescott, despite throwing for 455 yards, missed a number of open receivers.

The Eagles only realistic way in the postseason is by the wild card route. In order to win the division, they would have to win their final three games with the Rams, home against Houston (9-4) and at Washington (6-7) and have Dallas (8-5) lose its final three at Indianapolis (7-6), vs. Tampa Bay (5-8) and at the NY Giants (5-8).

Here are the teams the Eagles are battling for the wild card and their remaining schedules.

Seattle (8-5) – at San Francisco (3-10) vs. Kansas City (11-2) and at Arizona (3-10).

Minnesota (6-6-1) vs. Miami (7-6) at Detroit (5-8) vs. Chicago (9-4).

Seattle and Minnesota at the moment, own the two wild card positions. Seattle is almost a lock to get in. The Eagles have to hope Minnesota continues to struggle.

Here are the other teams in the hunt:
Washington (6-7) – at Jacksonville (4-9) at Tennessee (7-6) and the Eagles (6-7).
Carolina (6-7) vs. New Orleans (11-2) vs. Atlanta (4-9) and at New Orleans (11-2).
Green Bay (5-7-1) – at Chicago (9-4), at NY Jets (4-9), Detroit (5-8).

Even these teams are still mathematically alive: Tampa Bay (5-8), Detroit(5-8), the NY Giants (5-8) and Atlanta (4-9).

Helping the Eagles out is that Minnesota is a mess, having lost two in a row and three of the last four. Carolina been even worse, losing five in a row.

Even if the Eagles lose, as expected in Los Angeles this week, they still will be very much in the hunt. Eight wins could earn the second wild card.

As bad as things have been, the playoff door unbelievably remains open.



© SouthJersey.com 2018. All rights reserved. This article or parts thereof may not be reprinted or reproduced by any other party without the express written consent of SouthJersey.com. For more information, please call 856-797-9910.

For more Local Sports features, visit our South Jersey Sports page.
Author:
Marc Narducci
Archives
---
South Jersey Happy Hour Guide
Whole Hearted
Fully Focused
Giant Steps Forward
Defying History
Names to Know
The King of Rambling
6 Tips on a Restart for Your Finances
Staying the Course
A Burning Desire
Getting Personal
On the Home Front
Positive Energy
On the Move
Colleges and COVID-19
More...