Firefighter Dies In Crash On Christmas Morning In Hamilton Township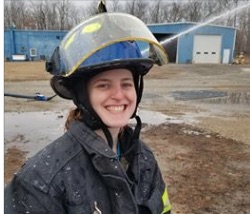 A community is mourning after officials confirmed the passing of a young firefighter early Christmas Morning in Hamilton, New Jersey. Natalie Dempsey, 21, was responding to a call this morning when she lost control of her car and crashed into a guardrail.
Family and friends are gathered here to comfort and console one another after the Mizpah Volunteer Firefighter was killed in a crash while responding to a call. The chief tells Eyewitness News the fire company is going to miss her smile the most.
It was in the early hours of Christmas morning when Dempsey was traveling westbound on Landis Avenue and lost control of her car and hit a guardrail.
Natalie never made it out of the car.
We're told they were responding to a call earlier that morning and she is being considered a firefighter who died in the line of duty.
The Mizpah Volunteer Fire Company, her family, and her boyfriend are all grieving this Christmas and say she will be missed dearly.
Eyewitness News spoke with Natalie's boyfriend.
""I have a tradition by myself that I watch the first episode of a Christmas Story and I told her that, she texted me around 1 a.m. saying she loved me and then she wished me a Merry Christmas. I never got to text her back because I was sleeping," said Natalie's boyfriend Andy.
Dempsey had worked with the fire company for three years.
"She was a beautiful person," a spokesperson for the Mizpah Volunteer Fire Company told Eyewitness News.
Her impact has left the community reeling as more tributes pour out in her memory.
"Natalie Dempsey was a vibrant young firefighter who always had a smile on her face, and she will be greatly missed," the Mays Landing Fire Department wrote on Facebook.
Dempsey was the only one involved in the crash.
Dempsey's funeral service will have full honors since she died in the line of duty, Mizpah Volunteer Fire Company confirms.
Article continues below
---
advertisement


---
Author:
https://philadelphia.cbslocal.com/2018/12/25/natalie-dempsey-firefighter-dies-christmas-morning-hamilton-township-mays-landing-mitzpah/
Archives
---
South Jersey Coronavirus (COVID-19) Developments (February 26)
South Jersey Coronavirus (COVID-19) Developments (February 23)
South Jersey Coronavirus (COVID-19) Developments (February 19)
South Jersey Coronavirus (COVID-19) Developments (February 12)
South Jersey Coronavirus (COVID-19) Developments (February 5)
South Jersey Coronavirus (COVID-19) Developments (February 1)
South Jersey Coronavirus (COVID-19) Developments (January 29)
South Jersey Coronavirus (COVID-19) Developments (January 28)
South Jersey Coronavirus (COVID-19) Developments (January 22)
South Jersey Coronavirus (COVID-19) Developments (January 21)
South Jersey Coronavirus (COVID-19) Developments (January 14)
South Jersey Coronavirus (COVID-19) Developments (January 8)
South Jersey Coronavirus (COVID-19) Developments (January 4)
South Jersey Coronavirus (COVID-19) Developments (December 23)
South Jersey Coronavirus (COVID-19) Developments (December 21)
More Articles