2018 Year in Review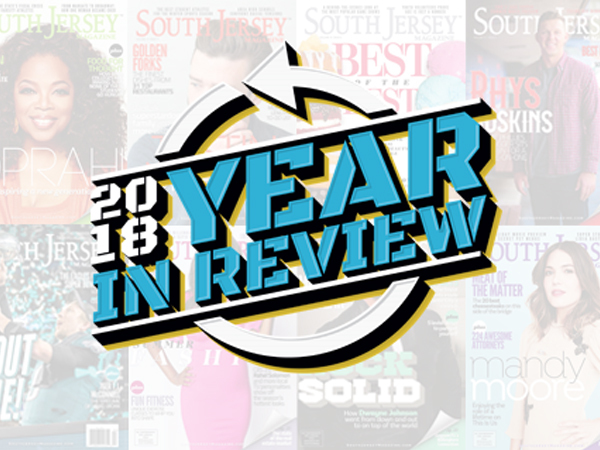 As 2019 begins and we look forward to another great year, we wanted to take a moment to rewind and revisit all the things that made 2018 so memorable. Kicking off with the Eagles' unbelievable Super Bowl win in Minnesota—which many South Jerseyans witnessed in person—to interviews with big stars, discovering the best local cheesesteaks to the top attorneys and doctors, there was a lot to love about 2018.

EVENT OF THE YEAR
We were finally privileged to see Nick Foles and the Eagles outmatch Tom Brady's New England Patriots to bring home a Super Bowl trophy. On that day, even the most casual South Jersey observer became a rabid Eagles fan.

THEY SAID IT!
Memorable quotes from our best interviews in 2018:
"Failure and success have altered meanings for me, it's not about the sales of the box office or critical acclaim, it's about knowing that I took a risk and gambled and got whatever I needed to get out of it. A lot of the time, it's like, I didn't know I could do that, I was pretty convinced I couldn't but I did it." –Justin Timberlake
Article continues below
---
advertisement


---
"When I do Curb [Your Enthusiasm], I go to the set, shoot my scenes and leave. I'm a real fan of the show, and I was before I joined the show, so I don't like to know what's happening. We end up doing a lot of different takes, so I don't ever know what Larry [David's] going to use. It's always a surprise to see what comes across, how the puzzle comes together. I don't even know who's on the show; at the wrap party, I had no idea of the level of special guests for the season. I saw Damon Wayans Jr., and I had no idea he was going to be on—and he's a friend of mine!"
–JB Smoove
"All I've ever wanted to be was a good guy, a good teammate. I want my coaches, team- mates and other players in the league to just respect the way that I play. I never want to take anything for granted and I will never be satisfied with anything."
–T.J. McConnell
"I grew up at the Jersey Shore, and I've been going back my whole life. Since I've been in Boston, I've fallen in love with Cape Cod. The Cape is a lot different than the Jersey Shore; it's more like the countryside on the ocean, and there's a lot less people and a lot more landscape. I was very sad when I left the Jersey Shore, but like all things you love, you keep it close to you and move forward. I love that I still get to go back and play at all the clubs there every summer: Avalon, Ocean City, Brigantine, Atlantic City. It's still a big part of me."
–G. Love
"Cape May is a super charming town. I loved walking around. It's so old-fashioned and quaint and there were so many cute little stores, and the beach is beautiful. … I love East Coast beaches and the boardwalks. It just makes me think of my childhood. … It's a magical place."
–Heather Graham
"When one can bring an amazing, loving environment simply by making people laugh, it's a powerful thing. I live by the three Ls: Living, Loving and Laughing. Love is contagious. Laughter is contagious. My being able to deliver that … is amazing."
–Kevin Hart
"Now more than ever I think it's important that [journalists] rise to this moment. While we're under attack, it's important that we cross our t's and dot our i's and make sure we are doing it right. The public needs us; there's very little oversight of the executive branch being done by the legislative branch. We need to be doing that job. I know there have been issues and problems and some of the stories have been wrong, but for the most part I think the media is doing a vital job."
–CNN's Jake Tapper
"I don't know if I'll ever get used to it. I was that kid. I can remember being so bought in to what was going on in baseball. I followed the [San Francisco] Giants growing up, so I can imagine seeing my favorite player on the team I grew up rooting for, I'd probably be pretty ecstatic too. It's been fun, you have to take it in stride and hopefully the city continues to embrace me."
–Rhys Hoskins
"I live in Center City now and grew up in Philadelphia so I just love how quick a trip to the Shore is. I especially love Stone Harbor, it's such a beautiful and quaint town. When I was in college, I worked for Red Bull—not a lot of people know that—and we traveled to the Shore all the time—Avalon, Ocean City, pretty much all the towns. That was probably the most fun job I've ever had, besides being a journalist in my hometown, of course."
–Rahel Solomon
"I get access to people and places I wouldn't have otherwise. I was just with Diddy and Fergie in New York City. Who can say that? I've been to Rio and the Cannes Film Festival. And nothing beats the experience of being in a Target and someone gives me a hug because I love people. Fergie. Your Grandma. I love everyone!"
–Jennaphr Frederick
"[Retirement] couldn't be further from my mind, I'll never retire. It sounds so boring to me. I'm simply stopping all the travel. My boys are at an age now where it's no longer practical with their schooling and sched- ules. If we didn't have chil- dren, I would continue trav- eling. But I'm still going to record albums. I'm still going to write music. I'm still going to produce movies, I'm still going to write musicals. It's going to free up time for me to focus on other projects."
–Elton John
"The whole city cried. It was so emotional. That's what makes it so special to us. To be a part of winning and bringing it back home to where it hasn't been, it's so special."
–Nick Foles
"Every day for me remains surreal. I never could have predicted where any of this would have turned out. When I jumped off the cliff by myself, I didn't know what was going to happen the next minute. Paramount concern for me was two people in my life, my kids. I learned soon after I did the right thing for my children, they received the same fight of courage and I've seen it play out in their lives. If it was just for them, that would have been enough. But thousands of other women know their voice matters. It happened incredibly quickly. When you look at cultural change in our country, it has never happened fast. To see what has come so far, for women and men to speak up, in two years it is incredible. I'm grateful for whatever role I played."
–Gretchen Carlson
"[Will Smith] was super influential with advice and just on that big brother status. He gave me my first deal and kind of opened the door for me and shed the light on me and allowed me to be the entertainer that I am. I remember buying Range Rovers and all this stuff at 18 and Will telling me, 'Don't do that.' He told me a story about when he was 18 and it was good to have mentors [like him] to help me financially to do the right thing."
–Nick Cannon
"A lot of people are extremely grateful for what we did. People come up to me on the street and say, 'Thank you,' which is awkward at times. I don't know how to really [respond to that]. I guess you're welcome."
–Zach Ertz
"It's not kind of a dream job, it definitely is. I remember being 8, 9, 10 years old and being a Phillies fan growing up in Mount Laurel and listening to Harry [Kalas], Whitey [Ashburn], Andy [Musser] and [Chris Wheeler]. Never in a million years did I think I'd have an opportunity to sit in their seats and watch baseball every day, and root for this team but also cover this team and be a part of what's happening here. It's absolutely a dream job. I feel very lucky to have it."
–Gregg Murphy
"I don't think I've ever really gotten starstruck or get starstruck because I tend to live like we are all the same, because we are. … But I also can't get away from the fact that we have heroes and lights we look up to and for me, I had a few moments [that] come to mind. Nelson Mandela was a very defining moment for what he represents for freedom and equality. Sidney Poitier, because I had watched him my whole childhood and his winning the Oscar in 1964 was earth-shatter- ing for me and little brown kids everywhere. And I always remember Diana Ross. That was an overwhelming moment, a lot of tears, a lot of hyperventilating, because I had dreamed of being a Supreme."
–Oprah Winfrey
"For the first seven years, that's all anybody ever talked about when they came up and talked to you as an Eagle. They were like: 'Just get us one [Super Bowl title].' We've been waiting forever. We finally did it."
–Jason Kelce
"The No. 1 piece of advice I give to my children is to have confidence in yourself. You need to believe that you are good enough and that you can accomplish what you set your mind to do. You've also got to learn how to block out all the noise and all the things that distract you from your dreams and ambitions. You've got to listen to that little voice in- side you that tells you that you're good enough and that you can realize your dreams."
–Dwayne Johnson
"Mentoring is the ultimate reward in any successful career. For me to become who I am, I had a lot of mentors who made a difference in my life and taught me. A lot of hours I worked, you have to do that. As a young apprentice you have to dedicate yourself and there has to be the teacher who wants to work with you. I will get young chefs who ask me for advice and I think that's where I can make a difference. Part of me goes with them and stays with them and travels all over the world."
–Lidia Bastianich
"In general, I'm not someone who carries things around with me. But every time I talk about [This is Us], my eyes well up. I'm a super sensitive person, and I feel like the show has ratcheted that up. Everyone on the show is pretty emotional, but literally, I cry when I read the scripts. All of us are pretty drained at the end of the day."
–Mandy Moore
BEST OF THE BEST
Over the course of the past year, we have scoured South Jersey in search of the very finest things it has to offer.
Click here
BEST OF THE SHORE
The definitive list for food, drinks, entertainment and family activities from Cape May to Long Beach Island.
Click here
SUPER WOMEN
Do you remember reading about these 17 wonderful ladies who are doing big things to help make a difference in our communities?
Click here
MEN OF THE YEAR
Putting others first comes easy to these 12 difference makers who dedicate themselves to a greater good.
Click here
BEST BURGERS
There's something inherently satisfying about biting into a delicious burger.
Click here
BEST CHEESESTEAKS
The best cheesesteaks aren't always found across the bridge as evidenced by these 20 stellar South Jersey renditions.
Click here
GOLDEN FORKS
31 dynamite dishes you need to order now.
Click here
AWESOME ATTORNEYS
South Jersey's leading lawyers in 40 specialties chosen by our readers.
Click here


TOP PHYSICIANS
313 of South Jersey's leading medical minds.
Click here
TOP DENTISTS
Meet the South Jersey Dentists who will leave you smiling with confidence.
Click here
To read the digital edition of South Jersey Magazine, click
here
.

Published (and copyrighted) in South Jersey Magazine, Volume 15, Issue 10 (January 2019).


For more info on South Jersey Magazine, click
here
.

To subscribe to South Jersey Magazine, click
here
.

To advertise in South Jersey Magazine, click
here
.
Author:
South Jersey Magazine
Archives
---
Planning for the Unpredictable
A Chain Reaction
South Jersey H.S. Football Games of the Week
Leading Business Attorneys 2021
South Jersey High School Girls' Soccer Preview
On the Right Track
No Easy Games For The Eagles
Eastern and Cinnaminson are top girls' and boys' seeds in South Jersey Soccer Coaches Tournament
Healthy People, Healthy Business
South Jersey highschool football games of the week
Best of Home and Garden
Back to School
Ready to Take Flight
Bishop Eustace's Danny O'Rourke a model of stability
Who's Who in Real Estate
More...