Colonial Liberty Girls' Basketball Race is Something to Watch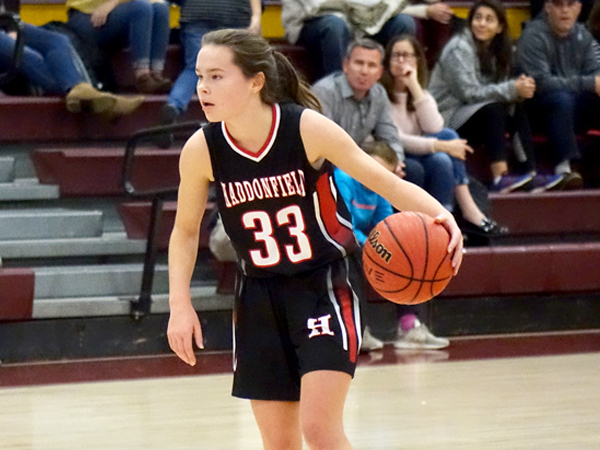 One of the more interesting girls' basketball races is in the Colonial Conference Liberty Division. Old rivals Sterling and Haddonfield are leading the way and Collingswood has made a resurgence after losing to both teams in the Panthers first two games of the season.

In the 1990's and early 2000's Sterling and Haddonfield had made one of the best rivalries in any sport in South Jersey. In those years the teams would not only be batting for supremacy in the Colonial or South Jersey Group 2, but would frequently be vying for the No. 1 spot in South Jersey.

This season both Sterling and Haddonfield have been among the most surprising teams in South Jersey. Sterling entered this week 9-0 and the Silver Knights have been winning the close games.

Sterling set the tone with an opening night 40-38 win over Cinnaminson, another quality South Jersey Group 2 team. Sophomore Nia Holloway led a balanced scoring attack with nine points and it showed some of the young talent that the Silver Knights have.
Article continues below
---
advertisement


---


Their leading scorer has been junior Latanya Berry, who is coming off a season-high 20 points in a win over Audubon and began the week averaging 13.2 points.

Another nail-biter saw Sterling beat Haddonfield, 42-41 as Berry and Imani Holloway each had 10 points and that offset a 17-point performance by Haddonfield sophomore guard Keegan Douglas.

Haddonfield rebounded strongly in its next two games, beating Colonial Patriot contender Woodbury, and then holding on for a 44-42 upset over a Gloucester Catholic team that is a viable threat to be the No. 1 squad in South Jersey.

Douglas finished with a career-high 32 points as Haddonfield survived a late-Gloucester Catholic rally. The Rams outscored Haddonfield, 21-10 in the final quarter.

Since losing to Haddonfield and Sterling to begin the season, Collingswood then went on fire. The Panthers won their ninth in a row with Monday's 42-17 victory over Triton.

Seniors Bobbi O'Neill and Isha Kargbo have been outstanding leaders for the Panthers.

Collingswood has one of the top defensive teams in South Jersey, allowing 23.2 points per game in its first 11 contests.

All three teams will be factors in the South Jersey Group 2 tournament, although Manchester Township will be the prohibitive favorite.

That said, Sterling, Collingswood and Haddonfield were seeded No. 3 through 5 respectively in the most recent South Jersey Group 2 seedings according to NJ.com.

And while it will be difficult to beat Manchester Township, which clearly has the No. 1 seed at this point, the focus for Haddonfield and Sterling will be on the Colonial Liberty race.

The two teams meet one more time on Feb. 14 at Sterling. With so much at stake, that should truly have a championship atmosphere.

© SouthJersey.com 2018. All rights reserved. This article or parts thereof may not be reprinted or reproduced by any other party without the express written consent of SouthJersey.com. For more information, please call 856-797-9910.

For more Local Sports features, visit our South Jersey Sports page. Author:

Marc Narducci; Photo by Marc Narducci
Archives
---
Bishop Eustace's Danny O'Rourke a model of stability
South Jersey Football Games of the Week
Eagles saved their season with win over Carolina
A Difficult Loss
Top Physicians 2021
Phillies wasted lights-out seasons from Bryce Harper and Zack Wheeler
Another strong season for Olympic American Girls' Soccer
South Jersey Football Games of the Week
'You Do Not Have to Suffer'
Egg Harbor Township Football Showing Great Improvement
Phillies face a difficult, but not impossible final week
Continuing the Difficult Climb
South Jersey Coronavirus (COVID-19) Developments - Booster Shots (September 27)
South Jersey H.S. Football Games of the week
Something to Build On?
More...