Video Shows Daring Rescue Crews Swimming Through Freezing Water To Save Stranded Dog's Life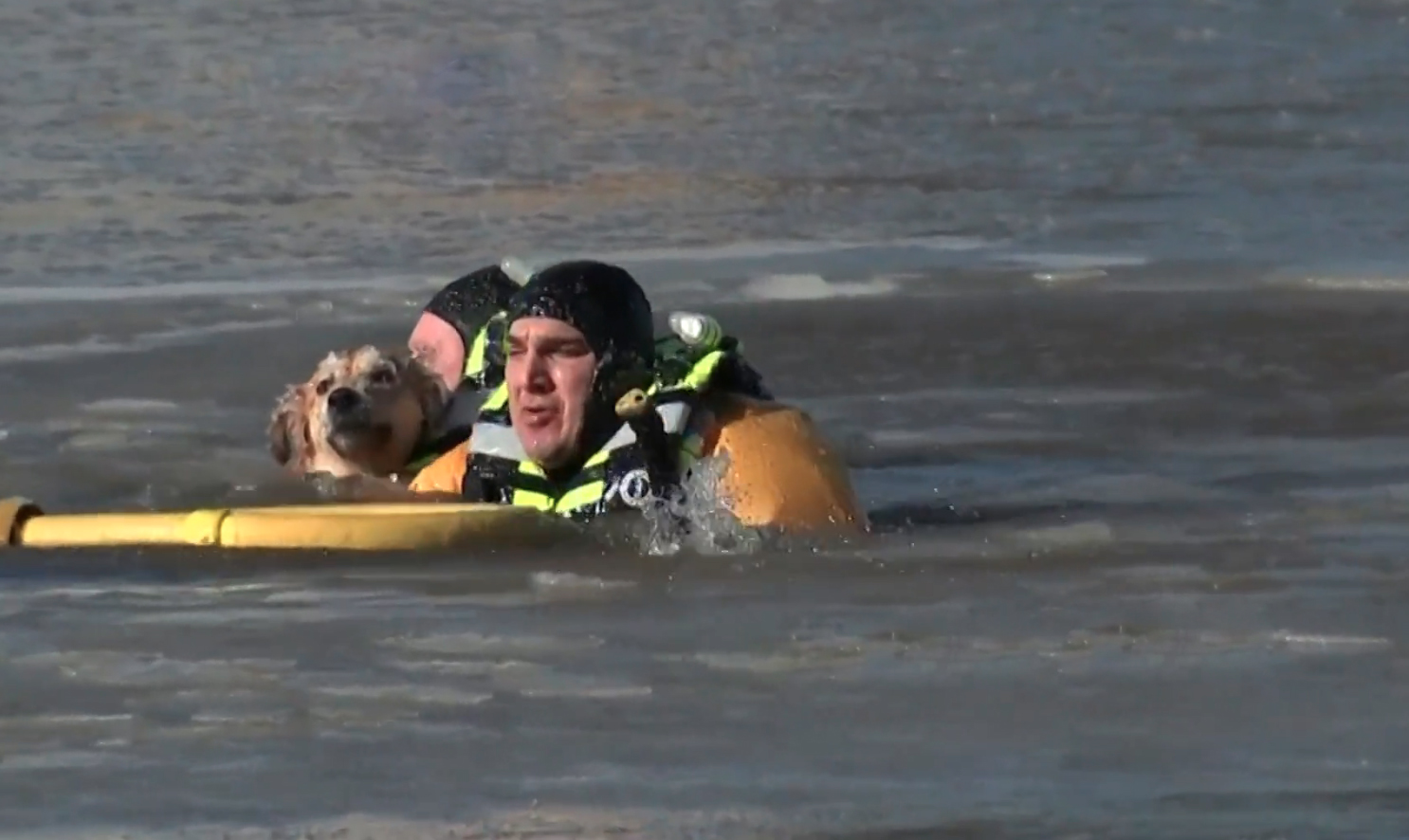 Eyewitness News crews captured an exclusive daring rescue as first responders jumped into freezing water to save a dog that was stranded in a South Jersey river. The dog was trapped after falling through the ice on the Cooper River in Collingswood Monday.
This was a very difficult ice rescue in the extreme cold Monday.
Around 1:30 p.m., the 6-year-old female Golden Retriever wandered about a hundred feet off the banks of the Cooper River and fell into the frigid water.
Members of the Collingswood Fire Department sent rescue swimmers in to save the dog. They used axes and beat the ice with their fists to make it out to the dog.
"They did amazing, we train for this kind of thing," Collingswood Fire Department Chief Keith Davis said. "It doesn't matter whether it's people or animals, when we go out on the ice, it's always dangerous. That's why we have to train and we that's what we do. We have a couple bodies of water around us and they did an excellent job."
Eventually, they were successful in reaching the dog and were pulled back to shore with a rescue line.
First responders then had to use a ladder to get up the steep river bank and they wrapped the dog up in blankets before speeding off to a local animal hospital.
Eyewitness News talked to the couple that reported the dog in trouble.
"We just were driving by and [the dog] was sitting right out here on the ledge, and we tried calling him in and next thing you know, he just jumps in," Alicia Janocha said. "Our first instinct was 911, we can't let that dog freeze."
"They're amazing, they're absolutely heroes," Dan Wager said. "It was incredible, all that for a dog."
Upon exiting the water, the firefighters were put in ambulances to warm up and had their vitals checked.
The dog was taken to NorthStar VETS in Maple Shade. She was treated for hypothermia and returned to her owners. No other injuries were reported.
"A few minutes in the water probably could lead to potentially life-threatening hyperthermia," said George Motley with NorthStar VETS.
Motley said this situation could have ended badly.
"If we don't get to that dog very quickly and we don't take the correct measures to correct the hyperthermia that he might be experiencing, I mean its a potentially very fatal situation," Motley said.
Veterinarians want to remind pet owners to keep a watchful eye on their pets.
"Always keep them on a leash. This is a very preventable problem. This should never happen because if you have your dog on a leash it will never get away,"Motley says.
It's unclear how the dog got loose and ended up in the river.
Article continues below
---
advertisement


---
Author:
https://philadelphia.cbslocal.com/2019/01/21/video-shows-daring-rescue-crews-swimming-through-freezing-water-to-save-stranded-dogs-life/
Archives
---
South Jersey Coronavirus (COVID-19) Developments (February 26)
South Jersey Coronavirus (COVID-19) Developments (February 23)
South Jersey Coronavirus (COVID-19) Developments (February 19)
South Jersey Coronavirus (COVID-19) Developments (February 12)
South Jersey Coronavirus (COVID-19) Developments (February 5)
South Jersey Coronavirus (COVID-19) Developments (February 1)
South Jersey Coronavirus (COVID-19) Developments (January 29)
South Jersey Coronavirus (COVID-19) Developments (January 28)
South Jersey Coronavirus (COVID-19) Developments (January 22)
South Jersey Coronavirus (COVID-19) Developments (January 21)
South Jersey Coronavirus (COVID-19) Developments (January 14)
South Jersey Coronavirus (COVID-19) Developments (January 8)
South Jersey Coronavirus (COVID-19) Developments (January 4)
South Jersey Coronavirus (COVID-19) Developments (December 23)
South Jersey Coronavirus (COVID-19) Developments (December 21)
More Articles