Sixers a Viable Eastern Conference Qualifier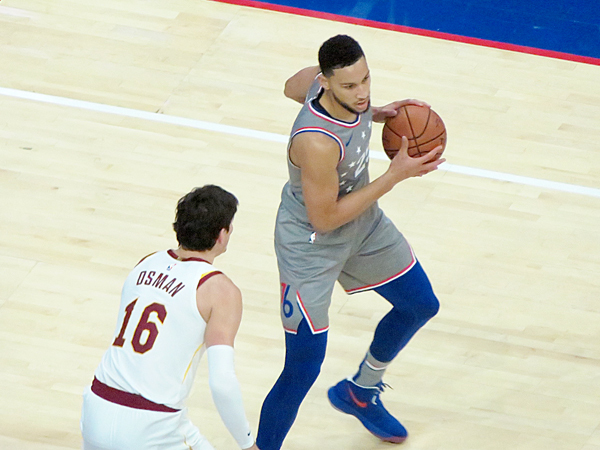 With LeBron James out of the Eastern Conference, the race to the NBA finals should be fascinating and the 76ers will certainly be in the hunt.
There is a feeling that the Sixers must make one more move to get a shooter by the Feb. 7 trade deadline.
That would be welcome, but the team the way it is constituted is good enough to contend for the Eastern Conference title.
Then again, the same can be said of Toronto, Milwaukee, Boston and Indiana.
Boston clearly has underachieved, but nobody should discount the Celtics. As for Indiana, the Pacers would have been a stronger contender had they not recently lost all-star guard Victor Oladipo with a season-ending ruptured quad tendon in his right knee.
The key for the Sixers is having Joel Embiid healthy and if that is the case he has the ability to carry this team. Embiid has had back soreness and didn't play in Saturday's loss to Denver. His back has been bothering him recently and despite that he still had some monster games.
For the season, he entered the week averaging 27.2 points, 13.3 rebounds and 2 blocked shots. In many seasons he would be the frontrunner for the MVP award, but last year's winner James Harden of Houston, is actually having a better season this year.
That said, Embiid has been dominant. Even with his back less than 100 percent, the game before the Denver matchup, he went for 33 points and 19 rebounds in a win over the San Antonio Spurs.
That is with being less than 100 percent.
The key is keeping Embiid healthy for the postseason. Remember, last year he missed two games with an eye injury.
The Sixers were 32-18 for their first 50 games. Jimmy Butler has missed recent time with a wrist injury. Again, it's important that he stays healthy for the postseason. Butler's experience in the playoffs should truly benefit the Sixers.
He has appeared in 43 playoff games and is averaging 37.8 minutes.
The one question about the Sixers continues to be Ben Simmons reluctance to shoot. He is still a dynamic player, but in last year's playoff loss in five games to Boston, the Celtics dared him to shoot. They played off Simmons and double-teamed others.
Simmons is unstoppable going to the basket and is a great passer, but the lack of shooting remains a concern.
Even with that, 34-year-old JJ Redick is having his best season and he is such a key for the Sixers with his ability to hit three-pointers (.382). In fact Butler is hitting three's at a .386 clip and he has shown in his brief time with the Sixers his ability to and willingness to take the key shot down the stretch.
If Embiid stays healthy, the Sixers will be a viable contender, just likely not the favorite, which is fine with them.
Article continues below
---
advertisement


---

Health will mean everything for all the contenders as they all get ready for the pre-playoff stretch run.

© SouthJersey.com 2018. All rights reserved. This article or parts thereof may not be reprinted or reproduced by any other party without the express written consent of SouthJersey.com. For more information, please call 856-797-9910.



For more Local Sports features, visit our

South Jersey Sports

page.
Author:
Marc Narducci; Photo by Marc Narducci
Archives
---
Continuing the Difficult Climb
Something to Build On?
Who's Who in Real Estate
Colonial Liberty is highly competitive in South Jersey Girls' Soccer
South Jersey Football Games of the Week
South Jersey Coronavirus (COVID-19) Developments (September 20)
Still way too early for Eagles conclusions
Sixers and Ben Simmons have plenty of training camp intrigue
Best of Home and Garden
Top Physicians 2021
Back to School
Former Ocean City standout Delaney Lappin making her mark at Drexel
South Jersey Coronavirus (COVID-19) Developments (September 13)
South Jersey Football Games of the Week
Eagles Enter a Season with Justified Optimism
More...