Leading the Way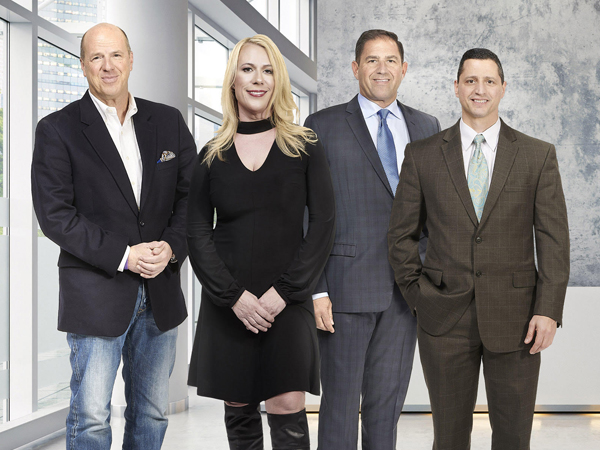 These men and women are some of the most successful executives in South Jersey.

To get to the top, one must start from the bottom.Leaders typically embody strong character, hard work and determination, and all of this year's Top CEOs & CFOs have those qualities and much more. Whether it was starting their business from scratch or working their way up the ladder, these executives have seen their share of struggles and success and are now the driving force behind some of South Jersey's leading companies.

KEITH A. KASPER, CFO, Senior Vice President, University of Pennsylvania Health System (UPHS)
In this role, Kasper oversees the health system's capital allocation and financial operating performance, provides direction in the development of strategic plans, and ensures integration of financial services across Penn Medicine in support of the clinical, research and teaching missions, with an emphasis on establishing effective, proactive financial processes and controls. Additionally, he oversees Penn Medicine at Home. This operating unit encompasses post-acute services including home care, home infusion and inpatient/home-based hospice services. Prior to joining UPHS, Kasper spent more than 20 years with Tenet Healthcare and its predecessor organizations in progressively senior financial roles in locations throughout the country. Kasper is a five-time recipient of the Tenet Healthcare CFO Circle of Excellence Award.
Article continues below
---
advertisement


---
Related Articles
---


ANGELA SNYDER, President, CEO, Fulton Bank of New Jersey
In addition to being chair-woman, CEO and president of Fulton Bank of New Jersey, Snyder also serves as a member of the senior management team of the bank's parent company, Fulton Financial Corporation, a $20 billion bank holding company that operates more than 226 banking offices in the Mid-Atlantic region. At Fulton Bank of New Jersey, Snyder is responsible for the strategic direction and growth of the bank. At Fulton Financial Corporation, she heads the corporation's consumer banking line ofbusiness for the entire company, which includes teammembers in New Jersey, Pennsylvania, Maryland, Delaware and Virginia. Snyder shares her 30 years of banking/business experience with several nonprofit boards, including serving as a board member of Our Lady of Lourdes Health Care Services Inc., and former chairwoman of the New Jersey Bankers Association.

GARY DAHMS, PE, PP, CME, President, CEO, T&M Associates
Since 2012, Dahms has proudly served as president, CEO and chairman of the board at T&M Associates, a leading consulting, environmental, engineering and technical services company. In his strategic role he has spear-headed the firm's evolution from a New Jersey municipal engineering firm into a national, multi-disciplined consulting company comprised of 350 employees. T&M's tagline—Your Goals. Our Mission—was formed under Dahms' leadership. It encapsulates the firm's proven commitment to develop effective, creative and timely strategies to achieve clients' business objectives. It is also reflective of the core values of the corporate culture—the importance of employee well-being and the fostering of professional development. Dahms serves on the executive committee for the NJ Chamber of Commerce, the board of directors for the NJ Alliance for Action and the board of trustees' for NJIT, HabCore and NAIOP.

JOHN MURABITO, President, founder, RE Business Solutions
RE Business Solutions (formerly Ribbons Express Inc.) was born in the basement of Murabito's parents' home in South Philadelphia. His small business became a thriving business and moved to multiple locations with its current headquarters in Cherry Hill. RE Business Solutions has beenrecognized as one of the fastest-growing companies in the Delaware Valley with locations in North Jersey and Buffalo, New York. RE Business Solutions is a leader in printer and copier sales and supplies for Hewlett Packard, Lexmark and Brother, along with many other product lines. Murabito is instrumental in developing great business relationships with his company's customers and vendors. He oversees his company's total operations, but specializes in negotiating deals and marketing strategies to increase sales and revenue. Murabito isalso the vice president and co-founder of the JohnnyM Foundation, which helps sick children in various ways. It is the vision of he and his former wife Patti to ensure their son's memory lives on.

DANIEL L. LOMBARDO, President, CEO, Volunteers of America Delaware Valley
Lombardo has shepherded the transformation of the organization from Chapter 11 status into a thriving $46 million operation. He has been active with numerous professional and community organizations and has served in a number of public policy capacities in New Jersey and Pennsylvania, including being appointed by the governor of New Jersey to the first-ever New Jersey Sentencing Policy Study Commission andappointed by the mayor of Philadelphia to a mayoral task force on management and productivity. Lombardo has been the recipient of numerous awards for his work in human services and community corrections, and has written numerous articles about these and related subjects. He also serves as a member of the board of directors of the Walter Rand Institute at Rutgers University-Camden.

TONY MAHON, Managing Director, AssuredPartners
Mahon began his career working for General Accident Insurance Company followed by the national brokerage firm of Alexander and Alexander before honing his craft at a regional family firm, McCay Corporation. He then took over a small local firm in Camden County and transformed it into a top regional firm, increasing revenue 400 percent over a 15-year period. In2013, Mahon joined AssuredPartners to help growthe firm into one of the top 10 brokerage and consulting companies in the nation. He specializes in the public sector space by providing unique and effective strategies for health and benefits insurance programs. Dedicated to community involvement, Mahon is a board member of the Philly POPS Orchestra, the Rowan College at Burlington County foundation board and MEND.

DAVID ANTRILLI, President, CEO, AAA South Jersey
Antrilli oversees all travel, insurance, financial, membership and automotive-related services to deliver value to South Jersey residents and communities. He has worked in various capacities throughout his 27-year career at AAA South Jersey, including regional branch manager, vice president of operations, chief operations officer, and has overseen the opening of four branch offices, including the recent opening of AAA South Jersey's Cherry Hill branch. Additionally, Antrilli has significantly improved club quality standard numbers, leading to the club's top10 ranking in emergency road service and travel. He also helped establish AAA South Jersey's grassroots driving school in 2014.

ANDREW L. JAEGER, President, CEO, Credit Union of New Jersey
Jaeger began his career in1986 working for the NJ Credit Union League (NJCUL) before joining Credit Union of New Jersey in 1989, where he has been CEO since 1992. He is currently chairman of the NJCUL board of directors and has served on the Philadelphia Federal Reserve Bank Credit Union Advisory Council, and serves on the NJ Department of Banking Credit Union Advisory Council. Jaeger has a bachelor's degree in business management from West Virginia Wesleyan College and is a graduate of Credit Union National Association's Management School and the Credit Union Executives Society's CEO Institute.

MONICA TITUS, MBA, BSN, RN Regional CEO, Acuity Health Care
With more than 20 years of experience in the health care industry, Titus continually strives to make a difference in the lives of patients and their families throughout the region. She began her career as a clinical registered nurse, providing care in acute-care hospitals. Before joining Acuity Healthcare, she served as trauma program director, Neurosciences Institute director and critical care extenders director for AtlantiCare Regional Medical Center. Titus currently serves on the American Hospital Association policy board and the Acuity Healthcare quality advisory board. She is a member of the American College of Healthcare Executives, The New Jersey Hospital Association and the National Center for Employee Ownership group.

JOHN DESANTIS JR., CFO, Surety Title
DeSantis joined Surety Title in 1997 as their controller, going on to becoming a partner and CFO in 2004. He plays a vital role in Surety's operations, as he is responsible for all banking, accounting systems, asset management and fiscal reporting, which collectively impacts a significant portion of the business. He also oversees the technology footprint as well as all financial aspects of Surety's affiliate operations. Prior to joining Surety Title, DeSantis spent 11 years with Clover Financial Corporation, immersing himself into the world of real estate investment banking and syndication. There, he handled the financial management and accounting functions for Clover's 80 limited partnerships.

BRUCE FOULKE, CEO, American Heritage Credit Union
Under Foulke's leadership, American Heritage Credit Union has grown to185,000 members,$2.4 billion in assets and 38 locations. Although American Heritage started in Philadelphia, Foulke and his team have embraced South Jersey's opportunities. American Heritage will soon open its second New Jersey branch—adjacent to the Cherry Hill Mall— joining its existing Bellmawr branch. As is customary at American Heritage, both locations will offer surcharge-free ATM access for the public. With 16,000 members and50 workplace partners in New Jersey, American Heritage is already one of South Jersey's largest credit unions and is one of the top credit union auto lenders in the state.

WILLIAM R. SASSO, Chairman, Stradley Ronon
Sasso has served as chairman of Stradley Ronon's management committee and board of directors since 1994. As chairman, he is responsible for over-sight and management of more than 200 attorneys in the firm's eight offices, including Cherry Hill and Philadelphia. During his40-plus years of experience, he has counseled privately and publicly held companies and religious and nonprofit organizations in various matters, including general corporate and securities law, mergers and acquisitions, health care, education, medical devices, tax and real estate. Sasso has been awarded a Lifetime Achievement Award by The Legal Intelligencer and recognized by Chambers USA: America's Leading Lawyers for Business.

THOMAS A. DWYER MD, FAAOS, President, CEO, founder, Premier Orthopaedic Associates of Southern New Jersey
Dwyer—a board-certified, fellowship-trained orthopedic surgeon— had a vision of establishing an integrated orthopedic practice in a rural community. This practice was to uphold the highest level of university care while providing the most advanced academic medical techniques. As an orthopedic surgeon with more than 20 years of experience, he brought together a talented group of dedicated physicians who specialize in the latest innovations and new procedures in all aspects of orthopedics. The practice offers specialty care regarding joint replacement, sports medicine, acute pain management, care for fractures, arthritis, hand, foot, ankle, spine and concussions. Dwyer specializes in sports medicine and arthroscopic reconstruction of shoulders and knees.

PATRICK L. RYAN, CEO, founder, First Bank
Ryan is responsible for the strategic direction and overall performance of the company. Since its inception in 2008, First Bank has grown to 17 branches with $1.7 billion in assets and 180 employees. Over the past 10 years under Ryan's leadership, the bank has raised over $100 million in equity capital, $22 million in subordinated debentures and has completed four acquisitions. The total capitalization of the company now exceeds $200 million. First Bank was recently named one of S&P Global Market Intelligence's Top 100 Best-Performing Community Banks in the nation for record growth and profitability.

ROBERT "REDS" REYNOLDS, CEO, Capaldi
Reynolds & Pelosi Reynolds began his accounting career with the Atlantic City firm Bradway Capaldi & Schalick in 1958, focusing on audit and taxation. Through his stewardship and business acumen, the firm eventually evolved into Capaldi Reynolds & Pelosi, P.A. In addition to being the firm's chairman, he has served many charitable and civic organizations. He is past president of the Atlantic-Cape May chapter of the NJ Society of Certified Public Accounts (NJSCPA) and trustee of NJSCPA. He also served as trustee for the Atlantic Cape Community College Foundation and as a board member and chairman of the Atlantic County Improvement Authority.

ROB RICHARDSON, Owner, founder, Allied Document Solutions & Services (ads-s)
A graduate of Ursinus College, Richardson is entering his 25th year leading ads-s. The company focuses on printer and copier devices, serving clients in the Mid-Atlantic region. Service is a key differentiator for ads-s, and its offering includes managed print services, document management and workflow related solutions— the results of which provides for significant savings to its customers as well as improved productivity. Ads-s has many strategic partners, but none are more important than its relationship with Hewlett Packard (HP). As a premier partner with HP, ads-s has access to the highest-level products and services that HP has to offer from the imaging and print side of HP's business.

ALEXANDER BOTHWELL JR., CEO, Primepoint, LLC
Bothwell has been CEO of Primepoint since 2000, a family-owned business that started over 30 years ago. Primepoint provides payroll and human resources services, and Bothwell is responsible for overall strategic direction and management, with specific emphasis on capital formation, strategic alliances, sales and implementation of the strategic plan. He has created an environment that enables average annual growth of 27 percent, while expanding the products and solutions Primepoint delivers.

RUSSELL GRIZZLE, President, CEO, Mannington Mills
Grizzle joined Mannington Mills in 2010as chief operating officer and assumed the role of president and CEO in 2012. He has spent most of his career in the flooring industry, starting at Milliken & Company in 1979. There, he held a variety of positions of increasing responsibility including general director of manufacturing of the flooring division and business manager for Kex. Grizzle is past chairman of the Resilient Floor Covering Institute, the Carpet and Rug Institute and Georgia Textile Manufacturers' Association.

SEAN BURKE, EVP and CFO, Investors Bank
Burke previously served as senior vice president since 2015. Prior to joining Investors Bank, he was the managing director and head of U.S. Depository Institution Investment Banking for RBC Capital Markets in New York. Burke has more than 20 years of experience working with financial institutions. He earned bachelor's degrees in accounting and computer science from the University of Notre Dame, and an MBA from Northwestern University. Prior to attending Northwestern, Burke was a certified public accountant and worked in the financial services audit practice of Ernst & Young.


To read the digital edition of South Jersey Biz, click here.

Published (and copyrighted) in South Jersey Biz, Volume 9, Issue 1 (January 2019).

For more info on South Jersey Biz, click here.
To subscribe to South Jersey Biz, click here.
To advertise in South Jersey Biz, click here.

Author:

Julie Shannon
Archives
---
Staying the Course
On the Move
Biz in Brief
Women to Watch 2021
Take it to the Bank
A Long Shot
Finding Its Way
Close of Biz: Thinking Outside the Cube
On the Move
A Matter of Survival
Steering the Ship: Top CEOs/CFOs 2021
Biz in Brief
2021 Annual Resource Directory
Looking Ahead
On the Move
More Articles