Flyers Continue Their Playoff Run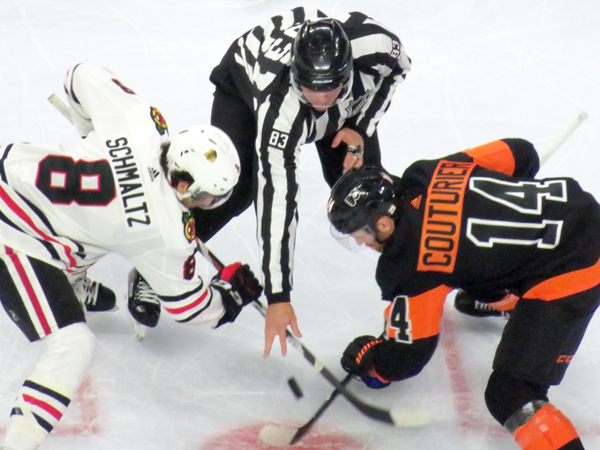 It wasn't that long ago that the Flyers were counted out as a playoff contender this season. They were 14 points out of first place at the all-star break, with only 32 games remaining.

After Monday's 2-1 win over the Vancouver Canucks, the Flyers moved to just five points out of a second wild card spot after earning their eighth consecutive win.

What has ignited the Flyers has been 20-year-old goalie Carter Hart, who won his seventh straight game in the victory over Vancouver.

The Flyers have had goaltending inconsistency for the greater part of the last three decades, but Hart has given them hope that he could lead the franchise for years to come.

Hart had a big reputation but former general manager Ron Hextall seemed reluctant to call him up and throw him into the fire despite the Flyers problems in goal.

After Hextall was fired, the Flyers took a different outlook and general manager Chuck Fletcher, who was named to the position on Dec. 3, didn't wait long to call him up from the Lehigh Valley Phantoms.

Article continues below

---
advertisement


---


Hart started his first game on Dec. 18, beating the Detroit Red Wings, 3-2.

Fletcher named Lehigh Valley coach Scott Gordon, interim coach for the rest of the season. Gordon, a former goalie and ex head coach of the New York Islanders, improved his Flyers record to 12-8-2 after the win over Vancouver.

As an aside, the win over Vancouver was the 2,000th in Flyers history.

Sometimes teams need a new voice and Gordon has clicked with the team after replacing Dave Hakstol, who was in his fourth season with the Flyers.

The Flyers have to make up the five points in 29 remaining games and even though they are the NHL's hottest team, it won't be easy. The team ahead of the Flyers for the final wild card spot, Columbus, had two games in hand after Monday. Boston, the first wild card team through Monday, had a nine point advantage and one game in hand on the Flyers.

Still, they have made up plenty of ground in a quick fashion.

While the Flyers have to be more consistent on offense, they are receiving strong efforts from old standbys, led by captain Claude Giroux, who recently appeared in his sixth all-star game.

After Monday, Giroux led the Flyers with 56 points and had a plus-minus rating of plus-5. Jake Voracek was second in scoring with 45 points and suddenly hot Sean Couturier was third with 21 goals and 23 assists for 44 points.

Those are three of the Flyers major veterans and they are still carrying the offense.

During the win streak, the defense has improved. Ivan Provorov, who is a minus-16 this season, is plus-1 during the eight-game win streak.

Can the Flyers keep this up?

They have made plenty of late charges to qualify for the playoffs in the past, including last year. At the very least, they have made a season that looked hopeless, very interesting. The Flyers have assured that the final two months of the season will be extremely meaningful, something that seemed impossible not that long ago.


© SouthJersey.com 2018. All rights reserved. This article or parts thereof may not be reprinted or reproduced by any other party without the express written consent of SouthJersey.com. For more information, please call 856-797-9910.


For more Local Sports features, visit our
South Jersey Sports
page.
Author:
Marc Narducci; Photo by Marc Narducci
Archives
---
Ready to Entertain
Ready to Rock
Go Figure!
Positive Signs
Full Steam Ahead
Rancocas Valley's Bryce Mangene Caps His High School Career in Style
Palate: A Perfect Fit
Take Five: Tips to Improve Workplace Wellness
Phillies Need a Quick Turnaround
Jersey Shore Nightlife Guide
South Jersey Nightlife Guide
Al Orio Enthusiastic About His Second Stint As Deptford's Football Coach
South Jersey Happy Hour Guide
Still on Top
Timber Creek Among Many South Jersey Football Teams Working Hard in the Summer
More...