South Jersey Non-Public A Boys' Basketball Outlook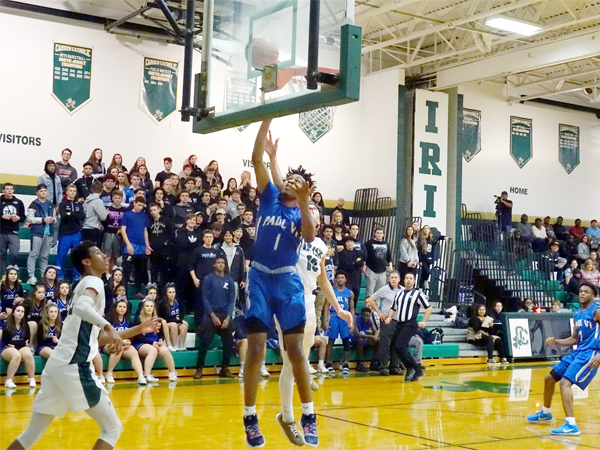 Last year Camden Catholic won its first South Jersey Non-Public A championship since 2010. The Irish are one of many threats to win in what is a highly competitive field.

St. Augustine, which lost to Camden Catholic, 68-65 in the South Jersey final last year, is this season's top seeded team.

Led by 6-4 senior Charles Solomon, St. Augustine will be a major threat. Solomon is averaging just under 19 points per game and he can be a difference maker in the postseason.

Other threats in Non-Pubic A?

Get in line.

Paul VI, which has defeated Camden Catholic twice this season, is the No. 2 seed.

The Eagles have a strong senior combination in Hartnell Haye (17.8 ppg.) and Tyson Judge (14.4 ppg.). Paul VI showed its strength with an earlier 58-52 win over Haddonfield, the first and lone loss by the Bulldogs.

Granted Haddonfield played without all-South Jersey point guard Mike DePersia, who was injured at the time, but it was still an impressive win. (As a aside, St. Augustine recently lost to Haddonfield, just 62-57.

Like Camden Catholic, Paul VI has played an extremely tough schedule. Both are members of the Olympic Conference National Division. This is South Jersey's toughest divisions.
Article continues below
---
advertisement


---


Camden Catholic will be the No. 4 seed and a serious contender. Since getting point guard Pat Corbett back from injury, the Irish have played better.

Senior big men Babatude Ajike and Uche Okafor give the Irish an imposing duo in the frontcourt.

No. 5 Christian Brothers Academy will also be major threat. The Colts made a statement earlier this year with a 61-39 win over current No. 3 seeded Red Bank Catholic. CBA is annually a major contender and this year will be no exception.

In 6-8 senior Josh Cohen (21 ppg.) and 6-2 senior Stephen Braunstein (17 ppg.) CBA has a strong one-two punch that can take it far in the post season.

Looking for a darkhorse?

How about No. 10 seeded Bishop Eustace. The Crusaders have split their two games against Paul VI.

Eustace has also defeated highly regarded Camden.

As the 10-11 record to begin the week suggests, the Crusaders have been inconsistent.

Still, to beat teams the caliber of Paul VI and Camden, Bishop Eustace has shown it can beat the best in South Jersey.

Eustace's Mattia Morini, a 6-6 senior from Italy, is a sharpshooter who is averaging nearly 14 points per game, is the main offensive threat for Eustace.

The Crusaders have to visit No. 7 Notre Dame in the first round. Even though they will likely be on the road all playoffs, Eustace is among the many contenders in this strong Group, with no prohibitive favorite.

© SouthJersey.com 2018. All rights reserved. This article or parts thereof may not be reprinted or reproduced by any other party without the express written consent of SouthJersey.com. For more information, please call 856-797-9910.

For more Local Sports features, visit our South Jersey Sports page. Author:

Marc Narducci; Photo by Marc Narducci
Archives
---
Continuing the Difficult Climb
Something to Build On?
Who's Who in Real Estate
Colonial Liberty is highly competitive in South Jersey Girls' Soccer
South Jersey Football Games of the Week
South Jersey Coronavirus (COVID-19) Developments (September 20)
Still way too early for Eagles conclusions
Sixers and Ben Simmons have plenty of training camp intrigue
Best of Home and Garden
Top Physicians 2021
Back to School
Former Ocean City standout Delaney Lappin making her mark at Drexel
South Jersey Coronavirus (COVID-19) Developments (September 13)
South Jersey Football Games of the Week
Eagles Enter a Season with Justified Optimism
More...