Is Embiid's Latest Injury Cause for Concern?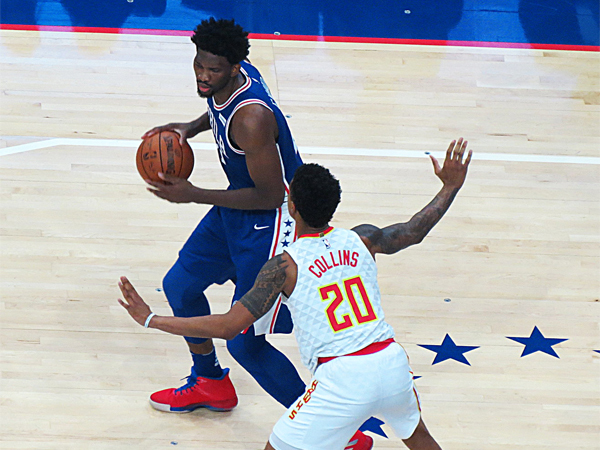 Joe Embiid, the 76ers two-time All-Star center with a well-documented injury history, is sidelined again. The team doesn't appear to be overly concerned, releasing a statement last week that Embiid was suffering from left knee tendonitis and would be evaluated in a week.
The Sixers did fine in their first game without Embiid, beating Miami 106-102. In fact, Embiid's replacement, recently acquired 7-foot-3 center Boban Marjanovic, had a dominant performance, in the win over the Heat. Marjanovic contributed 19 points (6 of 7 from the field) and 12 rebounds in 27 minutes.
The Sixers can't expect that type of performance from him each time, and in the next outing, a 130-115 loss to the visiting Portland Trail Blazer, he had four four points and five rebounds in just over 19 minutes.
One has to question why Embiid played in the NBA all-star game on Feb. 17 if his knee was bothering him.
One thing is for sure, while nobody for saying for sure if Embiid hurt his knee by playing a little more than 23 minutes in the all-star game, it sure didn't help him.
This season, Embiid has missed just six of the first 60 games. The Sixers are 2-4 in those games.
It's likely that even without Embiid, the Sixers could earn a playoff berth. With him at full health they are a serious challenger in the balanced Eastern Conference.
This season Embiid has played the most minutes of his career. He is averaging 33.7 minutes. That is up from 30.3 last year and 25.4 the year before.
Embiid, who turns 25 on March 16, missed his first two seasons with a foot injury. This season he is averaging 27.3 points and 13.5 rebounds.
In an NBA where low post play is being de-emphasized, Embiid shows that teams can still be successful with a dominant low post player.
Of course he doesn't always play in the low post.
This season Embiid is averaging 4.0 three-point attempts per game. One criticism of his game is that he spends too much time on the perimeter. He is shooting just 29.5 percent from three-point range, which isn't bad for somebody who is 7-foot-2.
It gets tiring banging bodies down low all the time and with his injury history, one wonders if Embiid could take the constant pounding if he just stayed down low.
However, at times he is on the perimeter too much.
He is also a force on defense, averaging 1.9 blocked shots per game.
Embiid has played at an MVP level, although he won't win the award this year. (Reigning MVP James Harden of Houston and Milwaukee Bucks forward Giannis Antetokounmpo are the leading MVP candidates.
Some day Embiid, if he stays healthy, will add an MVP trophy to his collection.
The Sixers have to hope that the rest off will help. It's not the worst thing that he is resting this late in the season, with the playoffs in about a month and a half.
However, if the pain persists, that will be a major concern. Only time will tell if this justifies worrying about or if he will return soon and pick up where he left off as one of the NBA's dominant players.
Article continues below
---
advertisement


---
© SouthJersey.com 2018. All rights reserved. This article or parts thereof may not be reprinted or reproduced by any other party without the express written consent of SouthJersey.com. For more information, please call 856-797-9910.


For more Local Sports features, visit our
South Jersey Sports
page.
Author:
Marc Narducci; Photo courtesy of Marc Narducci
Archives
---
Planning for the Unpredictable
A Chain Reaction
South Jersey H.S. Football Games of the Week
Leading Business Attorneys 2021
South Jersey High School Girls' Soccer Preview
On the Right Track
No Easy Games For The Eagles
Eastern and Cinnaminson are top girls' and boys' seeds in South Jersey Soccer Coaches Tournament
Healthy People, Healthy Business
South Jersey highschool football games of the week
Best of Home and Garden
Back to School
Ready to Take Flight
Bishop Eustace's Danny O'Rourke a model of stability
Who's Who in Real Estate
More...