2019 Women to Watch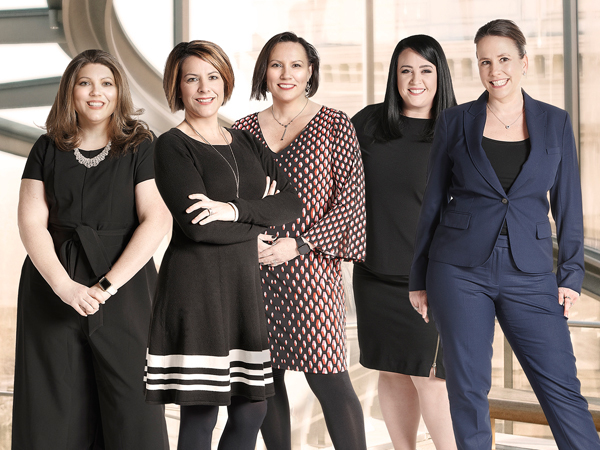 20 female professionals making a name for themselves in South Jersey.

South Jersey is home to many talented female business leaders, and this is the time of year we recognize these leaders in their respective fields. Some are established businesswomen with a wide range of experience who are active in their community as members of various professional and nonprofit organizations. Others have made an impact in recent years, showing dedication to their field and gone the extra mile to get where they are today. All of them are respected by their peers, have achieved great success and are prime examples for young women.

We are thrilled to present you our Women to Watch for 2019 and excited to see what they accomplish over the next year.

Monica Walsh
Executive vice president, Vantage Real Estate Services
Since 2011, Walsh has been a successful broker in the competitive commercial real estate industry. As executive vice president, she actively mentors and supports a diverse team of professionals, of which 50 percent are women. Additionally, the entire Vantage RES team understands the importance of community service. Walsh proudly participates in numerous community service organizations, including Habitat for Humanity and the YMCA.
Article continues below
---
advertisement


---
Related Articles
---


What does being a successful businessperson mean in your eyes?
"Success is measured by the impact you have created on your industry and in your community. Legacy is not predetermined but manifested through action."

Amy Osborn
Vice president, Republic Bank
Osborn manages and provides banking concierge services for high net-worth customers and works to grow the private banking portfolio through traditional banking products. A former Philadelphia Eagles cheerleader, Osborn has served as director of special events at the New Jersey Department of Military and Veterans Affairs and finance director for many political candidates, campaigns and organizations. Passionate about helping veterans, Osborn represented veterans' service organizations on President George W. Bush's "Hire Veterans First" committee and is the recipient of the VFW Department of New Jersey's James C. Gates Distinguished Service Award for her efforts to help veterans find gainful employment. She also serves on the board of trustees for the Southern New Jersey Development Council is part of the leadership council for Maryville Treatment Centers.

What does being a successful businessperson mean in your eyes?
"Earning the respect of others is critical to being a successful businessperson, but perhaps even more important is having self-respect, and knowing that you always do your best and always do the right thing."

Lisa Peterson
Department manager, transportation services, Dewberry
Peterson has more than 17 years of experience as a transportation engineer and project manager specializing in highway design. She holds the distinction of being the first woman to have dual professional engineer and professional land surveyor licenses in South Jersey. She is one of only four women to hold dual licensure as a professional engineer and professional land surveyor in New Jersey who meets the current education requirements. Peterson was involved in the award-winning New Jersey Turnpike Interchange 6-9 widening project and is working on a number of transportation projects in New Jersey, including project manager for 205 Direct Connection-Contract 4 Final Design, Route 49 and Buckshutem Road intersection improvements in Cumberland County and recently completed construction services for the Route 70 Red Lion Road to Dakota Trail in Burlington County.

What are the key traits of an effective leader?
"Effective leaders are invested in their team and colleagues. They have a genuine interest in the well-being of the people, the organization and the product. The ability to adapt to changes in the workforce culture can be beneficial for leaders to coordinate and collaborate with their team. With a broad range of personalities and generations in the workforce today, it is important to understand the people you are working with and appreciate their needs and desires. Self-assessment is also crucial for effective leaders. Knowing my own weaknesses and drawing on the strengths of my team members, managers and other colleagues is fundamental for our success. No one person can do it all, it takes all parties participating to reach our goals."

Dr. Candice M. Racite
Assistant dean of cooperative education, division of business studies, Rowan College at Gloucester County
In this position, Racite is primarily responsible for connecting employers with students to create internship opportunities. She is also engaged in other college community activities that promote workforce readiness, including Job Ready Now Week and Suit a Student— a student career professional development fundraiser. In addition to her college activities, Racite is active in her community, where she serves in various capacities for several nonprofit agencies.

What's the best business advice you were ever given or gave to someone else?
"The best business advice that I can share with you was given to me by my mentor, Dr. Patricia Claghorn, who told me to 'always do the right thing, because it's the right thing to do.' Utilizing this motto on a daily basis, I integrate ethics and transparency into all that I do."

Sarah Brand


Senior manager, EisnerAmper
Brand is a senior audit manager in thereal estate group with over 15 years of public accounting experience, serving both public and private companies. She has experience in the real estate industry providing accounting and auditing services for a variety of real estate clients, including private equity real estatefunds, commercial and residential real estate companies, hotels and condominiums. Additionally, Brand has served clients in the manufacturing and distribution health care industries and professional service firms. She is a member of the American Institute of CertifiedPublic Accountants.

What are the key traits of an effective leader?
"Authenticity—you are not fooling anyone when you are faking presence, listening or caring. Confidence—it is important to be confident in your decisions and the way you communicate them to those you lead. Showing vulnerability as well as confidence also makes you relatable. Gratitude—gratitude can go a long way. The most effective leaders are ones that you want to work with time and again, and everyone loves to feel appreciated."



Amy Webb


President, Saratoga Benefit Services, LLC
Webb relies on her 30-plus years of insurance-industry experience to safely navigate her clients through the difficult task of administering employee benefits. Prior to founding Saratoga Benefit Services, she served as a brokerage manager for a major insurance firm in Philadelphia. Webb's chartered benefit consultant certification designates her deep knowledge of consumer-directed health care. She is a long-time member of the Rotary Club of Moorestown and has held multiple board positions. A former chairperson of the board at Rowan College of Burlington County (RCBC), she is the only woman to have ever held this position and currently serves on the board ofthe RCBC Foundation.

What's the best business advice you were ever given or gave to someone else?
"The best business advice that I ever got is that there is no substitute for hard work. Running a small business often requires long hours, attention to detail and getting out of your comfort zone. All of that hard work has been worth it as my company celebrates its 20th year in business this year!"

Tracey Commack
Associate executive director, Penn Medicine Cherry Hill
Over the last 20 years, Commack has held a variety of roles within Penn Medicine, including practice management and then division administrator in hematology/oncology. In 2007, she moved into the department of surgery as the business director for three of the busiest divisions in the department. In January2016, Commack was recruited to run the new 150,000-square-foot ambulatory practice of the future at Penn Medicine Cherry Hill. She oversees all aspects of the facility and operations that include 34 departments and contain comprehensive cancer care, cardiology, radiology and much more. She is currently pursuing her MBA at Saint Joseph's University and is an active member of the Cherry Hill Chamber of Commerce and South Jersey Chamber of Commerce.

What's the best business advice you were ever given or gave to someone else?
"There are two things that have stuck with me. First, listen to hear not to talk. Too often we spend conversations formulating our responses to what someone is telling us instead of actually taking the time to listen to what the person is really saying. The second was a quote from Penn Medicine's CEO Ralph Muller. He said,'Don't let your inbox dictate your strategy.' As a working mom of four, I live in a world of chronic distractions. It is so important to remember the vision and not get caught up in the weeds of the day-to-day emergencies that can throw you off course."



Kristi Moore


Community relations specialist, Paulsboro Refining Company
Moore is responsible for internal and external communications between the refinery, its employees and the community, and has worked to build a strong foundation between the refinery and its stakeholders in Gloucester County. Her primary external focus brings awareness of refinery activities to organizations in Gibbstown andPaulsboro—the refinery's host communities. She supports the refinery's numerous community outreach activities, including its recent record-breaking United Way employee giving campaign with contributions totaling more than $429,000 benefitting the United Way of Gloucester County. Moore is a member of various community organizations including the board of directors of the United Way of Gloucester County and Rowan College of Gloucester County Foundation. She also serves on the board of directors of the Greater Paulsboro Chamber of Commerce.

What's the best business advice you were ever given or gave to someone else?
"I have been privileged to work with extremely successful women and men who have offered advice based ontheir years of experience. One of the best pieces of advice I was given can be used in the workplace or in the home, which is 'Be present.' It is important to be present when interacting with colleagues, clients and one's family. Being present means putting the to-do list aside and taking the time to listen carefully to the person seeking your attention. The act of 'being present' demonstrates respect for those with whom you have interactions."



Lori M. McNeely, Esq.


Partner, McNeely, McGuigan & Esmi, LLC
Prior to becoming an attorney, McNeely was a vice president of commercial banking with the former United Jersey Bank (now Bank of America) and with the former Irving Trust Company (now Bank of New York). While in law school, McNeely was the recipient of the excellence in litigation award, the women's law caucus award and the Hunter Moot Court Award. McNeely is on the roster of certified foreclosure mediators with the Administrative Office of Courts in New Jersey. Sheserved as co-chairperson of the real property and probate committee of the Burlington County Bar Association for six years and has been a lecturer for CLE seminars sponsored by the Mercer and Burlington County Bar Associations.

What's the best business advice you were given or gave to someone else?
"I often tell my clients, 'There are no problems, only solutions.' By changing the narrative, you can take someone who feels powerless or exploited and empower them to take steps toward changing their situation."



Carolyn Zumpino


President, Triad Associates
Zumpino's extensive background in real estate finance, insurance and project management has prepared her well for her role as president. Triad Associates, which has generated nearly $1 billion in funding for its clients over the past 40 years, offers a full suite of community and economic development, housing and strategic planning solutions. Zumpino has a passion for helping communities thrive and is devoted to identifying solutions that promote revitalization and growth. This is evident in her ability to transform community visions into viable projects. Committed to growing and promoting Triad's reputation as the premier community and economic development consulting firm in the region, Zumpino plans, with the support of her team, to expand upon the foundation that has been established over the last four decades.

What are key traits of an effective leader?
"An effective leader is confidence inspiring, conducts themselves with personal and professional integrity, and most importantly, understands that the success of their organization is based on the strength of their team."



Catherine Allen-Carlozo


Investor coach, HFM Investment Advisors
For more than 30 years, Allen-Carlozo has worked in the financial profession, developing and implementing comprehensive financial plans and helping business owners and families achieve their dreams and goals. It is her passion to change the conversation about personal finance for women from "I hope that I can" to "I know that I will" in order to help them experience lasting financial freedom. She strives to cultivate long-lasting relationships and bring peace of mind to every client. Allen-Carlozo is a former president of SouthJersey Women in Business, a member of NAWBO, the Society of Financial Service Professionals and the Financial Planning Association.

What are the key traits of an effective leader?
"The attributes of an effective leader are the courage to take risks, the integrity to do the right thing when no one else is watching, the humility and self-awareness of their limitations, the tenacity to follow their dreams, the curiosity to always be learning, the focus and passion to achieve results, the ability to evaluate situations and treat people fairly and empathy toward the needs of others."



Melissa Govette


Senior relationship manager, vice president, M&T Bank
Govette has 15 years of experience in commercial real estate lending, valuation and underwriting. She has expertise across all real estate asset classes with a focus in tailoring banking solutions to meet the unique needs of her real estate development clients. Govette serves on the executive board of Spark, an organization dedicated to mentoring Philadelphia middle school students, and as co-chair of the membership committee and on the advisory board of the Urban Land Institute-Philadelphia Chapter. She is also a past president and member of the leadership team of WIN-Philadelphia, M&T's women's resource group dedicated to cultivating strong relationships with female business leaders and mentoring the next generation of M&T women.

What are the key traits of an effective leader?
"Key traits of an effective leader are being authentic, always curious, never condescending, having the courage to make a decision with imperfect information, passionate about the team's well-being, integrity to do what is right even when no one is watching and being accountable for achieving results."



Sharon Tsao


Chief Marketing Officer, Contemporary Staffing Solutions (CSS)
Contemporary Staffing Solutions has been providing talent and client service solutions for contingent and direct hire services since 1994. As a strategist with the CSS, Tsao collaborates with the president and COO on long-term enterprise business strategy, successfully leading the company through prosperity and crisis. She helps manage therisks of finance and people to create a platform of growth in a competitive landscape.

What are key traits of an effective leader?
"Leaders build relationships, have a true passion for the 'why' factor, drive culture intentionally, are curious, fearless about disruption, have self-awareness, [are] open-minded to change, mindful of their industry and the economy, know their fiduciary responsibilities, empower others and are never self-serving."



Manuela Morais


Principal, Morais Law
A community advocate with more than 20 years of experience in immigration law, Morais represents a broad clientele base ranging from individuals through start-up businesses to Fortune500 corporations. She has served as an adjunct professor at the University of Pennsylvania Law School and regularly provides internships within her practice. A member of various professional associations, Morais is also active inthe community and in mentoring other entrepreneurial women and young girls. She is a founding partner and sits on the board of directors at Women Owned Law, a national networking group for women-owned law and legal services firms, where she leads several steering committees. She is also partof the boards of directors of the Girl Scouts of Central & Southern New Jersey and the Rotary Club of Moorestown.

What are the key traits of an effective leader?
"First and foremost, an effective leader must recognize the value of, have trust in, support and reward good staff. For me, it is important to build a sense of shared purpose among the firm's employees across all skill sets and job roles. I believe strongly that leadership is not about always being correct or being the most authoritative. It isabout setting an example for your organization and being willing to work hard, learn and trust."

Kimberly J. Ayres
Senior vice president of economic development, Cumberland County Improvement Authority
Ayres is known for creative solutions to leadership and development challenges and working collaboratively, and has spent the past 35 years as a public administrator within the local government sector and higher education. She held numerous planning and economic development positions with the city of Millville—establishing the Glasstown Arts District, Maurice River waterfront improvements and neighborhood redevelopment districts. Ayres has served in interim positions as vice president and CFO at Cumberland County College where she continues as an adjunct professor of sociology. She holds a Ph.D. from the University of Delaware in public affairs and is active in many Cumberland County nonprofit organizations.

What does being a successful businessperson mean in your eyes?
"A successful businessperson competitively pursues their passion—something for which they care deeply; they patiently accumulate small wins while learning from failure, share them with their colleagues and engage in their community to be part of a bigger picture. Being respected by colleagues and competitors is definitely a sign of success."

Denise DiPaola
Vice president and business development officer, Parke Bank
In this role, DiPaola provides exceptional customer service, knows her business customers and builds long-lasting relationships. She is passionate when it comes to her customers, ensuring she understands their business, their vision and their business needs. She works alongside her business customers to achieve success and helping them find new ways to increase revenue and cut costs. DiPaola serves on the corporate sponsorship committee for NAWBO—the National Association of Women Business Owners.

What's the best business advice you were ever given or gave to someone else?
"The best business advice I have given is to choose to work for a company that you truly believe in; whose culture, brand, and most importantly, leadership, align with your values. The leadership has a direct influence on your journey with the company as well as playing an important role in your future. The relationships and the people you surround yourself with every day directly impact your work life."

Dr. Jacqueline Galbiati
Vice president of institutional advancement, research and strategic initiatives, Camden County College
Galbiati has a passion to help underserved populations succeed and wants to continue to help others complete their goals in life. She began her tenure at Camden County College as the dean of math, science and health careers, and previously served as the vice president for academic and student services at Cumberland County College. Her recognitions include the New Jersey Council of Community College Spirit Award and NJ Congressional Recognition in 2016 for her successful work with community colleges. She has led several local, regional and statewide initiatives including overseeing the successful implementation of a $2 million U.S. Department of Education Strengthening Institutions grant, creating a campus-wide initiative on structured academic pathways to keep students on track to degree completion and establishing a Center for Academic Student Success championing the achievement of at-risk students.

What is the best business advice you were ever given or gave to someone else?
"The best advice I was given very young into my career was to always be true to yourself. I believe that all decisions need to be made in the best interest of the organization and always keeping in mind who we serve as stakeholders. For example, in higher education, we must always remember we serve the students and community and strive to lead them to success."

Amy L . SantaMaria
Principal, Kaplin Stewart
SantaMaria's practice involves representation of individuals and businesses in litigation relations to contracts, leases, secured transactions, loan enforcement and enforcement of creditors' rights in both state and federal courts. A portion of her practice focuses on representation of creditors in bankruptcy matters. She specializes in addressing the specific needs of each client and resolving matters in a creative and practical manner. SantaMaria received her juris doctorate in 1996 from Temple University School of Law where she graduated cum laude.

What does being a successful businessperson mean in your eyes?
"Being a successful business-person means learning new things constantly, welcoming new challenges every day and working diligently and passionately to find solutions or resolutions."

Christi Gallagher
Principal, Friedman LLP
Gallagher has more than 10 years of experience in public accounting and specializes in tax compliance and planning and consulting services for high net-worth individuals and their closely held businesses. She also has expertise in federal and state estate tax compliance and planning, and representing and guiding clients through complex Internal Revenue Service and state tax audits. Gallagher is a member of the American Institute of Certified Public Accountants.

What does being a successful businessperson mean in your eyes?
"I measure my success based on how positively I can affect change and benefit others throughout my community. I take championing the causes of others, whenever possible, to be an opportunity to pay it forward. Further, a person's reputation speaks volumes for how they see themselves and the respect they elicit from others. In essence, a 'successful businessperson' is self-assured, committed to uplifting others and cause-driven."



Joan Carroll


Chief human resources officer, executive director of operations, South Jersey Radiology Associates (SJRA)
After earning her bachelor's degree from Fordham University, Carroll started her career at Marsh & McLennan Companies as a senior benefits administrator at their New York City headquarters. During her tenure, she earned a master's degree in human resources from the New School for Social Research. Carroll joined South Jersey Radiology Associates in 2000. At the time, SJRA was experiencing explosive growth and she was instrumental in establishing its corporate office divisions of human resources, operations and marketing. She is proud of her part in the growth of the company and its commitment to providing excellent care to patients and promoting an excellent environment for staff, allowing them to flourish in their jobs.

What's the best business advice you were ever given or gave to someone else?
"Over the years I have been fortunate to have had excellent role models and mentors. Each one has contributed sage advice starting with the counsel to never compromise one's principles. I have also learned that you have to truly understand your organization and the work your employees are tasked to do. You have to prepare—do your homework, and admit when you don't know the answers. Don't ever be afraid to ask questions."

To read the digital edition of South Jersey Biz, click

here

.



Published (and copyrighted) in South Jersey Biz, Volume 9, Issue 2 (February 2019).

For more info on South Jersey Biz, click

here

.
To subscribe to South Jersey Biz, click

here

.
To advertise in South Jersey Biz, click

here

.

Author:

Julie Shannon
Archives
---
Who's Who in Health Care
Out & About
QB Ronnie Borden is Back in the Game
Should fans be worried for the Phillies bullpen?
South Jersey Football Games of the Week
A look at South Jersey's Top H.S. Girls' Soccer Teams
Out & About
Eagles will be fine after close call in opener
High School Football Games of the Week
Is it Super Bowl or bust for the Eagles?
What's New in South Jersey?
From New Jersey to Nashville
Frustrating times for Millville's Mike Trout
High School Football Games of the Week
Hammonton's Kenny Smith off to a quick start
More...