A Gathering of Basketball All-Stars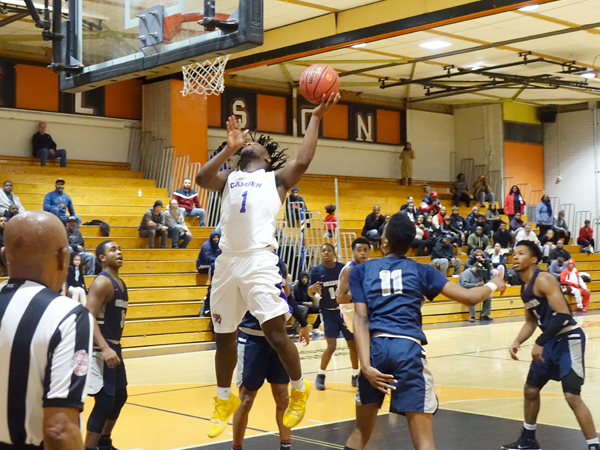 The top eight graders and senior basketball players will gather together for one last time in their careers for two all-star games on Sunday at Rutgers Camden.
At 1 p.m. is the Tim Lenahan Memorial grammar school game, followed at 3 by the Albert J. Carino Boys' Basketball Club of South Jersey senior all-star games.
Many of the players who appear in the eighth grade game eventually return to compete as high school seniors to the all-star event.
What is great about this event is that there are some players who still have not made a college choice and there are usually several college coaches in attendance. One of those players is 6-7 senior Dan Fleming of Haddonfield, who was the leading scorer for the Group 2 state champions, averaging 16.3 points.
Proceeds benefit the Lions Club of South Jersey, a great cause in a game that serves as a celebration for another great season in South Jersey basketball.
Kyree Myers 5-10 Glassboro
William Pollick 5-11 Kingsway
Josh Wright 5-11 Cape May Tech
Darnell Demby 6-2 Deptford
Sean Miller 6-0 Timber Creek
Rynell Lawrence 6-1 Millville
Jake McGonigle 6-1 Wildwood Catholic
D.J. Campbell 6-2 Vineland
Marcellus Ross 6-3 St. Joseph
Connor Deveney 6-4 Shawnee
Jacob Valeus 6-5 Pleasantville
Charles Solomon 6-7 St. Augustine
Zion Teague 6-8 Atlantic City
Coach:
David DeWeese, Wildwood Catholic
Babatunde Ajike 6-5 Camden Catholic
Brian Burns 6-2 Haddon Township
Mike DePersia 5-11 Haddonfield
Nick Cartwright-Atkins 6-2 Moorestown
Anthony DiCaro 6-2 Cherokee
Dan Fleming 6-7 Haddonfield
Carl Gibson Jr. 6-2 Cherry Hill East
Mattia Morini 6-6 Bishop Eustace
Uche Okofor 6-7 Camden Catholic
Connor Regan 6-5 Gloucester Catholic
Dorien DePina 6-0 Clayton
Coach:
Tony Devlin, Paul VI
EIGHTH GRADE ALL-STAR ROSTERS
Andrew Crawford 5-2 St. Rose of Lima
Ian Gross 5-5 Beck Middle School
Liam Gorman 5-6 Good Shephard
Latreil Bullock 5-6 Voorhees Middle School
Zyaire Gaffney-Fleming 5-8 Woodland Middle School
Noah Payne 5-9 Voorhees Middle School
Jordan Underwood 5-9 Camden Promise
Stephen Ehrlich 5-9 Harrington Middle School
Ky Gilliam 5-10 Uptown Complex, Atlantic City
Tekie Clark 5-10 Harrington Middle School
Kylef Barfield 5-11 Camden Promise
Matt Augustin 5-11 Beck Middle School
Lucas Flynn 6-1 Rosa Middle School
Tim Scarch 6-2 Collingswood Middle School
Collin Guerry 6-3 Harrington Middle School
Head Coach:
Robert DePersia, VP South Jersey Boys' Basketball League
Semaj Bethea 5-3 Kipp Norcross of Camden
Jarron Solomon 5-5 Woodbury Middle School
Ayden Hagan 5-5 Gateway Middle School
Joel Blamon 5-6 Cinnaminson Middle School
Owen Denton 5-6 Williamstown Middle School
Josh Dockery 5-8 Rohrer Middle School
Julian Shorts 5-8 Woodbury Middle School
Reggie Seldon 5-9 Delsea Middle School
Joshua Eli 5-10 Monogahela Middle School
Michael Evans 5-10 Winslow Middle School
Rocco Pellegrini 5-11 Nehaunsey Middle School
Zach Cruet 6-1 Gateway Middle School
Kahlil Ali 6-1 Pheifer Middle School
Deuce Mutts 6-1 Harrington Middle School
Tieenan Blesi 6-4 Indian Mills
Article continues below
---
advertisement


---
Coach:
Robert Ridarelli – President SJ Boys' Basketball League



© SouthJersey.com 2019. All rights reserved. This article or parts thereof may not be reprinted or reproduced by any other party without the express written consent of SouthJersey.com. For more information, please call 856-797-9910.
Author:
Marc Narducci; Photo by Marc Narducci
Archives
---
Who's Who in Health Care
Camden County College welcomes Baseball Hall of Fame
South Jersey Football Games of the Week
Out & About
QB Ronnie Borden is Back in the Game
Should fans be worried for the Phillies bullpen?
South Jersey Football Games of the Week
A look at South Jersey's Top H.S. Girls' Soccer Teams
Out & About
Eagles will be fine after close call in opener
High School Football Games of the Week
Is it Super Bowl or bust for the Eagles?
What's New in South Jersey?
From New Jersey to Nashville
Frustrating times for Millville's Mike Trout
More...