Cherry Hill East's Gibson Shines in All-Star Game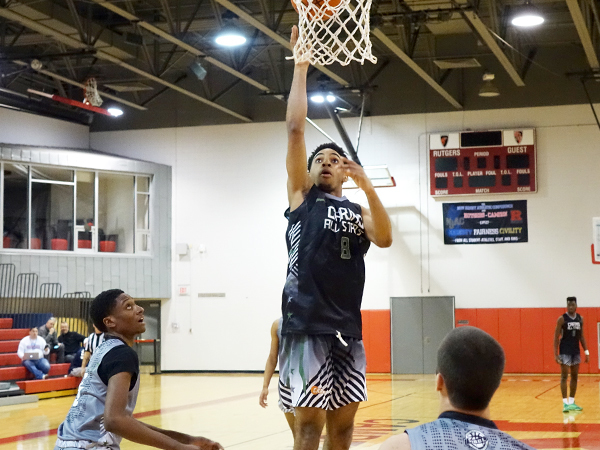 Carl Gibson Jr. enjoyed an outstanding senior season at Cherry Hill East. The 6-foot-2 guard was rewarded by being selected to the Albert J. Carino Boys' Basketball Club of South Jersey Senior All-Star Game.
Gibson took advantage of the opportunity to the fullest. While his team didn't win the game, Gibson departed with some impressive hardware during the event, which took place on Sunday at Rutgers Camden.
He was awarded the team MVP for the West, which fell to the East 123-114. Of course, final scores in all-star games don't mean much. It is all about showcasing talent and simply having a good time after being rewarded for an exemplary season.
As for the having a good time, Gibson was all in on that. He scored a team-high 23 points, hitting seven three-pointers.
"It was extremely exciting," Gibson said. "Coming out here, I would never expected it. "I had a great time, the atmosphere was great and I am glad I was here."
Gibson hasn't made a college decision yet, so it certainly doesn't hurt to have an MVP trophy on his resume. He always plays with great confidence, but in an all-star setting there is always a question on how well one will fare against the area's best seniors. The fact that Gibson came out firing so accurately was a big boost.
"Once you get hot, the confidence always goes up," he said.
Even without the stellar performance, his credentials as a senior were impeccable.
Gibson averaged 20.6 points per game for a Cherry Hill East team that went 14-13 and earned an opening round South Jersey Group 4 playoff win over Vineland before being eliminated by eventual sectional champion Cherokee.
In that 72-59 opening playoff win over Vineland, Gibson scored 31 points. As a senior he was a consistent scorer, reaching double figures in every game.
Gibson scored 20 or more points 14 times. He had a season-high 35 points in an 80-65 win over Highland.
He twice scored 32 points, in a 66-56 win over Woodrow Wilson and in a 59-47 victory over Clearview. Cherry Hill East needed Gibson to score and he was able to deliver.
As he showed in the all-star game, three-point shooting was a specialty. He connected on 53 three's as a senior.
In the all-star game, it was not only impressive that he hit seven threes, but some of them came well beyond the NBA three-point distance.
Gibson has a quick release, which makes it difficult to block his shot. He is also an adept ball handler and can create his own shot off the dribble.
It all added up to an impressive final showing while representing his high school, which he took great pride in doing.
"It was great playing for Cherry Hill East," he said. "Coach (Dave) Allen is a great coach and I am very appreciative of all he did for me."
And East in turns appreciates the type of season Gibson provided. The Cougars as usual, played an ambitious schedule as a member of the Olympic Conference American Division, which was won by Cherokee.
As an MVP in an all-star game, Gibson couldn't have scripted a better ending to his career.
"This is a very good award to have," he said while clutching the MVP trophy.
And it was one that was well earned by making one impressive shot after another.

Article continues below

---
advertisement


---
© SouthJersey.com 2019. All rights reserved. This article or parts thereof may not be reprinted or reproduced by any other party without the express written consent of SouthJersey.com. For more information, please call 856-797-9910.


For more Local Sports features, visit our
South Jersey Sports
page.
Author:
Marc Narducci; Photo by Marc Narducci
Archives
---
Egg Harbor Township Football Showing Great Improvement
Phillies face a difficult, but not impossible final week
Continuing the Difficult Climb
South Jersey Coronavirus (COVID-19) Developments - Booster Shots (September 27)
South Jersey H.S. Football Games of the week
Something to Build On?
Who's Who in Real Estate
Colonial Liberty is highly competitive in South Jersey Girls' Soccer
South Jersey Football Games of the Week
South Jersey Coronavirus (COVID-19) Developments (September 20)
Still way too early for Eagles conclusions
Sixers and Ben Simmons have plenty of training camp intrigue
Best of Home and Garden
Top Physicians 2021
Back to School
More...