On the Front Lines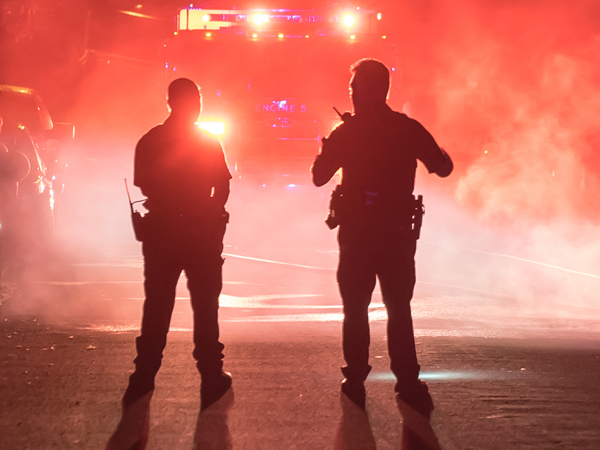 When it comes to mental health treatment, first responders are still fighting the stigma.

"We see people on their worst day. Children, people in car accidents. You take it home with you and at night yousee it in your dreams."

Kim Berdine has been serving in emergency medical services (EMS) for 27 years. Also a nurse, Berdine felt her life's mission was to help people.

Lately, she feels some of the people who need the most help are her fellow first responders.

A recent study by the Ruderman Family Foundation reveals that police officers and firefighters are more likely to die by suicide than in the line of duty. PTSD and depression rates among them are also as much as five times higher than within the civilian population.

"[The trauma] takes a mental toll on everyone. People handle it differently. Some people drink, or get quiet, they might eat too much or not eat at all or take breaks from the job," says Berdine. In a country already facing a mental health crisis, first responders witness what happens when patients are brought in for treatment during a crisis. "Seeing how they get treated doesn't exactly promote us wanting to talk to anyone about what we may be dealing with," she says.
Article continues below
---
advertisement


---


The topics aren't exactly fodder for the dinner table either. "It's not uncommon for an officer who is dealing with trauma toprotect their home. They don't come home and talk about work, in essence to protect their family, but what happens is they wind up emotionally disconnecting from loved ones. They start to become isolated, they drink, they may become involved in an affair. It's a common cycle that happens," says Michael Bizzarro, Ph.D, LCSW, director, clinical services for first responders at Penn Medicine's Princeton House Behavioral Health.

Founded six years ago, this center was the first in New Jersey to provide inpatient addiction and mental health services specifically for first responders, providing treatment plans, nursing care, group and individual therapy, family therapy and education, in addition to other services.

"Historically, a lot of officers or first responders were not typically treated in New Jersey," says Bizzarro. "They were sent out of state; a majority were sent to Florida. We needed a place in New Jersey that was skilled enough to address these issues. Six years later we've treated almost 1,200 first responders.

Although Bizzarro is now the one providing counseling to first responders, he isuniquely in-tune to their struggles because he has walked in their shoes. A former police officer, Bizzarro unwound at the end of the day by grabbing drinks with fellow officers. Social drinking turned into alcohol abuse and everything in his life went downhill, leading to the loss of his family and what Bizzarro describes as a sort of mental torture of self-loathing. One night he sat in his apartment with a 9 mm, figuring suicide was the only way to stop the pain. Then he suddenly had a thought that said, "If you do this, you will stigmatize and scar your son for the rest of his life."

He entered a 12-step program and turned his life around. Now he wants first responders like him to know that there is a safe space to turn. "That is a challenge in this profession and PTSD. Not many want to admit there is anything wrong," he says. "They are in the mindset of honor, integrity, bravery and service to others. They are there to help you and nothing can be wrong with them. To comprehend they could have a chink in their armor is challenging."

The term PTSD might initially be correlated with the military, but one doesn't need to have been engaged in a war to experience the symptoms.

"PTSD can be caused by a culmination of events—could be a fatal shooting, responding to a domestic violence event where someone is killed or seriously hurt, or a fatal motor vehicle accident. Or going into a home where a 3-year-old fell into a pool and drowned and you hear the screams of the family, then you go home to your own child and it becomes personal," says Bizzarro.

The screams and the crying are something Jim Sweeney, a paramedic, tries to avoid. "If a patient doesn't [survive] by the time we get to the hospital, I don't want to be there when the doctor delivers the news," he says. "I don't want to hear the screaming and the crying." When treating patients, Sweeney says he tries to avoid looking into their eyes, and if they are deceased he won't look at their face. He realizes this may sound cruel or unusual, but it's a coping mechanism he uses to distance himself from the trauma.

These "tricks" sometimes work, and sometimes don't. In his 24 years of service as a first responder, Sweeney's personal life has taken a toll. It was food that became his vice—not alcohol or infidelity—causing him to weigh more than 400 pounds at one point. He is twice divorced and says it's hard to have a social life between working two full-time jobs. Marital strife contributed to his depression and at the darkest time in his life Sweeney confesses to suicidal thoughts.

"For the longest time I didn't think this stuff was bothering me. My thought was, as long as I did everything [to save the patient] and give them a chance— if they died it was their time. There was a higher power at play," he says.

Sweeney did complete a six-month outpatient program and has since had gastric sleeve surgery for his weight. But the feelings are always there under the surface. "I can tell things are starting to get to me when I start getting tired. I over-think everything, I don't trust anyone," he says. "I never take it out on my patients but I'm not fun to be around."

PTSD does not always look the same from person to person. "PTSD can manifest itself in intrusive thoughts, when the incident continues to play in your mind and it's a challenge to stop. It can also cause nightmares, lack of sleep, night terrors, avoidant behavior—which is to avoid situations and places that could trigger those thoughts or memories," says Bizzarro. "PTSD is like being in a constant state of fight or flight, even when there is no threat. It's like the fight/flight switch is not working.

"Symptoms could also be negativity, mood swings, and a diminished interest in things that used to be important. It's not uncommon to start abusing substances, and flashbacks are common. There are quite a bit of symptoms and you have to exceed 30 days in order to meet the PTSD diagnosis. The first 30 is acute stress disorder," he continues.

The disparity of PTSD and mental health screening and treatment for first responders is a frustrating topic for those working in the field. Victoria and Eric Hicken, founders of Mission Hope NJ, are hoping to change this. Victoria, a registered nurse, and Eric, a paramedic for over 30 years who also was in the military, saw a lack of support services for first responders when it comes to mental health.

They had noticed the spike in suicides throughout New Jersey, and when one suicide impacted them personally, it led them to join the American Foundation for Suicide Prevention Overnight Walk in Philadelphia. That experience and realization of the rampant mental health issues among first responders was the catalyst for Mission Hope NJ.

In any diagnostic journal, she says, military personnel and first responders are listed side by side as the most high-risk population for PTSD. "When military [personnel] do their time, they are screened for PTSD when they return and they have access to services where it's addressed and treated," Victoria says. "First responders can spend their entire career—25-45 years— and have nothing, no one to go to. There are so many people struggling with these symptoms, but being diagnosed is not easy. The symptoms need treatment without being diagnosed."

New Jersey became one of the few states to offer workers' compensation coverage for PTSD after a dispatcher fought to have her PTSD covered by insurance. However, this doesn't make first responders any more likely to come forward.

The Hickens say there are risks involved. "There is a stigma still in the community," saysVictoria."The symptoms could interfere with your ability to work, and if they find out you have issues, they could pull you off the truck."

Bizzarro says this goes for police officers too. "If you come forward and say you are depressed, aren't sleeping or have anxiety, then you become a liability to the department and your partner. [The administration] will handle it and send you to talk to someone for a 'fit for duty' evaluation by a doctor hired by the department," he says. "If you are found to be unfit with a series of recommendations, in all likelihood your weapon is removed. It's demoralizing and counterproductive on promoting an environment of getting help."

More than anything, the stigma of mental health needs to be lifted. Sweeney, who is now also involved with Mission Hope NJ, says when he was coming up in the field, these issues were never discussed. "If something bothers you, you had to suck it up and keep going," he says. "It has changed for the younger ones, but the older ones still have that old mindset."

Berdine, who is the chief of her squad, says she has noticed a shift but it needs to be bigger. "I have an open-door policy. If you're struggling, you can come and talk. We're very watchful of our members, so if we notice someone is short-tempered, we'll call them in and pull them off the truck for a break," she says.

She is also comforted by organizations like Mission Hope, whose number is prominently posted. The group has come out to speak to her squad, offering support and stress relief. "Not many squads want to talk about it, but I put it out there and force us to talk about it," Berdine says. "One of the first lessons we learn is that our safety comes first and part of that is our mental capabilities. If you can't take care of that, how can you take care of others?"

Mission Hope is available 24 hours and has health care providers available over the phone no matter what time. In addition to providing mental health education, they also offer people a way to get treatment anonymously. "Through our Foot in the Door program, we will cover the first two visits to a mental health professional, no questions asked," says Victoria.



New Jersey also offers a fair amount of support resources, many of which it pioneered, including Cop2Cop, a 24-hour helpline for law enforcement officers in the state. Currently, a bill co-sponsored by Sen. Fred Madden (D-Camden/Gloucester) is making its way to the Senate that would establish a crisis hotline for firefighters and EMS employees.

"Emergency service workers and firefighters are heroes in our communities and are there for us during some of the most traumatic moments in our lives," says Madden. "Being exposed to such terrible events can cause many in these fields to develop PTSD. This hot-line would ensure that our heroes have someone to turn to that could provide them with the assistance they need."



Bizzarro is encouraged that the climate to provide mental health services under the new state Attorney General is changing, especially with the implementation of the Early Warning System, a statewide mandatory system that can identify and remediate problematic officer conduct that poses a risk to the "public, to the agency and to the officer."

"I think on some level, there continues to be a lack of education on parameters that contribute to PTSD and trauma," he says. "On the psychiatric side, there needs to be more knowledge about the culture. They see the patient but not the community and the stressors the officer has to deal with. The stressors continue with body cams and being monitored 24/7 no matter what you do. You need to resolve a situation in a split second when someone can take an hour to review your actions."

Sweeney says as first responders, they are trained to advocate for the patients, but it needs to go further. "We're human. It's OK to have these issues," he says. "The only way to get through this is for someone to open up, whether it's their third week or 30th year. … You have to advocate for yourself."

To read the digital edition of South Jersey Magazine, click

here

.



Published (and copyrighted) in South Jersey Magazine, Volume 16, Issue 1 (April 2019).

For more info on South Jersey Magazine, click

here

.
To subscribe to South Jersey Magazine, click

here

.
To advertise in South Jersey Magazine, click

here

.

Author:

Liz Hunter
Archives
---
Who's Who in Health Care
Former Shawnee star Doolittle Calls It A Career
Camden County College welcomes Baseball Hall of Fame
South Jersey Football Games of the Week
Out & About
QB Ronnie Borden is Back in the Game
Should fans be worried for the Phillies bullpen?
South Jersey Football Games of the Week
A look at South Jersey's Top H.S. Girls' Soccer Teams
Out & About
Eagles will be fine after close call in opener
High School Football Games of the Week
Is it Super Bowl or bust for the Eagles?
What's New in South Jersey?
From New Jersey to Nashville
More...