Palate: Eating Local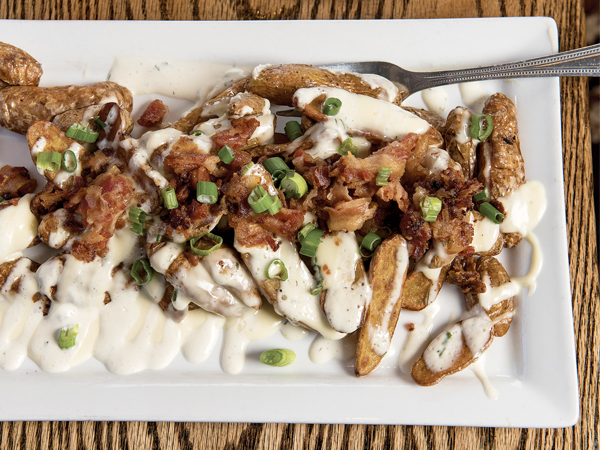 The Local Eatery and Pub has made itself right at home on Mount Holly's main drag.

There is always something to see on High Street in Mount Holly, which has long been regarded as a hub for local artisans. Between the craft breweries dotting the area and the privately owned shops and boutiques, people come looking for unique experiences for all the senses.

The Local Eatery and Pub has made itself right at home on Mount Holly's main drag. Now at about two and a half years old, it's safe to say that owners Derek Little and Callum Satchel have settled into their space, which has always been part of Mount Holly's locavore vibe, even back when it was formerly known as High Street Grill.

When High Street Grill shuttered in 2014, beer fanatics and foodies alike were left wondering what was next. The Local appeared at the start of fall 2016, bringing with it an impressive drink list and Americana-style menu with international influence. That means you'll find burgers and sandwiches alongside a chef-created ramen bowl, with original cocktails and a world of wine and beer.
Article continues below
---
advertisement


---


The space itself hasn't changed much since the High Street Grill days: a narrow, two-floor eatery with a long bar running down the first floor and more private dining tables upstairs. It's a tight squeeze downstairs, but a rotating tap list in the middle of a craft beer haven means you're always bound to be in good company. Upstairs, meanwhile, gives you more elbow room thanks to traditional dining tables covered in brown paper for a rustic touch.

Little and Satchel have embraced Mount Holly's small-town vibe and offer specials all year to match whatever festival or event is happening at that time, and you can find live music downstairs regularly. Tables were full on the Saturday night we stopped in, with servers buzzing between floors and the kitchen.

The atmosphere is warm and welcoming, though that comfortability did hurt our actual dining experience. Our table put in an order of two appetizers, but only one made its way to our table that night, the other getting lost in transit and ultimately left out of this review.

With that in mind, drinks were the first thing to arrive. The craft beers had a great local offering, including many New Jersey favorites you love andsome new ones to try. The cocktail list added a slight twist to familiar standards, like the Strawberry Mule, which replaced the traditional vodka in a Moscow Mule with white rum and added fresh muddled strawberries to the mix. It was just the right bit of added sweetness and was perfect for sipping.

The meal started with a plate of fingerling potatoes, which seemed to dot every table in the room and stood out as a must-try. Sliced fingerlings were roasted, then finished off with chopped scallions, a house-candied bacon and a mix of ranch and cheddar cheese sauce. The potatoes were creamy in the middle with a bit of crispiness to the exterior, paired with perfect chunks of sweet and salty bacon. Every flavor on the plate was considerate and harmonious and left the whole table wanting more.

Another dining room favorite was an entrée of the chicken pot pie. Bite-sized chicken pieces, carrots, celery, onions and herbs are stewed in a creamy sauce, spooned into a bowl and topped with a generous square of puff pastry. The stew was packed with herbaceous flavor, with a huge hit of thyme coming through in every bite. And the puff pastry secured itself as a star, staying perfectly crisp even when it sopped up all the saucy flavors that lay beneath.

Sandwiches and burgers make up about half of the menu, with The Local Burger appearing as their signature selection. A beef patty is ground in-house, grilled and topped with cheddar, crispy bacon, a fried egg and a mayo-based "Local" sauce on a squishy brioche roll. The perfectly cooked egg made a great first impression, with the yolk bursting just right over a nicely medium rare patty, resulting in the perfect messy burger bite.

The night ended there, as we weren't offered a coffee or dessert menu, though I was later told by other diners that end of meal options are available. While the service hiccups were a disappointment, there were still bites—and sips—that linger in my mind, and the neighborhood vibe of the restaurant continues to attract crowds looking for quality food and drink in a relaxing setting.

The Local Eatery & Pub
64 High St. | Mount Holly
609-784-8684 | TheLocal-NJ.com

To read the digital edition of South Jersey Magazine, click here.

Published (and copyrighted) in South Jersey Magazine, Volume 16, Issue 1 (April 2019).

For more info on South Jersey Magazine, click here.
To subscribe to South Jersey Magazine, click here.
To advertise in South Jersey Magazine, click here. Author:

Erica Young; Photography By Jeff Anderson
Archives
---
Who's Who in Health Care
Tight Race in Boys Soccer Colonial-Liberty Division
Should Eagles fans worry over recent wins?
South Jersey Football Games of the Week
Former Shawnee star Doolittle Calls It A Career
Camden County College welcomes Baseball Hall of Fame
South Jersey Football Games of the Week
Out & About
QB Ronnie Borden is Back in the Game
Should fans be worried for the Phillies bullpen?
South Jersey Football Games of the Week
A look at South Jersey's Top H.S. Girls' Soccer Teams
Out & About
Eagles will be fine after close call in opener
High School Football Games of the Week
More...