Hard-Hitting Paul VI Takes Early Softball Lead in the Olympic National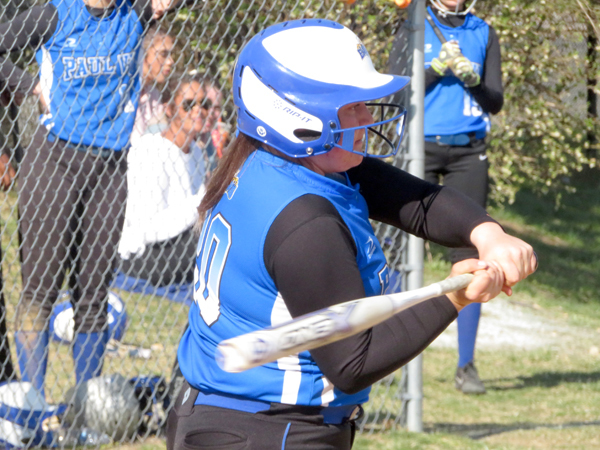 The Olympic Conference National Division has fueled some great rivalries and softball is no exception. This year's race seems especially up for grabs although Paul VI has taken an early lead with some huge wins.

The Eagles began the week with a 7-4 overall record and a 4-0 mark in the division.

Among National Division teams, the Eagles two biggest wins have been over Seneca and Cherry Hill West.

Both teams were considered preseason contenders and even through the first few weeks of the season, nothing has changed.

What both found out in their initial meeting with Paul VI is that the Eagles have an offense that is difficult to stop.

Paul VI, which doesn't have a senior on the team, beat Seneca 17-11 and Cherry Hill West 11-6. In the win over Seneca, Paul VI had some outstanding performances, especially by players from a highly touted freshman class.

Freshman shortstop Alexa Lee went 3 for 4 with a home run and four RBI. Classmate McKendamin Champion was 3 for 4 with three runs scored.

Incredibly, Champion also pitched a complete game against a potent Seneca offense, where senior Madison Melvin went 4 for 5 with a run scored and RBI.
Article continues below
---
advertisement


---


In the win over West, catcher Morgan Fisher went 3 for 4 with a home run and 3 RBI.

Seneca began the week 4-2 and 2-1 in the National and its most impressive early-season win was an 8-7 triumph over Group 4 Eastern in a game Melvin again went 4 for 5.

Two key games to watch for Seneca, April 23 at Cherry Hill West and May 3 at Paul VI.

One team that is usually in the hunt and could still find itself there is Bishop Eustace. The Crusaders only played one division game in the first two weeks, beating Winslow Township, 20-0.

The other teams in the division, Camden Catholic and Timber Creek don't figure to contend, although few have played a more difficult early-season schedule than Timber Creek, whose first three National Division games were against Paul VI, Seneca and Cherry Hill West, the three main contenders.

Between now and April 24, Eustace will have games against Seneca and Paul VI so by then it should be known if the Crusaders will join the contenders.

It's awfully early, but Paul VI has set the tone and the after a 7-15-1 season, the Eagles are vastly improved and for right now are clearly in the driver's seat in the National Division.


© SouthJersey.com 2019. All rights reserved. This article or parts thereof may not be reprinted or reproduced by any other party without the express written consent of SouthJersey.com. For more information, please call 856-797-9910.

For more Local Sports features, visit our South Jersey Sports page.

Author:

Marc Narducci; Photo by Marc Narducci
Archives
---
Can't Hack It
Filling a Critical Void
Flyers reshape team
Power 50
A strong showing by South Jersey products in the MLB Draft
Cryptocurrency: Seeing Through the Hype
(Almost) Business as Usual
High school football teams keep a healthy balance during summer workouts
Putting the Success in Succession
Phillies' Realmuto is heating up
South Jersey pitcher is 37th pick in MLB draft
Mainland grad fully enjoys MLB draft
Millville's Kenndy moving up the minor league ladder
Phillies not in a bad position at the All-Star break
Memorable season for Bishop Eustace baseball
More...