Good for Business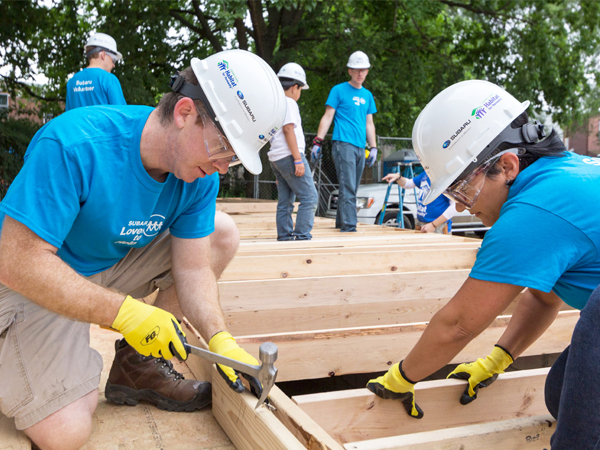 Introducing our first-ever Community Impact Awards.

There are many successful companies in South Jersey, but not all their accomplishments have come from the inside of their workspace. Several have made it their mission to give back to the communities they serve, which is one of the keys to their success. Whether it's supporting local non-profits and other organizations through grants and monetary donations or dedicating a day of volunteer work for their employees, these opportunities are of utmost importance for the staff and the people on the receiving end— working together to ultimately create a better community for all.

It's inspiring to see what these businesses have accomplished, and you may feel motivated to give back in your own way.

We present to you our first-ever Community Impact Awards.

CAMPBELL SOUP CO.
In 2018, The Campbell Soup Foundation launched its new community affairs platform, "Giving that Matters," which aligns with its goal to strengthen and empower healthy communities in Campbell's hometowns. The foundation places particular emphasis on Camden, birthplace of Campbell's flag-ship soup business and home of its world headquarters. As a food company, it is uniquely positioned to leverage its capabilities and expertise to increase food access—which is central to its new community affairs platform, philanthropic investments and volunteerism efforts. With "Giving that Matters," Campbell Soup Co. is no longer exclusively a grant maker that executes individual programs and events; it is becoming a change maker that invests in long-term, sustainable impact. It works to create local impact through bold solutions and systemic interventions in partnership with community members focusing on healthy food access, healthy living and the built environment.
Article continues below
---
advertisement


---


INNOVATIVE BENEFIT PLANNING
Innovative Benefit Planning's core value is to put people first, and it has dedicated itself to making the community a key part of its business by donating time, money and resources. Employees have participated in coat and toy drives, volunteered at local food banks and pet shelters, and made many monetary donations. Innovative Benefit Planning is celebrating its 30-year anniversary this year, and to honor the occasion and pay thanks to the community, it has pledged to give back in 30 ways by the year's end.

FRIEDMAN LLP
Friedman's human-centric approach extends beyond the work it performs through its nonprofit practice. It encourages its leaders to serve on boards and committees, as well as promote employee-inspired initiatives through its corporate philanthropy program, Friedman Gives Back (FGB). Through FGB, the organization supports local, state and national charities by working directly with underserved communities and raising awareness for powerful initiatives, including participating in Cycle for Survival and fundraising for Giving Tuesday. Currently, Friedman is gearing up for "Brave the Shave" on July 10 to support three local organizations— Samaritan Healthcare and Hospice, Alicia Rose Victorious Foundation and Johnny M Foundation.

ATLANTIC CITY ELECTRIC
Atlantic City Electric is committed to giving back to the communities it serves across South Jersey annually, supporting hundreds of organizations through charitable contributions and volunteerism. In 2018, Atlantic City Electric contributed more than $1 million to local nonprofits. These contributions are part of the company's continued commitment to powering communities and being a good corporate citizen for the areas where its employees live and work. Atlantic City Electric's charitable contributions assist organizations that support education, the environment, arts and culture and community development programs. Every charitable contribution from Atlantic City Electric also comes with a dedicated pledge of volunteers. Atlantic City Electric's Powering Communities program helps connect employees with volunteer opportunities throughout the company's service area and recognizes their efforts. Through this program, nearly 250 employees volunteered more than 21,000 hours, a combined 2,600 work days, to benefit about 300 unique organizations throughout South Jersey in 2018.

INVESTORS FOUNDATION
Investors Bank created the Investors Foundation in 2005 to support the communities where its customers and employees live and work. Since then, the foundation has pledged more than $34 million in its commitment to Investors Bank's mission to be a "community" bank that does right by its customers and neighbors. The Investors Foundation works to improve and invigorate the lives of the people in communities it serves by supporting initiatives in the arts, youth development, health and human services, education and affordable housing. Some of the more than 2,000 foundation grant recipients include ArtPride New Jersey, Rainbow Rabbit Educational Services, Gloucester County Habitat for Humanity, Moorestown Visiting Nurse Association, Volunteer Center of South Jersey, Interfaith Homeless Outreach Council and Joseph's House of Camden.

OCEANFIRST FOUNDATION
OceanFirst Bank's commitment to helping families, organizations, schools and communities throughout Central and South Jersey meet their financial needs has spanned generations, reaching new heights in 1996 with the creation of OceanFirst Foundation. Through the foundation, hundreds of local charities and schools have received more than $37 million in grants including more than $2.4 million awarded in 2018. These grants enrich lives in areas such as housing, youth development and education, improving the quality of life, health and wellness, and the arts.

SOUTH JERSEY FEDERAL CREDIT UNION
South Jersey Federal Credit Union (SJFCU) has been a partner in the communities it serves for almost 80 years, providing support to many organizations such as Robins' Nest, Gloucester County NAACP and the MD Anderson Cancer Center at Cooper. It has attended and sponsored events such as Adopt-A-Pet Day, Vineland Hometown Heroes, Glassboro Community Day and the Stockton Abilities Fair Luncheon. In addition to contributions as an organization, its employees have generously donated their time volunteering for projects such as Habitat for Humanity and the Bras for a Cause to support breast cancer. Additionally, SJFCU employees formed their own charitable journey, to which they donate money to different nonprofit organizations selected on a quarterly basis.

HUTCHINSON
Throughout its 60-plus years of serving the South Jersey community and beyond, Hutchinson has practiced a tradition of supporting numerous community nonprofits through its leadership and contributions. Over the years, Hutchinson has made a positive impact on the community by partnering with organizations, serving on boards of directors, providing sponsorships, participating in events and other support. Key partners include the Juvenile Diabetes Research Foundation South Jersey Chapter, the Mount Laurel YMCA and The Joseph Fund of Camden. Hutchinson has received recognition for its unwavering community support. Recently, Ed Hutchinson was recognized as the "Inaugural Honoree" for his outstanding service to the YMCA and the South Jersey community.

FIRST BANK OF ELMER
Since 1903, The First National Bank of Elmer has been tied to the local communities that it serves. Its heritage as an independent community bank incorporates community involvement as one of its primary pillars, and all employees are deeply enriched in community and civic organizations at all levels. The First Bank of Elmer is highly visible with all local chambers of commerce including board positions, committee chairs, fundraising committees and general volunteers and attendees. Other local nonprofit participation includes the Boys Scouts of America, Boys and Girls Clubs of America, Big Brothers Big Sisters of America, M25 Initiative, and the Ike Foundation, to name a few.

NEW JERSEY AMERICAN WATER
New Jersey American Water is dedicated to helping communities be vibrant places to live, work and play by taking an active part in the communities they serve. Through special giving initiatives, in-kind donations, partnerships and volunteering, New Jersey American Water continually demonstrates its commitment to community through unique programs including the Environmental Grant Program—where grants of up to $10,000 are provided for community-based projects that improve, restore and protect source water and surrounding watersheds. Another program is the First Responder Grant Program, where grants up to $1,000 are provided to volunteer emergency service organizations in its service areas for protective gear, lifesaving equipment and training. New Jersey American Water also regularly participates in community events and provides speakers to schools and other organizations, as well as partners with community-based organizations throughout to positively impact the overall quality of life where their employees and customers live and work.

INSPIRA FOUNDATION
To date, almost 1,000 individuals and businesses have pledged more than $18.5 million to the "Invest. Impact. Inspire." campaign. For more than a century, communities in South Jersey have depended on the services provided by Inspira Health that are partially funded by philanthropic giving, impacting countless individuals. Inspira is the lead provider for the New Jersey Cancer Education and Early Detection program, providing more than 1,000 free screenings each year for uninsured and underinsured individuals to help detect cancer early, when it is most treatable. Inspira joined the M25 Initiative by investing more than $172,000 in critical community support for winter warming centers and providing homes and other services for the chronically homeless. To battle prescription drug addiction, Inspira donated 27,000 Deterra drug deactivation pouches to agencies and organizations across the region, safely disposing of more than 2 million pills, including opioids.

SOUTH JERSEY INDUSTRIES
South Jersey Industries (SJI) is proud to partner with the communities it serves, providing more than $500,000 of financial support in 2018 toward STEM education, healthy living, environmental stewardship and safety initiatives. These investments benefited vital community partners, including the Community Food Bank of New Jersey and the American Heart Association, Southern NJ. Additionally, SJI's efforts to foster a culture of caring among its employees resulted in over 1,000 hours of volunteerism during 2018 and a successful annual employee giving campaign that raised $105,000 to support the local and regional United Way chapters across its New Jersey utility service areas.

WOODBURY NISSAN
Woodbury Nissan, a family-owned and -operated business established in 1977, strives to be a valuable part of the community, and giving back is an important part of its business model. Woodbury Nissan shows pride for local police and fire departments by sponsoring the Woodbury Police Department's newest K9 officer, Recon, the Policemen's Benevolent Association of New Jersey and the Helping Hand Volunteer Fire Company of Westville. It also supports Paulsboro High School, Paulsboro Little League and wrestling, and the Woodbury Child Development Center, among other organizations.

SUBARU OF AMERICA
Subaru of America is committed to being a positive force in the communities it serves, not just with donations, but with actions that set an example for others to follow. Subaru works with a diverse range of organizations including those focused on stewarding the environment; providing opportunities for a healthy, hunger-free life to any and all; keeping animals safe and healthy; and making access to education and the pursuit of knowledge available to as many as possible. Subaru has made significant investments in the Camden community where its headquarters is located, and continues to expand its broad community support through nonprofit partnerships, local grants, employer volunteer opportunities, job training and more.

TD BANK
The TD Charitable Foundation supports, respects and improves the quality of life in the diverse communities in which they live and do business. The foundation accomplishes this through its commitment to improve the access to safe, clean affordable housing, economic development and educational opportunities for community members. Additionally, TD Bank created the TD Volunteer Network, an interactive online database featuring charitable organizations where TD Bank employees can sign up for opportunities that align with their skills and causes they care about. Through the TD Volunteer Grant Program, employees who volunteer more than 40 hours annually at a registered charitable organization are eligible to earn a donation of $500 for the organization.

M&T CHARITABLE FOUNDATION
M&T Bank has a 160-plus year legacy of serving as a community-focused and -oriented bank, earning the highest possible Community Reinvestment Act rating on every exam by the Federal Reserve since 1982. In continuing these efforts, M&T has committed significant funding to organizations in the New Jersey neighborhoods and communities it touches. In 2018 alone, M&T assisted over 170 nonprofit organizations with $2.8 million in support, underscoring the bank's commitment to the growth and development of the communities it serves throughout New Jersey.

SURETY CHARITABLE FOUNDATION
Surety Charitable Foundation was formed to focus and manage the resources that the Surety Title Family of Companies dedicates to various charitable organizations. It's their belief that through this vehicle they are able to drive benefits to those less fortunate and serve the community in a multitude of ways. Surety Charitable Foundation donated over $83,000 in 2018 and overall has donated more than $470,000 to various charity organizations. Some of these charities include Milton & Betty Katz JCC, the Seth Nemeroff Foundation, Boys & Girls Clubs, Legacy Foundation, Healing Hearts Foundation, the National Kidney Foundation, Camden Schools Foundation, The Joseph Fund, Evesham Education Foundation, Volunteers of America and The Cooper Foundation.

THE HORIZON FOUNDATION FOR NEW JERSEY
The Horizon Foundation for New Jersey is the philanthropic arm of Horizon Blue Cross Blue Shield of New Jersey. Its mission is to make New Jersey healthier by providing grants and other support to nonprofit organizations that closely align with the foundation's three founding pillars of caring, connecting and creating. Since its formation in 2004, The Horizon Foundation has awarded over 1,500 grants and more than $56.9 million in support of nonprofit organizations that have improved public health and the quality of life in New Jersey. Foundation support to South Jersey nonprofit organizations alone has increased by 130 percent since 2010. The foundation is committed to working alongside others who can help Horizon improve New Jerseyans' health, inform their health decisions and inspire them to lead healthier, more fulfilling lives.

COMCAST NBCUNIVERSAL FOUNDATION
Comcast NBCUniversal Foundation is committed to investing in and providing charitable support to nonprofit organizations and programs across New Jersey and beyond that have a positive, sustainable impact on the communities they serve; programs that align with the foundation's mission to empower communities to thrive by helping to provide and address digital inclusion, digital exploration and digital skills in the workforce.

Since 2011, Comcast has contributed more than $43 million to nonprofits across New Jersey including Boys and Girls Clubs and Easterseals. Its long-standing company tradition that embodies the culture of giving back, Comcast Cares Day, is one of the largest corporate commitments to volunteerism. In 2018 alone, Comcast Cares Day participants in New Jersey volunteered nearly 20,000 hours to make change happen at local schools, parks and community organizations. Additionally, they are committed to bridging the digital divide and have connected approximately 112,000 low-income New Jersey residents to low-cost, high-speed internet service through Internet Essentials.

LOCKHEED MARTIN
Lockheed Martin's mission includes serving as a valued partner to its neighbors and nation. The corporation primarily supports science, technology, engineering and mathematics (STEM) education and military and veteran causes. As part of its efforts to educate and inspire tomorrow's scientists, engineers and mathematicians, Lockheed Martin's approach to STEM outreach includes support for programs and events that focus on student achievement, teacher development, and gender and ethnic diversity. To help give back to those who gave for our nation, Lockheed Martin is dedicated to supporting service members with programs that improve their lives and the lives of their families, enhance educational and training opportunities, and honor their selfless duty to our country. It works with nonprofit partners to honor the legacy of the Armed Forces and the service of veterans, and to encourage greater awareness and appreciation of the military among the civilian population.


To read the digital edition of South Jersey Biz, click

here

.



Published (and copyrighted) in South Jersey Biz, Volume 9, Issue 4 (April 2019).

For more info on South Jersey Biz, click

here

.
To subscribe to South Jersey Biz, click

here

.
To advertise in South Jersey Biz, click

here

.

Author:

Julie Shannon
Archives
---
Staying the Course
On the Move
Biz in Brief
Women to Watch 2021
Take it to the Bank
A Long Shot
Finding Its Way
Close of Biz: Thinking Outside the Cube
On the Move
A Matter of Survival
Steering the Ship: Top CEOs/CFOs 2021
Biz in Brief
2021 Annual Resource Directory
Looking Ahead
On the Move
More Articles