Pass the Popcorn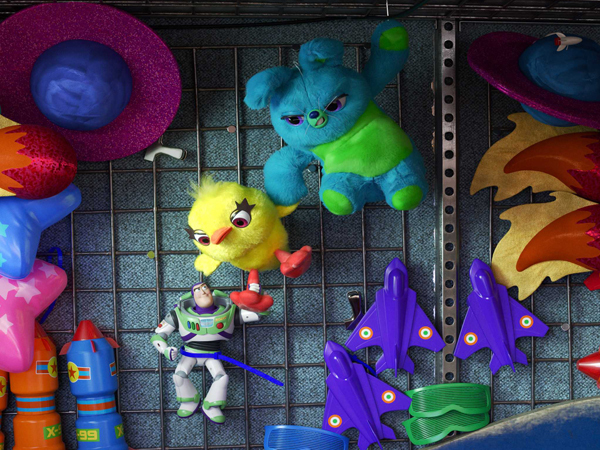 Film critic Bill Wine guides us through the superheroes, animated favorites, action-packed films and more that are ready to rule the box office this summer.

Like most big-screen summer lineups, this one smells of popcorn and sounds explosive. The number of sequels and reboots in the mix tells you either that Hollywood creativity remains in abeyance or that the movie industry is delivering mightily to the more please mindset.

As usual, the warm-weather lineup is front-loaded, so that the earlier a potential summer blockbuster opens, the more likely that it will have a lengthy run at multiplexes. Are the Oscars on viewers' minds yet? Nah. Rarely do Oscar hopefuls emerge from the summer season, that's a November-December issue.

For now, let's take a look at this summer's highest-profile marquee titles to see which films are creating great anticipation as well as those that may have moviegoers dreading the next few months.
AVENGERS: ENDGAME
(Now Playing)
Genre and Plotline
: The direct follow-up to last year's Avengers: Infinity War finds the universe in disarray. So the Marvel Comics superheroes gather once again to restore a little order.
Major Players
: Brie Larson, Bradley Cooper, Scarlett Johansson, Chris Hemsworth, Chris Evans, Josh Brolin, Robert Downey Jr., Elizabeth Olsen, Tom Holland, Paul Rudd, Michelle Pfeiffer, Tilda Swinton, Jon Favreau, Gwyneth Paltrow, Mark Ruffalo
Behind the Camera
: Brothers Anthony and Joe Russo, who directed Avengers: Infinity War, Captain America: The Winter Soldier, and Captain America: Civil War, are back in their respective director's chairs.

Article continues below

---
advertisement


---
Reason To See It
: Ah, summer movies are finally here, and what a splendid and appropriate kickoff to the season this one seems to be.
Reason To Skip It
: The Marvel empire is choking off lots of other Hollywood avenues. No thanks.

Hit or Miss: This guaranteed blockbuster might run all summer.
Genre and Plotline
: A live-action reimagining of the 1992 animated musical comedy classic, starring Robin Williams, about a street urchin and a lamp out of which comes a wish-granting, emceeing genie.
Major Players
: Will Smith, Naomi Scott, Alan Tudyk, Billy Magnussen, Mena Massoud, Nasim Pedrad
Behind the Camera
: At the helm is co-writer Guy Ritchie, among whose directorial credits are Snatch, Lock, Stock, and Two Smoking Barrels, Revolver, Sherlock Holmes,
Sherlock Homes: Game of Shadows
, and The Man From U.N.C.L.E.

Reason To See It: Remember how terrific and hilarious the original was?
Reason To Skip It
: Will Smith in the Robin Williams role? I don't think so.

Hit or Miss: With the bumpy reception that the initial trailer got, this reboot is perceived as risky. But the popularity of the original should help it do business. Big business.
GODZILLA: KING OF THE MONSTERS
(May 31)
Genre and Plotline
: The latest entry in the creature-feature franchise devoted to a large leapin' lizard focuses on a zoological agency of sorts that takes on a lineup of mammoth monsters including the title beastie.
Major Players
: Vera Farmiga, Charles Dance, Millie Bobby Brown, Sally Hawkins, Kyle Chandler, Bradley Whitford, Ken Watanabe, David Strathairn
Behind the Camera
: Director Michael Dougherty, who also co-wrote the script, has previously directed two horror fantasies, Trick 'r Treat and Krampus.

Reason To See It: The predecessor was a pleasant surprise and there are certainly more wrinkles to explore.
Reason To Skip It
: After all these years and all those variations, we're just Godzillaed out.

Hit or Miss: Expectations are modest for the umpteenth Godzilla flick.
THE SECRET LIFE OF PETS 2
(June 7)
Genre and Plotline
: An animated comedy sequel that looks in once again on a dog and his pals, who live a very different kind of existence when their owners leave the house each day.
Major Players
: Patton Oswalt, Kevin Hart, Eric Stonestreet, Jenny Slate, Lake Bell, Ellie Kemper, Dana Carvey, Harrison Ford, Tiffany Haddish, Bobby Moynihan, Hannibal Buress, Nick Kroll
Behind the Camera
: Co-directing the follow-up are The Secret Life of Pets director Chris Renaud (The Lorax, Despicable Me, Despicable Me 2) and debuting Jonathan del Val.

Reason To See It: The first one was thoroughly entertaining with lots of laughs and all those colorful characters, so there's no reason why a second helping shouldn't deliver.
Reason To Skip It
: Another sequel? Whatever happened to the one-to-a-customer principle?

Hit or Miss: The big family audience that flocked to and responded to the 2016 original should be ready and willing for a second unleashing.
Genre and Plotline
: A television dramedy about a late-night talk show host who might be about to lose her long-running show.
Major Players
: Emma Thompson, John Lithgow, Mindy Kaling, Amy Ryan, Hugh Dancy, Ike Barinholtz
Behind the Camera
: Canadian Nisha Ganatra (Chutney Popcorn, Fast Food High), most of whose background is in television, directs from a screenplay by cast member Mindy Kaling.


Reason To See It
: It's one of the summer season's more "grown-up" movies.
Reason To Skip It
: With all the action-oriented fantasies to see this summer, this sounds like an autumn offering.


Hit or Miss
: It might disappear in the summer avalanche of explosive fun.
Genre and Plotline
: A sequel to 2000's Shaft, part of the action-comedy franchise about security expert John Shaft Jr., who turns to his family for help when his best friend dies under mysterious circumstances.
Major Players
: Samuel L. Jackson, Avan Jogia, Luna Lauren Velez, Regina Hall, Matt Lauria, Method Man, Richard Roundtree
Behind the Camera
: Veteran Tim Story (Barbershop, Taxi, Fantastic Four, Ride Along, Think Like a Man) directs.

Reason To See It: This installment offers three iconic detectives for the price of one.
Reason To Skip It
: It's been a long time since the original 1971 "blaxploitation" offering. As the song says, "Can you dig it?"

Hit or Miss: The previous "Shaft" did okay, but that was nearly 20 years ago. Will this one speak to modern audiences? Could go either way.
MEN IN BLACK: INTERNATIONAL
(June 14)
Genre and Plotline
: A science-fiction comedy that extends the Men in Black franchise, offering adventures about the dark-suited protectors of Earth from bizarre, dangerous aliens. This latest chapter involves a mole infiltrating the MIB operation.
Major Players
: Chris Hemsworth, Tessa Thompson, Rebecca Ferguson, Liam Neeson, Emma Thompon, Rafe Spall, Kumail Nanjiani
Behind the Camera
: F. Gary Gray (Friday, The Negotiator, Be Cool, Law Abiding Citizen, Straight Outta Compton) directs.

Reason To See It: Our memories of the popular MIB flicks remain fond. We'll come back for more because funny's funny.
Reason To Skip It
: It's Will Smith and Tommy Lee Jones whom we want to see in this vehicle.

Hit or Miss: If they get the idiosyncratic tone right, this franchise could prosper again.
Genre and Plotline
: The secretly wandering toys are back for a fourth animated adventure as a new toy joins the old gang and they once again hit the road.
Major Players
: Tom Hanks, Christina Hendricks, Keanu Reeves, Jordan Peele, Annie Potts, Tim Allen, Patricia Arquette, Joan Cusack, Timothy Dalton, Keegan-Michael Key, Bonnie Hunt, Wallace Shawn, John Ratzenberger
Behind the Camera
: Josh Cooney makes his directing debut, working from a screenplay by a committee of animation devotees.
Reason To See It
: It follows three masterpieces. Is that a no-brainer or what?
Reason To Skip It
: Well, what about the… Nah, there is none.

Hit or Miss: Are you kidding? The lines are already forming to infinity and beyond.
SPIDER-MAN: FAR FROM HOME
(July 5)
Genre and Plotline
: In this sequel to 2017's Spider-Man: Homecoming—the 23rd comic book-inspired fantasy in the Marvel Cinematic Universe—Peter Parker and his friends travel to Europe for summer vacation and Peter takes on a new nemesis named Mysterio.
Major Players
: Tom Holland, Samuel L. Jackson, Jake Gyllenhaal, Marisa Tomei, Jon Favreau, Cobie Smolders
Behind the Camera
: Director Jon Watts (Spider-Man: Homecoming, Cop Car) returns to the franchise's director's chair.

Reason To See It: Spider-Man continues to compel us in all kinds of formats, and the quality has stayed consistently high. Expect no less in the latest variation.
Reason To Skip It
: I've seen the web-slinging superhero in various incarnations. Enough already.

Hit or Miss: Not only a hit, but they may be hanging a $100 million shingle.
Genre and Plotline
: The classic 1994 musical animated adventure gets a live-action-and-CGI reboot in this animal-kingdom drama.
Major Players
: Chiwetel Ejiofor, Seth Rogen, Donald Glover, James Earl Jones, Amy Sedaris, Keegan-Michael Key, Billy Eichner, Beyonce, John Oliver, Alfre Woodard
Behind the Camera
: The accomplished Jon Favreau (Iron Man, Iron Man 2, Elf, Cowboys & Aliens, Chef, The Jungle Book) directs.

Reason To See It: These live-action remakes of beloved animated classics are fascinating to watch despite being of varying quality.
Reason To Skip It
: These live-action remakes of beloved animated classics are of varying quality despite being fascinating to watch.

Hit or Miss: Given the pop-cultural impact of the original, curiosity alone should carry this one to Hitville. And if it's truly a superior offering, it could be headed for the family-film record books.
ONCE UPON A TIME IN HOLLYWOOD
(July 26)
Genre and Plotline
: A comedy-drama about a television actor and his stunt double who struggle in the film industry in Los Angeles in 1969.
Major Players
: Leonardo DiCaprio, Margot Robbie, Brad Pitt, Al Pacino, Luke Perry, Dakota Fanning, Timothy Olyphant, Kurt Russell, Rumor Willis, Scott McNairy, James Marsden
Behind the Camera
: Oscar-winning writer-director Quentin Tarantino (Pulp Fiction, Reservoir Dogs, Jackie Brown, Kill Bill: Vols 1 & 2, Inglourious Basterds, Django Unchained," The Hateful Eight) directs.

Reason To See It: With a big-name cast, under the direction of Tarantino, and boasting potentially controversial subject matter, this movie's marquees should matter.
Reason To Skip It
: The audacious and accomplished Quentin Tarantino isn't every moviegoer's cup of tea.

Hit or Miss: With DiCaprio and Pitt on display, it's unlikely to miss by much, if at all.
FAST & FRUIOUS PRESENTS: HOBBS & SHAW
(Aug. 2)
Genre and Plotline
: A spinoff from the Fast and Furious franchise that centers around two lawmen who form an unlikely alliance in their quest to overcome a cyber-genetically enhanced villain.
Major Players
: Dwayne Johnson, Jason Statham, Idris Elba, Vanessa Kirby, Eiza Gonzalez, Eddie Marsan, Cliff Curtis, Teresa Mahoney
Behind the Camera
: Ex-stuntman David Leitch previously directed Atomic Blonde and Deadpool 2.

Reason To See It: Fast and Furious is one of the few franchises that has improved as it has proceeded.
Reason To Skip It
: Spinoffs sometimes just seem like cash grabs. That could be the case here.

Hit or Miss: If the cool factor arrives along with Johnson and Statham, then it's a hit. If not, it's a miss. You make the call.


To read the digital edition of South Jersey Magazine, click
here
.
Published (and copyrighted) in South Jersey Magazine, Volume 16, Issue 2 (May 2019).
For more info on South Jersey Magazine, click
here
.
To subscribe to South Jersey Magazine, click
here
.
To advertise in South Jersey Magazine, click
here
.
Author:
Bill Wine
Archives
---
A Familiar Voice
Men of The Year 2021
Joining the Family Business
Giving Kids a Shot
Deck the Halls
High School Football Regional Championship preview
South Jersey Coronavirus (COVID-19) Developments (December 1)
There is still a place for Thanksgiving football
Eagles soap opera continues
A Familiar Voice
Executives of the Year
Observations of the South Jersey Football Teams in championship play
'Lifeblood of the Economy'
South Jersey Thanksgiving Games of the Week
Weed and the Workplace
More...