A Happy Place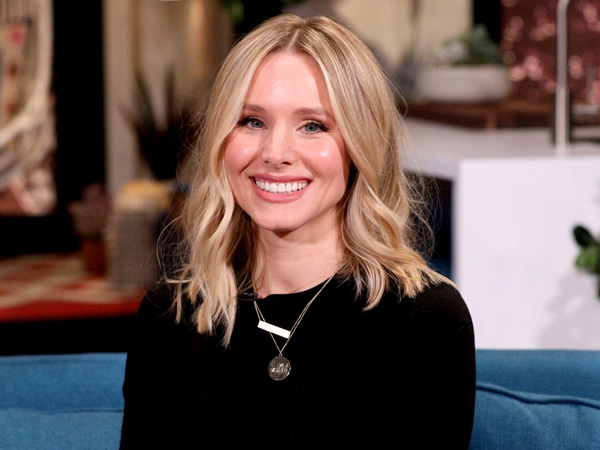 With a successful acting career and a fulfilling home life, Kristen Bell has plenty of reasons these days to feel good.
In Hollywood, Kristen Bell is a popular actress whose ever-evolving career continues to take her to new heights. But at home, she's not unlike many other women: a supportive wife and dedicated mother to two young daughters, embroiled in the day-to-day responsibilities and drama of an active family life. And she couldn't imagine things any other way.
Bell has found success with roles both in TV (Veronica Mars, Heroes, House of Lies) and film (Forgetting Sarah Marshall, Couples Retreat, Frozen) and currently stars alongside Ted Danson in NBC's The Good Place, for which she earned a Golden Globe nomination.
While she may not consciously be looking to set an example, Bell dislikes the notion that working moms can't handle the myriad of roles they take on.
"I really think balance should be a four-letter word and I don't think that moms should depend on it," the 38-year-old says. "So, one of my tricks is that I don't do balance. I live in the here and now and I
have reasonable expectations, followed by good decisions."
Article continues below
---
advertisement


---

Bell says she finds it "curious" that no one asks actors who are fathers (such as the case with her husband Dax Shepard) about how they balance their family life, yet they always ask multi-tasking moms.
"I know that what I embark on is going to take longer than I want, and I just enjoy our children being sweet, annoying and everything else that they do," she explains. "It is easy because they are so cute, but our kids are like any other kids; we are enjoying them one moment and overwhelmed by them the next."
Both Bell and Shepard are natives of the Detroit suburbs and began dating in 2007 after meeting by chance at a dinner party. By 2010, they were engaged and finally married in 2013. The lively banter between the two is quite evident whenever they share space and both credit their families with helping make the engine run, whether it's Shepard's sister Carly helping out with the children or Bell's mother Loreli lending a hand.
"We depend on other people all the time. There's no secret to how we do it," Bell says of the challenges of raising their children while both parents are in the entertainment industry. "We make really smart decisions with the people that we trust, and we say, 'You know what? I can't accomplish all of this, can you help me?' I'm very good at reaching out and asking for help."
Despite the couple's celebrity status and often busy schedule that also includes lots of philanthropy, environmental work and the recent launch of their own baby product line called Hello, Bello; Bell stays grounded by cherishing the simple pleasures in life.
"When we had our first child [Lincoln], we thought we could never love anything more and then the second child [Delta] came, and it rang true that your love doesn't divide, it multiplies," says Bell. "So what I've found to be the most incredible gift of all is watching them, especially when they are nice to one another. Watching them snuggle and care for each other is a euphoric feeling."
Despite those cuddly moments, because of the couple's celebrity status, both Bell and Shepard are very protective of their daughters. So while the two are known to enjoy connecting with fans via social media and offering a glimpse into their quirky relationship, they never post pictures of their children on the platforms.
"It's a safety thing," says Bell. "For us, if we go to the airport and a stranger will look at my daughter and say, 'Hi, Lincoln,' that is not under any circumstances OK with me, and this is why we keep their faces protected."
What's no longer being kept secret is Disney's much-anticipated release of Frozen 2 in late November. When the trailer for the film debuted in mid-February, it was viewed more than 116 million times in the first 24 hours. That may not be surprising considering the original film, released six years prior, is the highest-grossing animated movie of all time.
Bell will reprise her role as Princess Anna and will be rejoined by Idina Menzel (Queen Elsa), Josh Gad (Olaf ) and Jonathan Groff (Kristoff ) as they embark on a new journey beyond their homeland of Arendelle.
"I grew up watching all of the old Disney musicals and was especially obsessed with The Little Mermaid
and Aladdin. So, it had always been my dream as a little girl to be a Disney princess," Bell says of the opportunity. "I was in glee when I was cast as Anna because I had always wanted to be part of a Disney animated feature. But she had to be a specific type of princess— one who was way more awkward than normal princesses, someone who was goofy, klutzy and often too energetic when growing up. I often spoke before I thought, and they allowed me to add all these unique attributes to Anna.
"I think my character, in being one of the heroines, isn't nearly as put together as any other sweet Disney heroine. I wanted her to be out of her element and I loved that she was. Every time she would snort or trip, I would ask them to add it and they would. It was great," Bell says.
Embracing Frozen and its surroundings also came naturally to Bell who absolutely adores winter. "I'm the only person who lives in California who doesn't appreciate the weather, or sushi. I love cold weather, and I'm always trying to get back to the snow, as opposed to the beach. I always had dogs growing up, so seeing them run through the snow always makes me laugh."
And naturally, with two daughters at home, they would have to love the fact that their mom is involved with such a big film. Well, that may have to wait, because while little girls across the country would give anything to spend one moment with Princess Anna, Bell's daughters are clearly not impressed.
"Actually, they both hate when I sing, and when I come home to share tidbits from [the set of ] Frozen that no one else will ever hear," she says, "they are not really interested."
Despite her children's lack of enthusiasm over their mother being a Disney princess, they do love visiting the parks in Orlando. And the best part of those family vacations?
"Everything is our favorite part," Shepard quips. "Kristen, the girls and I go there as a family and we see their eyes light up at every turn. What's not to love?"
When she's not working or at home helping raise the family, Bell is a devout animal lover—one of her dogs, Sadie, was rescued following Hurricane Katrina. A vegetarian since age 11, Bell spent her time in Michigan fostering animals from the Michigan Humane Society and she regularly supports the San Diego-based Helen Woodward Animal Center. She also often attends fundraisers for the American Society for the Prevention of Cruelty to Animals as well as other nonprofit organizations dedicated to similar causes.
Bell also pays close attention to the environment and how it affects the next generation. It's part of the reason why she and Shepard created Hello, Bello, a line of plant-derived baby products that include diapers, wipes, lotions, shampoos, sunscreen and more.
A self-professed research junkie, she likes knowing what's healthy, what's organic, what's synthetic and how it affects her and her family. "All of those things are important to me not just for the health of my baby, but because I am going to pass this planet on to my babies. The way to do it right was accessibility to healthy, great, safe products," says Bell.
Her husband echoes the sentiment. "We have so much good fortune and when we had kids the sky was the limit for us, whatever was the best thing available, we had it," Shepard says.
"My wife is so meticulous about what goes on the baby, what goes in the baby and what the baby is wearing, and it occurred to us that it's not fair that people should have to pick between great products and their budget, and we were in a very unique position where we could go to Walmart, because [Kristen] is so cute, and ask if they wanted to partner with us," he explains. "It's really my wife who has made [the products] as good as they are and as responsibly sourced and everything else, and I'm in charge of how much they cost."
After 12 years as a couple, Shepard still loves to compliment his wife whenever he has the opportunity. "Kristen has the best and most lovable personality of anyone I have ever met, and I knew early on when I was getting to know her that I wanted to grow old with her," he says.
So much so that he eagerly did 50 percent of the diaper duty after the couple read a book called Brain Rules for Baby, which explains that when one parent does a lot more than the other, they feel entitled to make more of the rules.
As a result, Shepard is proud that he "changed half the diapers and bought half the diapers."
"As men expand their role, they should not have to be applauded for doing what they should be doing," adds Shepard. "So, when Kristen is working, or at home, I am the dad all of the time. There is no point where I've got the day off."
Her husband's attitude toward fatherhood and family gives Bell a great sense of pride. "Sorry girls, he's married already," she jokes.
Bell and Shepard readily admit the two of them are opposites, "different in nearly everything they approach." He is the disciplinarian and she has the softer arms to run to. Yet, they complement one another in other ways. Bell says their different views on just about everything make for vigorous debates, but in the end, they know they are on the same team.
This is a message she wants to share with her daughters, and the rest of us working to find balance in our lives.
"Part of the message is to embrace who you are, even if you are different and unique," Bell says. "Individuality really makes us special. I truly believe that with all my heart."

To read the digital edition of South Jersey Magazine, click

here

.



Published (and copyrighted) in South Jersey Magazine, Volume 16, Issue 2 (May 2019).

For more info on South Jersey Magazine, click

here

.
To subscribe to South Jersey Magazine, click

here

.
To advertise in South Jersey Magazine, click

here

.
Author:
Debra Wallace
Archives
---
Who's Who in Health Care
Crowd Pleaser
Can the Eagles Regain Their Winning Way?
A Bight Future Ahead for Glassboro Football
The Big Impact of Small Businesses
Eagles Need to Reset
Feeling Festive
Another dominating season for Delsea football
Mainland's Historic Football Season
A Rooting Interest
Eagles Continue to Fly High
Raising the Bar
Thanksgiving Football Continues
Hotstovers to honor All-SJ Baseball and new HOF inductees
South Jersey Football Games of the Week
More...