Weekend Showed How Dangerous and Streaky Phillies Bryce Harper Can Be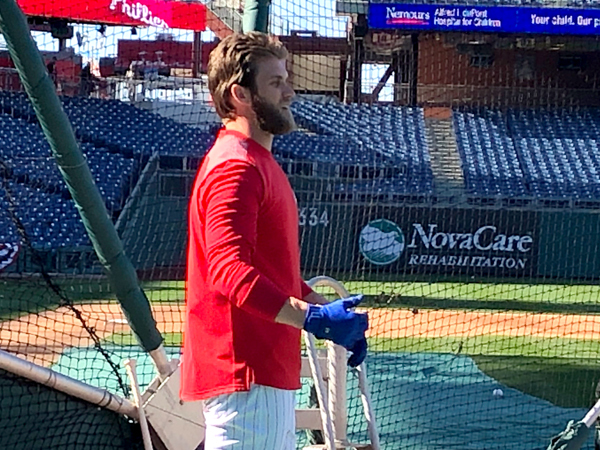 It appears the fan base was worried about Bryce Harper as the Phillies $330 million acquisition got off to a slow start.
Yet Harper has been a player who can get in a dreaded slump and then dominate for long stretches.
Whether he is ready to truly dominate remains to be seen, but if the Phillies go on to win the National League East, and right now, they remain the favorite past the first quarter of the season, Harper's eruption this past weekend could have a lot to say about it.
In fact how the Phillies played could over the weekend also be a turning point. That's because after beating Milwaukee in the first of a four-game series, the Phillies then lost three straight to the Brewers, who have the look of a playoff team, but play in what could be baseball's deepest division, the NL Central.
After the three losses to a Brewers team that lost to the Los Angeles Dodgers in the National League Championship Series, the Phillies did an about-face, beating the Colorado Rockies in three straight games.
In Friday's 5-4 win, Harper had a two-run double. During Saturday's 2-1 win, he went 2 for 3 with a double, home run and RBI. It wasn't just any ordinary home run. The ball traveled 466 feet. Even for Harper it was a stunning display of power and one of the reasons he is among the top drawing cards in baseball. Harper then went 2 for 5 with a home run and three RBI in the Phillies come-from-behind 7-5 win.
In summation, during the three games he was 5 for 12 (with a walk), two home runs and six RBI. That was a .417 average, a .462 on base percentage and a 1.545 OPS.
Even though Harper began the week batting just .235, he did have an 847 OPS and 123 OPS+, which factors is adjusted for ballpark. With 100 being average, his 123 OPS+ means he is 23 percent better than the norm.
Again, Harper is capable of much more, but even in a slumping season, Harper is able to put up reasonable stats. (His career totals, beginning this week - .897 OPS and 138 OPS+).
Harper, who won't turn 27 until October, is already a six-time all-star. He will likely make it a seventh time this year.
His streaks will likely continue, but that is part of the package. Last year for instance, he batted just .221 last May, but also hit 10 home runs. So even when his average is down, he often finds ways to contribute.
He is capable of big stretches where both the average and power are in sync. Last August for instance, he hit .324 with five home run and 20 RBI.
So continue to expect the ups and downs, but his contribution to the Philies has been significant.

Article continues below

---
advertisement


---
© SouthJersey.com 2019. All rights reserved. This article or parts thereof may not be reprinted or reproduced by any other party without the express written consent of SouthJersey.com. For more information, please call 856-797-9910.


For more Local Sports features, visit our
South Jersey Sports
page.
Author:
Marc Narducci; Photo by Marc Narducci
Archives
---
South Jersey Happy Hour Guide
Whole Hearted
Fully Focused
Giant Steps Forward
Defying History
Names to Know
The King of Rambling
6 Tips on a Restart for Your Finances
Staying the Course
A Burning Desire
Getting Personal
On the Home Front
Positive Energy
On the Move
Colleges and COVID-19
More...