Quick on His Feet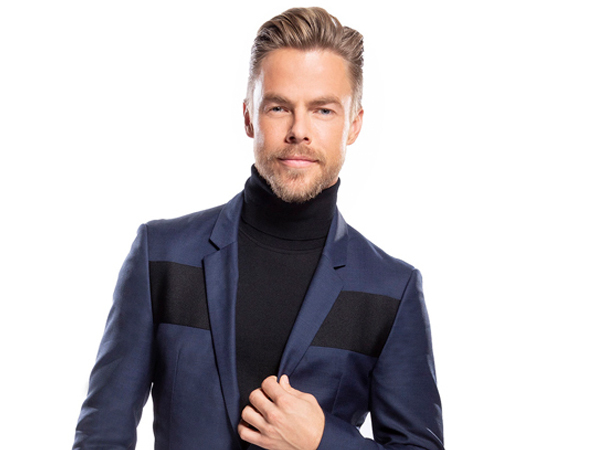 Derek Hough dances his way into the area with a new tour and plenty of ambition.

The world may know Derek Hough as an amazing dancer with lightning quick moves, impeccable timing and a commanding stage presence, but for his latest tour he wanted to kick things up a notch by adding live music as part of the show. The combination of song and dance is a timeless one, and something he feels will deliver a real wow factor to the audience. But it still wasn't quite enough, so he decided to bring Michael Bublé along. Well, not the actual singer; rather his songs as Hough will perform an array of hit music to complement his choreography skills.

For his first solo tour, this would seem pretty ambitious, but as Hough explains during a phone call while reviewing his last-minute preparations, this is "going to make for an epic live event." The tour will make a stop on June 14 at The Metropolitan Opera House in Philadelphia.

Hough has long been one of the more recognizable faces of professional dance, helping to popularize it on primetime television where he won Dancing with the Stars a record six times. Currently, he is a judge along with Jennifer Lopez and R&B crooner Ne-Yo on NBC's World of Dance, which just concluded its third season and will be returning for its fourth in 2020.
Article continues below
---
advertisement


---


South Jersey Magazine spoke with Hough about the demanding challenges of the tour, his plans to release original music in the near future and found out why he never viewed his sister Julianne as competition until it was too late.

Q&A
So you are about to embark on a new tour, your first-ever solo tour. What can fans expect and what are you looking forward to?
I'm super excited. One of the things that sets it apart from anything else in the dance space is I'm going to have live musicians on stage infused with the live dancing. I put together an amazing ensemble of dancers at the highest level, some of which have competed on World of Dance and So You Think You Can Dance as well. People will know these dancers. The live music element will be incredible and I've been putting together the setlist the past couple of months and with the different genres of music, it's going to be fantastic. I can't wait for people to hear it and [along with] the dancing it's going to make for an epic live event.

The tour schedule seems pretty demanding, with not a lot of time off. Do you get much time to explore the areas you visit or is it arrive, perform and head onto the next stop?


I don't get a whole lot of time. Usually my dancers and musicians have more time exploring. I'm constantly preparing, recovering from the nightbefore physically and getting geared up for the show that night. My day is dedicated to getting ready for the show.

With such a full calendar, is it tough for the body to recover from performing so many nights in a row?


Absolutely, it's very tough on the body. Eating the right foods, stretching out, warming up, I have so many rituals to get me in the right place to perform.

Do you still get the rush of performing live on stage after all these years?

That's why I love going on tour, there's nothing like that face-to-face connection and relationship with the audience, it's amazing. It's funny when I hear certain performers say they don't like meet and greets. I love those VIP experiences before the show, getting to take photos and hugging and connecting with people. They are some of my favorite moments honestly. They give me such energy to go out and perform for them.

What is the hardest part of your training that the average person may not even realize goes into it?

As far as dancing goes, the dancing itself is the workout. It's so dynamic. When I'm not dancing, I'm working out and on my endurance. I'm also singing with a band on this tour as well, so those moments are technically my rest moments.

What types of songs are you singing?


[Songs by] Michael Bublé, I do a medley from A Star is Born.

You moved to London at the age of 12 to train with renowned dancers Mark and Corky Ballas. What was that experience like for you not only in terms of shaping your professional career, but also from a personal perspective being overseas as a young kid?

I grew up in Utah, in a small city. London is like a microcosm of the world, there's so many different cultures, beliefs and people. To be exposed to that huge variety of culture at a young age, it gave me an insight that I was very thankful for.

Your sister Julianne joined you in London, and along with the Ballas' son Mark, you guys had a couple of different musical acts. Did you think that being a rock star was your path more so than dancing?

It's funny actually; I would be in the gym listening to rock music and envision myself on stage. And when I was competing around the world dancing in front of huge crowds, you're competing, but I was kind of living my dream in a different way.

My tour is a rock concert for dance, that's what I want it to feel like.

I imagine you are still close with the Ballas family. What does that relationship mean to you and how different do you think your life would be if you hadn't crossed paths?

They played a huge part in my life and journey for sure. I was just with Mark Ballas the other day, he laid down some guitar tracks for my tour. We are all very close.

You like to post videos on social media of you serenading your girlfriend while playing the guitar or that show you behind a drum kit. Do you play any other instruments?

Yeah, I play piano, drums and guitar; those are my go-tos.

In addition to playing music, you also released an original song a few years back. Is making music something you still want to pursue?

I have written a bunch of music this past year, but I haven't put anything out. I plan on putting a lot more music and content out this year. It's one of those things where I accumulated a bunch of songs over the years and now I'm going to put some stuff out. We live in a day and age where it's about sharing and putting it out there.

Do you remember the first dance or dancer you tried to imitate or that inspired you?

Michael Jackson. And also Gene Kelly. Watching old films and seeing him use his area to do certain dances, I always found that really interesting just using his surroundings as props to choreography. I love that.

Your sister Julianne is obviously a great dancer in her own right. Were you two always competitive growing up?

She was with me. I'm the older brother, so it was, "I want to beat him." But she was the younger sister, so I didn't feel that way with her. Until she beat me and then I was like, wait a minute, I got to fix this.

You won Dancing with the Stars a record six times. Were you ever surprised at your partners' abilities to adapt to your world?

Oh yeah. Some of them stand out. Kellie Pickler surprised me, Bindi Irwin surprised me. [Paralympian] Amy Purdy lost both of her legs and trying to figure out how to dance with prosthetic legs, it was incredible.

World of Dance just concluded its third season, what has that experience been like for you?

Oh man, each season it's like how are we going to top last season and somehow, some way those dancers constantly surprise us and constantly wow us. … There's a lot of energy and electricity surrounding it.

What do you enjoy about working alongside Jennifer Lopez and Ne-Yo?

What is your dynamic like behind the scenes? We have a great time, we love what we do. We all have a passion about dancing and these performers and we are a lot more comfortable these days. But I'll be getting life questions from Jennifer during the break, and it'll be a pretty heavy question that I'm not sure I want to answer on the spot, but she has this tractor beam stare.

Do aspiring dancers constantly try and pick your brain or ask you for advice and is being a mentor in that regard something you embrace?

Being able to share and mentor is where the fulfillment comes in. The secret to living is giving and when I'm giving in any way, I feel alive.

When it comes to your acting work, does your dance background help you at all when preparing for a role, is there any crossover there?

To be completely honest, the thing with acting is always learning your lines, memorizing. The physical aspect comes more naturally to me, especially when it comes to theater or acting on stage.

Do you have a favorite role that you've played thus far?

The lead role in Footloose on the West End in London. It was a breakthrough for me, my first lead role and it was extremely challenging with eight shows a week. I put a lot of emotion into that character, it was a great role to play.

If they did a movie on your life, what actor would you want to play you?

I don't know, maybe one of the guys from Riverdale; that seems like an age appropriate answer.



To read the digital edition of South Jersey Magazine, click

here

.


Published (and copyrighted) in South Jersey Magazine, Volume 16, Issue 3 (June 2019).

For more info on South Jersey Magazine, click

here

.
To subscribe to South Jersey Magazine, click

here

.
To advertise in South Jersey Magazine, click

here

.

Author:

Peter Proko
Archives
---
Who's Who in Health Care
Out & About
QB Ronnie Borden is Back in the Game
Should fans be worried for the Phillies bullpen?
South Jersey Football Games of the Week
A look at South Jersey's Top H.S. Girls' Soccer Teams
Out & About
Eagles will be fine after close call in opener
High School Football Games of the Week
Is it Super Bowl or bust for the Eagles?
What's New in South Jersey?
From New Jersey to Nashville
Frustrating times for Millville's Mike Trout
High School Football Games of the Week
Hammonton's Kenny Smith off to a quick start
More...