Palate: A Perfect Fit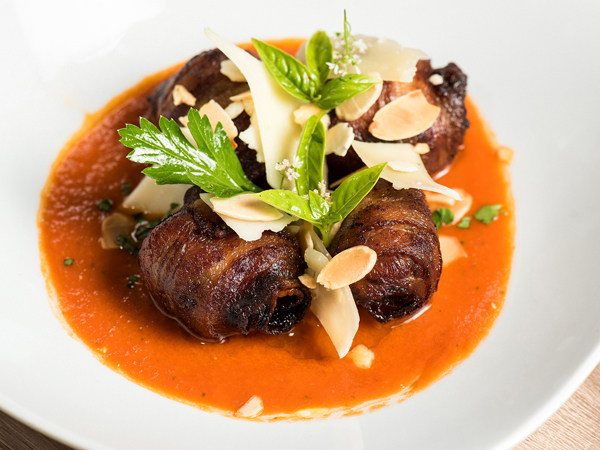 Relaxed yet refined, Denim American Bistro feels quite comfortable in the local dining scene.

There's an old white house on Cherry Hill's Kresson Road that has been a part of Camden County's landscape for generations. Even as the area got more residential, as the streets around it became busier and busier, the Colonial-style spot has stood strong.

Many know this space as the former French fine dining spot La Campagne, but it has actually stood in its place since the late 1850s. La Campagne closed in 2012 and the house lost its luster as it sat idle for almost five years. New ownership came in early 2017 and opened The Farmhouse, a farm-to-table eatery that lasted just about a year before shuttering in the early summer of 2018.

Enter Denim American Bistro, which took over the space in the fall of 2018. Opened by David Murray, the former chef at The Farmhouse, the restaurant has taken on a new look with a relaxed décor and scaled-down seating to provide more of an inviting and intimate atmosphere.
Article continues below
---
advertisement


---


Farm-to-table dining is still part of the experience and the menu is also full of polished plates that showcase familiar dishes enhanced by skillful preparation and presentation coming out of the kitchen, which operates for both brunch and dinner Tuesday through Sunday.

I began the meal with an appetizer order of bacon-wrapped stuffed dates which were stuffed with chorizo and finished on a bed of piquillo-pepper romesco sauce with chopped almonds and Manchego cheese. The spice from the sausage was perfectly balanced by the sweet fruit and the peppery sauce added a great bit of freshness alongside the heavier components in each bite.

Another starter of coconut shrimp arrived to the table and looked good enough to dive right in. The shrimp were coated with shredded sweetened coconut and panko breadcrumbs before being fried until golden and then served over a bed of Asian slaw with a lemongrass-Thai curry. I appreciated the flavor of the lemongrass alongside the coconut, but the slaw was overly dressed and seemed to be a missed opportunity to strike a cohesive balance on the plate.

While the menu changes with the seasons, scallops remain a popular option for guests. On this particular visit, the scallops with risotto featured elements that were perfectly cooked from start to finish. The creaminess of the risotto—which still retained just the right bite—alongside the tender scallops was made even better thanks to the addition of bright artichoke hearts. It was a hearty and delightful plate that screamed summertime.

Another Denim favorite continues to be the mushroom ravioli, prepared in-house and stuffed with the absolute freshest duxelles and nutty Fontina cheese. The ravioli are sautéed with tender shallots and asparagus tips and served in a porcini cream sauce, then topped off with a massive handful of fresh, raw wild mushrooms. The addition of the raw mushrooms completely drove the dish home; bringing the mushroom flavor to life and making everything feel natural and earthy.

The night ended with a plate of strawberry cheesecake, prepared with swirls of rich strawberry preserves baked into the cake itself then finished with a spoonful of whole strawberries swimming in a rich sauce. The cake was rich but creamy and balanced, especially alongside a crunchy graham cracker crust and the freshness of the berries.

There is care and consideration found in every detail at Denim and it's great to see a breath of fresh air filling the space. Like your favorite pair of jeans, Murray and his team hope to make this a comfortable spot you return to again and again.

Denim American Bistro
312 Kresson Road | Cherry Hill
856-520-8114 | DenimBYOB.com


To read the digital edition of South Jersey Magazine, click

here

.


Published (and copyrighted) in South Jersey Magazine, Volume 16, Issue 4 (July 2019).

For more info on South Jersey Magazine, click

here

.
To subscribe to South Jersey Magazine, click

here

.
To advertise in South Jersey Magazine, click

here

.

Author:

Erica Young Photography By Jeff Anderson
Archives
---
Bishop Eustace's Danny O'Rourke a model of stability
South Jersey Football Games of the Week
Eagles saved their season with win over Carolina
A Difficult Loss
Top Physicians 2021
Phillies wasted lights-out seasons from Bryce Harper and Zack Wheeler
Another strong season for Olympic American Girls' Soccer
South Jersey Football Games of the Week
'You Do Not Have to Suffer'
Egg Harbor Township Football Showing Great Improvement
Phillies face a difficult, but not impossible final week
Continuing the Difficult Climb
South Jersey Coronavirus (COVID-19) Developments - Booster Shots (September 27)
South Jersey H.S. Football Games of the week
Something to Build On?
More...